4TH OF JULY, ASBURY PARK (SANDY)
Live 04 Nov 1976 version
---
[Spoken intro:] Oh man. This is for Ronnie, and, uh, and my jacket for her tonight. This is, uh, it's to everybody, and I want to thank, you know, the grateful supporting the band the way you have. And here's to you from Asbury Park with love.

One, two, three, four

Sandy, the fireworks are hailin' over Little Eden tonight
Forcin' a light into all them stoned-out faces left stranded on this fourth of July
Down in town the Circuit's full with switchblade lovers, so fast, so shiny, and sharp
Them wizards play down on Pinball Way on the boardwalk way past dark
And the boys from the casino dance with their shirts open like Latin lovers along the shore
Chasin' all them silly New York girls

Oh, Sandy, the aurora is rising behind us, girl
The pier lights our carnival life forever
Love me tonight, 'cause I may never see you again
Whoa, oh, oh, Sandy, girl

Well, now the greasers, they tramp the streets or get busted for trying to sleep on the beach all night
Yeah, them boys in their spiked high heels, ah, Sandy, their skin are so white
And me, I just got tired of hangin' in them dusty arcades, oh, and bangin' them pleasure machines
Chasin' the factory girls underneath the boardwalk, where they all promise, friend, to unsnap their jeans
You know that tilt-a-whirl way down on the south beach drag
I got on it last night and my shirt got caught
That Joey kept me spinnin'
I didn't think I'd ever get off

Oh, Sandy, the aurora is rising behind us
The pier lights our carnival life on the water
Running crazy down the beach with my old boss's daughter
Sandy -- got no boss no more

Now, Sandy, the angels have lost their desire for us
You know, I can't figure it out
I spoke to 'em just last night; they said they won't set themselves on fire for us anymore
But every summer when the weather gets hot, they ride that crazy road down from heaven, on their Harleys they come and they go
You see 'em dressed like stars in all the cheap little seashore bars
And parked with their babies out on the Kokomo
Did you hear the cops finally busted Madame Marie for tellin' fortunes better than they do
This boardwalk life for me is through
You know, you ought to quit this scene too

Oh, Sandy, the aurora is rising behind us
The pier lights our carnival life forever
Oh, love me tonight and I promise I'll love you forever
Swear it, Sandy!
Oh, oh, oh
How 'bout it?
---
Info
The above lyrics are for the live 04 Nov 1976 performance of 4TH OF JULY, ASBURY PARK (SANDY) at Palladium in New York City, NY, during what is known as The Lawsuit Tour. The song was played in a full-band arrangement.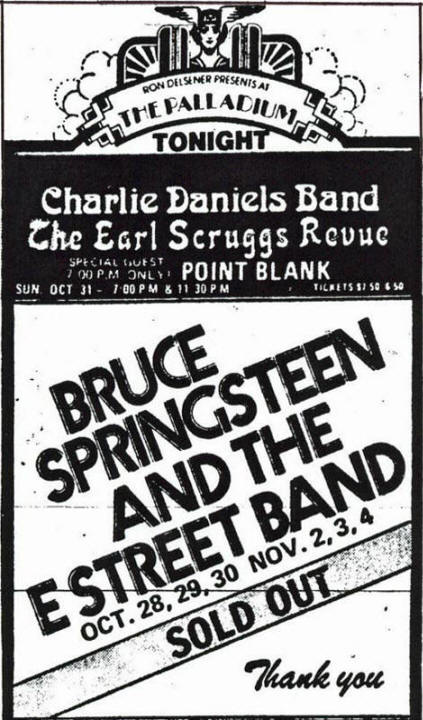 Promotional ad for the 1976 six-night stand at Palladium, New York City, NY
(
Taken from Brucebase
)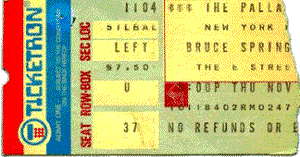 Ticket stub for the 04 Nov 1976 show at Palladium, New York City, NY
(
Taken from Brucebase
)
Despite the marvelous reception received by both Born To Run and the tour which followed, the relationship between Bruce Springsteen and his now former manager and producer Mike Appel was deteriorating. In July 1976 the storm broke; Mike Appel wrote to Springsteen saying that he would not allow Jon Landau (Springsteen's friend and co-producer of Born To Run) to produce the next album, citing a particular paragraph from their original agreement. Springsteen replied on 27 Jul 1976 by firing manager Mike Appel and suing him and his management company Laurel Canyon Ltd. in Federal Court in Manhattan, claiming fraud, breach of trust, and undue influence. Appel counter-sued on 29 Jul 1976 in New York State Supreme Court, asking the court to prohibit Springsteen and Jon Landau from working together in studio. Bruce Springsteen & The E Street Band were slated to enter the studio that year for the recording of a new album, except that on 15 Sep 1976 the judge in the lawsuits case ruled that Springsteen was enjoined from any further recording with Columbia Records until Appel's suit was resolved. This would drag for about a year. Meanwhile, Springsteen continued gigging, and in the process broke his self-imposed rule of not playing the larger arenas. This was basically because he was not able to put a record out, and it was the only way his fans would be able to hear him at all. The tour became known as "The Lawsuit Tour" (62 know dates, August 1976 to March 1977).
Credits
Thanks Jake (ol'catfishinthelake at BTX and Greasy Lake) for the lyrics help.
Available Versions
List of available versions of 4TH OF JULY, ASBURY PARK (SANDY) on this website:
4TH OF JULY, ASBURY PARK (SANDY) [Album version]
4TH OF JULY, ASBURY PARK (SANDY) [Original studio version]
4TH OF JULY, ASBURY PARK (SANDY) [Early draft]
4TH OF JULY, ASBURY PARK (SANDY) [Live 23 Jul 1973 (early show) version]
4TH OF JULY, ASBURY PARK (SANDY) [Live 31 Jul 1973 (late show) version]
4TH OF JULY, ASBURY PARK (SANDY) [Live 31 Oct 1973 (late show) version]
4TH OF JULY, ASBURY PARK (SANDY) [Live 03 Mar 1974 (late show) version]
4TH OF JULY, ASBURY PARK (SANDY) [Live 09 Apr 1974 version]
4TH OF JULY, ASBURY PARK (SANDY) [Live 29 Oct 1974 version]
4TH OF JULY, ASBURY PARK (SANDY) [Live 05 Feb 1975 version]
4TH OF JULY, ASBURY PARK (SANDY) [Live 02 Oct 1975 version]
4TH OF JULY, ASBURY PARK (SANDY) [Live 18 Nov 1975 version]
4TH OF JULY, ASBURY PARK (SANDY) [Live 31 Dec 1975 version]
4TH OF JULY, ASBURY PARK (SANDY) [Live 07 Apr 1976 version]
4TH OF JULY, ASBURY PARK (SANDY) [Live 04 Nov 1976 version]
4TH OF JULY, ASBURY PARK (SANDY) [Live 09 Aug 1978 version]
4TH OF JULY, ASBURY PARK (SANDY) [Live 29 Dec 1980 version]
4TH OF JULY, ASBURY PARK (SANDY) [Live 31 Dec 1980 version]
4TH OF JULY, ASBURY PARK (SANDY) [Live 30 Jul 1992 version]
4TH OF JULY, ASBURY PARK (SANDY) [Live 10 Aug 1992 version]
4TH OF JULY, ASBURY PARK (SANDY) [Live 24 Nov 1996 version]
4TH OF JULY, ASBURY PARK (SANDY) [Live 26 Nov 1996 version]
4TH OF JULY, ASBURY PARK (SANDY) [Live 15 Feb 1997 version]
4TH OF JULY, ASBURY PARK (SANDY) [Live 11 Aug 1999 version]
4TH OF JULY, ASBURY PARK (SANDY) [Live 12 May 2003 version]
4TH OF JULY, ASBURY PARK (SANDY) [Live 18 Jul 2005 version]
4TH OF JULY, ASBURY PARK (SANDY) [Live 20 Mar 2008 version]
4TH OF JULY, ASBURY PARK (SANDY) [Live 22 Apr 2008 version]
4TH OF JULY, ASBURY PARK (SANDY) [Live 04 Jul 2008 version]
4TH OF JULY, ASBURY PARK (SANDY) [Live 30 Aug 2008 version]
4TH OF JULY, ASBURY PARK (SANDY) [Live 07 Nov 2009 version]
4TH OF JULY, ASBURY PARK (SANDY) [Live 23 Feb 2014 version]
4TH OF JULY, ASBURY PARK (SANDY) [The Hollies' cover version]
4TH OF JULY, ASBURY PARK (SANDY) [Ben E. King's cover version]
---
Page last updated: 18 Jan 2016