4TH OF JULY, ASBURY PARK (SANDY)
Live 29 Dec 1980 version
---
[Spoken intro:] Ah. Ah, man! Ah, I'd like to ask everybody a favor. If, uh, if you got any presents and stuff, I'd appreciate if you didn't throw 'em up on stage, 'cause when we walk -- especially back here, if you guys could not throw stuff at us when we go off stage. We appreciate you wanting us to give us the stuff, but it'd be nicer if you held onto it and we didn't get bopped on the beanhead, okay? So (laughs), so if you got stuff, please hold on to it. All right, thank you. When I was, I moved out of this town called Freehold when I was about 18 years old. I never thought I would hear the day when anybody would applaud for Freehold, but (laughs)... And, I moved down to Asbury Park, and... I never thought I'd hear 'em applaud that, either (laughs). And I lived in this, in this apartment, it was three flights up over this drugstore on Cookman, Cookman Avenue. And, uh, that's where I met all the guys, most of the guys in the band and stuff. And, so if there's anybody that hiked all the way from the shore, here's to you, here you go, all right.

All right, play it, Steve!

Sandy, the fireworks are hailin' over Little Eden tonight
They're forcin' a light into all them stoned-out faces left stranded on this fourth of July
Down in town the Circuit's full with switchblade lovers, so fast, so shiny, and sharp
And them wizards play down on Pinball Way on the boardwalk way past dark
And the boys from the casino, they dance with their shirts open like Latin lovers along the shore
Chasin' all them silly New York girls

Oh, Sandy, the aurora is rising behind us
The pier lights our carnival life forever
Oh, love me tonight, because I, I may never see you again
Whoa, oh, oh, Sandy, girl

Well, now the greasers, they tramp the streets or they get busted for trying to sleep on the beach all night
And them boys in their spiked high heels, ah, Sandy, their skins are so white
And me, I just got tired of hangin' out in them dusty arcades and bangin' them pleasure machines
Chasin' the factory girls underneath the boardwalk, where they all promise to unsnap their jeans
Well, you know that tilt-a-whirl way down on the south beach drag
Well, I got on it last night and my shirt got caught
And that Joey kept me spinnin'
Didn't think I'd ever get off

Oh, Sandy, the aurora is rising behind us
The pier lights our carnival life on the water
I remember running down the beach with my old boss's daughter
Well, he ain't my boss no more, Sandy

Now, Sandy, the angels, they lost their desire for us
You know, I spoke to 'em just last night, and they said they won't set themselves on fire for us anymore
But every summer when the weather gets hot, they ride that road from, from up north, on their
Harleys they come and they go
You see 'em dressed like stars in all the cheap little seashore bars
And parked, makin' love with their babies, out on the Kokomo
You know the cops finally busted Madame Marie for tellin' fortunes better than they do
This boardwalk life for me is through
You know, you ought to quit this scene too

Oh, Sandy, the aurora is rising behind us
The pier lights our carnival life forever
Now listen: love me tonight and I promise that I'll love you forever
Swear it!
Whoa, oh, oh, oh, oh, oh, yeah
Now, how 'bout it?

[Spoken outro:] Danny Federici on the accordion.
---
Info
The above lyrics are for the live 29 Dec 1980 performance of 4TH OF JULY, ASBURY PARK (SANDY) at Nassau Veterans Memorial Coliseum in Uniondale, NY, during The River Tour. The song was played in a full-band arrangement.
The 29 Dec 1980 Show
Bruce Springsteen & The E Street Band rounded up the 1980 leg of The River Tour with three concerts at Nassau Veterans Memorial Coliseum, on 28, 29, and 31 Dec 1980. The three shows were recorded live in the Record Plant Remote truck by Toby Scott, assisted by David Bianco and Jim Scott, and later became one of the main sources for the Live/1975-85 box set which includes six recordings from these shows. Four additional recordings were released as B-sides and on compilation albums.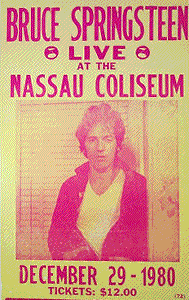 Promotional poster for the 29 Dec 1980 show at Nassau Veterans Memorial Coliseum, Uniondale, NY
(
Taken from Brucebase
)

Ticket stub for the 29 Dec 1980 show at Nassau Veterans Memorial Coliseum, Uniondale, NY
(
Taken from Brucebase
)
NIGHT
OUT IN THE STREET
WHO'LL STOP THE RAIN
DARKNESS ON THE EDGE OF TOWN
FACTORY
INDEPENDENCE DAY
TWO HEARTS
PROVE IT ALL NIGHT
THE PROMISED LAND
THE RIVER
BADLANDS
THUNDER ROAD
CADILLAC RANCH
SHERRY DARLING
HUNGRY HEART
MERRY CHRISTMAS BABY
FIRE
CANDY'S ROOM
STOLEN CAR
WRECK ON THE HIGHWAY
POINT BLANK
THE TIES THAT BIND
RAMROD
YOU CAN LOOK (BUT YOU BETTER NOT TOUCH)
ROSALITA (COME OUT TONIGHT)
SANTA CLAUS IS COMIN' TO TOWN
JUNGLELAND
BORN TO RUN
DETROIT MEDLEY
Credits
Thanks Jake (ol'catfishinthelake at BTX and Greasy Lake) for the lyrics help.
Available Versions
List of available versions of 4TH OF JULY, ASBURY PARK (SANDY) on this website:
4TH OF JULY, ASBURY PARK (SANDY) [Album version]
4TH OF JULY, ASBURY PARK (SANDY) [Original studio version]
4TH OF JULY, ASBURY PARK (SANDY) [Early draft]
4TH OF JULY, ASBURY PARK (SANDY) [Live 23 Jul 1973 (early show) version]
4TH OF JULY, ASBURY PARK (SANDY) [Live 31 Jul 1973 (late show) version]
4TH OF JULY, ASBURY PARK (SANDY) [Live 31 Oct 1973 (late show) version]
4TH OF JULY, ASBURY PARK (SANDY) [Live 03 Mar 1974 (late show) version]
4TH OF JULY, ASBURY PARK (SANDY) [Live 09 Apr 1974 version]
4TH OF JULY, ASBURY PARK (SANDY) [Live 29 Oct 1974 version]
4TH OF JULY, ASBURY PARK (SANDY) [Live 05 Feb 1975 version]
4TH OF JULY, ASBURY PARK (SANDY) [Live 02 Oct 1975 version]
4TH OF JULY, ASBURY PARK (SANDY) [Live 18 Nov 1975 version]
4TH OF JULY, ASBURY PARK (SANDY) [Live 31 Dec 1975 version]
4TH OF JULY, ASBURY PARK (SANDY) [Live 07 Apr 1976 version]
4TH OF JULY, ASBURY PARK (SANDY) [Live 04 Nov 1976 version]
4TH OF JULY, ASBURY PARK (SANDY) [Live 09 Aug 1978 version]
4TH OF JULY, ASBURY PARK (SANDY) [Live 29 Dec 1980 version]
4TH OF JULY, ASBURY PARK (SANDY) [Live 31 Dec 1980 version]
4TH OF JULY, ASBURY PARK (SANDY) [Live 30 Jul 1992 version]
4TH OF JULY, ASBURY PARK (SANDY) [Live 10 Aug 1992 version]
4TH OF JULY, ASBURY PARK (SANDY) [Live 24 Nov 1996 version]
4TH OF JULY, ASBURY PARK (SANDY) [Live 26 Nov 1996 version]
4TH OF JULY, ASBURY PARK (SANDY) [Live 15 Feb 1997 version]
4TH OF JULY, ASBURY PARK (SANDY) [Live 11 Aug 1999 version]
4TH OF JULY, ASBURY PARK (SANDY) [Live 12 May 2003 version]
4TH OF JULY, ASBURY PARK (SANDY) [Live 18 Jul 2005 version]
4TH OF JULY, ASBURY PARK (SANDY) [Live 20 Mar 2008 version]
4TH OF JULY, ASBURY PARK (SANDY) [Live 22 Apr 2008 version]
4TH OF JULY, ASBURY PARK (SANDY) [Live 04 Jul 2008 version]
4TH OF JULY, ASBURY PARK (SANDY) [Live 30 Aug 2008 version]
4TH OF JULY, ASBURY PARK (SANDY) [Live 07 Nov 2009 version]
4TH OF JULY, ASBURY PARK (SANDY) [Live 23 Feb 2014 version]
4TH OF JULY, ASBURY PARK (SANDY) [The Hollies' cover version]
4TH OF JULY, ASBURY PARK (SANDY) [Ben E. King's cover version]
---
Page last updated: 11 Jan 2012