AMERICAN SKIN (41 SHOTS)
2001 studio version
---
41 shots, and we'll take that ride
'Cross this bloody river to the other side
41 shots, cut through the night
You're kneeling over his body in the vestibule
Praying for his life

Well, is it a gun, is it a knife
Is it a wallet, this is your life
It ain't no secret (it ain't no secret)
No secret my friend
You can get killed just for living in your American skin

(41 shots)
(41 shots)
(41 shots)
(41 shots)

41 shots, Lena gets her son ready for school
She says, "On these streets, Charles
You've got to understand the rules
If an officer stops you, promise me you'll always be polite
And that you'll never ever run away
Promise Mama you'll keep your hands in sight"

Well, is it a gun, is it a knife
Is it a wallet, this is your life
It ain't no secret (it ain't no secret)
No secret my friend
You can get killed just for living in your American skin

(41 shots)
(41 shots)
(41 shots)
(41 shots)

Is it a gun, is it a knife
Is it in your heart, is it in your eyes
It ain't no secret (it ain't no secret)
It ain't no secret (it ain't no secret)

41 shots, and we'll take that ride
'Cross this bloody river to the other side
41 shots, I got my boots caked in this mud
Baptized in these waters
(we're baptized in these waters)
And in each other's blood
(and in each other's blood)

Well, is it a gun, is it a knife
Is it a wallet, this is your life
It ain't no secret (it ain't no secret)
It ain't no secret (it ain't no secret)
No secret my friend
You can get killed just for living in
You can get killed just for living in your American skin
---
Intro
The above lyrics are for Springsteen's studio version of AMERICAN SKIN (41 SHOTS) that was recorded in 2001. It was distributed promotionally to radio stations.
Studio Recording
After The Reunion Tour, Springsteen entered the studio with the E Street Band in March 2001. These were their first studio sessions together since January 1995. The Spring 2001 sessions were produced by Bruce Springsteen and Chuck Plotkin and recorded by Toby Scott. Several songs (titles unconfirmed) were recorded during these sessions, but only AMERICAN SKIN (41 SHOTS) has emerged.
AMERICAN SKIN (41 SHOTS) was recorded on 02 Mar 2001 at The Hit Factory in New York City, NY, produced by Springsteen and Plotkin. Studio vocals were laid over a different mix of the released live version's instrumental tracks (the live 01 Jul 2001 version). This different mix has the guitar way up and lacks the audience feed. Clocking at 5:14, it is only slightly different to the released live version, lacking the "41 shots" intros sung by various band members, and fading out during Clarence Clemons' sax solo. This studio version was never available commercially and only appeared on a radio promotional CD-R single (see below).
Official Releases
The studio version of AMERICAN SKIN (41 SHOTS) was released in June 2001 on an extremely rare US-only 1-track radio promotional single.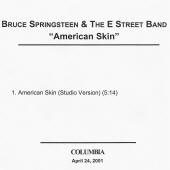 Bruce Springsteen & The E Street Band -- American Skin

CD-R - Columbia (no catalog number) - USA, 2001

Extremely rare 1-track CD-R, comes in a slimline jewel case with front insert.

01- AMERICAN SKIN (41 SHOTS) [2001 studio version]

Credits / References
Thanks Steen Andersson (rosalita101 at Greasy Lake) for the CD-R single scan.
Some of the above info about the studio recording is taken from Brucebase.
Available Versions
List of available versions of AMERICAN SKIN (41 SHOTS) on this website:
AMERICAN SKIN (41 SHOTS) [Album version]
AMERICAN SKIN (41 SHOTS) [2001 studio version]
AMERICAN SKIN (41 SHOTS) [Live 17 Jun 2000 version]
AMERICAN SKIN (41 SHOTS) [Live 01 Jul 2000 version]
AMERICAN SKIN (41 SHOTS) [Live 30 Jul 2002 version]
AMERICAN SKIN (41 SHOTS) [Live 25 Sep 2009 version]
AMERICAN SKIN (41 SHOTS) [Live 23 Mar 2012 version]
AMERICAN SKIN (41 SHOTS) [Live 15 Apr 2014 version]
AMERICAN SKIN (41 SHOTS) [Live 18 Nov 2015 version]
---
Page last updated: 18 Feb 2015