BABY, I LOVE YOU
Original The Ronettes version
---
Whoa oh, whoa oh oh oh

Have I ever told you
How good it feels to hold you
It isn't easy to explain
And though I'm really trying
I think I may start crying
My heart can't wait another day
When you kiss me I've just got to say

(Baby, I love you) come on, baby
(Baby, I love you) ooh-ee baby
(Baby, I love you only you) baby, I love only you

Whoa oh, whoa oh oh oh

I can't live without you
I love everything about you
I can't help it if I feel this way
Oh I'm so glad I found you
I want my arms around you
I love to hear you call my name
Oh tell me that you feel the same

(Baby, I love you) come on, baby
(Baby, I love you) ooh-ee baby
(Baby, I love only you) baby, I love only you

Whoa oh, whoa oh oh oh

Come on, baby
(Baby, I love you) come on, baby
(Baby, I love you) ooh-ee baby
(Baby, I love you) come on, baby
(Baby, I love you) ooh-ee baby
(Baby, I love you) oh-oh oh
(Baby, I love you) oh-oh oh
(Baby, I love you) oh-oh oh
(Baby, I love you) oh-oh oh
(Baby, I love you)...
[Fades out]
---
Info
BABY, I LOVE YOU is a song written by Jeff Barry, Ellie Greenwich, and Phil Spector, and originally released by The Ronettes as a single in 1963. The above lyrics are for the original The Ronettes version of BABY, I LOVE YOU as released in 1963.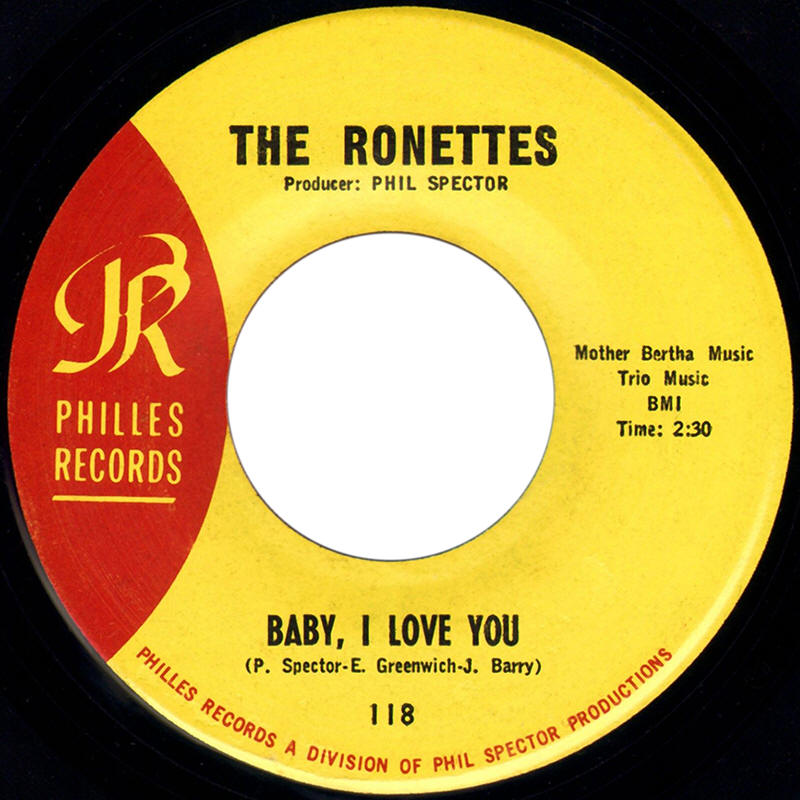 The Ronettes -- "Baby, I Love You / Miss Joan And Mr. Sam"

7" single - Philles Records (118) - USA, 1963

Bruce Springsteen's Version
Bruce Springsteen performed BABY, I LOVE YOU live a few times in 1976 and 1977, with Ronnie Spector. See the live 04 Nov 1976 version for more details.
Available Versions
List of available versions of BABY, I LOVE YOU on this website:
BABY, I LOVE YOU [Live 04 Nov 1976 version]
BABY, I LOVE YOU [Original The Ronettes version]
---
Page last updated: 17 Dec 2016