BABY WORKOUT
Original Jackie Wilson version
---
Hey, you!
Come out here on the floor
Let's rock some more
Come out here on the floor
Honey, let's rock some more, yeah

Now when you get out here
Don't you have no fear
Put your hands on your hip
And let your backbone slip
And work out

Ah, my momma, move up, (first step)
Party move back, (second step)
Shuffle to the left, (third step)
Wobble to the right, (fourth step)

Now it's plain to see
You put a hurtin' on me
But it's a natural fact, ha!
I like it like that
So work out

Yeah, baby work out, (work baby, work out)
Honey, work out, (work baby, work out)
Ah, baby work out, (work baby, work out)
Shout and turn the joint out, (work baby, work out)
Work out, (work out)
Work out, (work out)
Work all night long, (work baby, work out)
Yeah, yeah!
(Around and around and around and around)
(Around and around and around and around)
(Around and around and around and around)
(Around and around and around and around)
(Ahhh)

Ahhh, baby, around and around we go
Don't you know, don't you know
Around and around we go
Where we stop, nobody knows
Yeah!

The band is swinging on the stand
We're moving in, we're moving out
Then we'll step back now
And end this dance with a shout
So work out

Now when I tell you to shout I want you to jump at it
Yeah, baby, let's shout, (shout, baby, shout, shout)
Honey, let's shout, (shout, baby, shout, shout)
Ah baby, let's shout, (shout, baby, shout, shout)
(Yeah, shout and turn it out, baby), yeah, (shout, baby, shout, shout)
Let's shout, (let's shout)
Let's shout, (let's shout)
Shout all night long, (shout, baby, shout, shout)
I gotta have it just one more time, now here we go, (work, baby, work out)
Around and around we go, (work, baby, work out)
Ahhh (work, baby, work out)
Around and around we go, (work, baby, work out)
Now work out, (work out)
Work out, (work out)
Work all night long, ahhh, (work, baby, work out)
(Work, baby, work out)
Work out, baby, (work, baby, work out)
Ah, work out woman, (work, baby, work out)
Shout and turn the joint out, (work, baby, work out)
Yeah, work out, (work out)
Work out, (work out)
Baby, baby, baby, baby, baby, baby...
[fades out]
---
Info
BABY WORKOUT is a song written by Alonzo Tucker and Jackie Wilson and originally released by Jackie Wilson on his 1963 album Baby Workout (Brunswick, mono catalogue # BL-54110, stereo catalogue # BL-754110). The song was also released as a single in 1963, with I'M GOING CRAZY (GOTTA GET YOU OFF MY MIND) on the B-side (Brunswick, catalogue # 55239). The above lyrics are for the original Jackie Wilson version of BABY WORKOUT as released in 1963.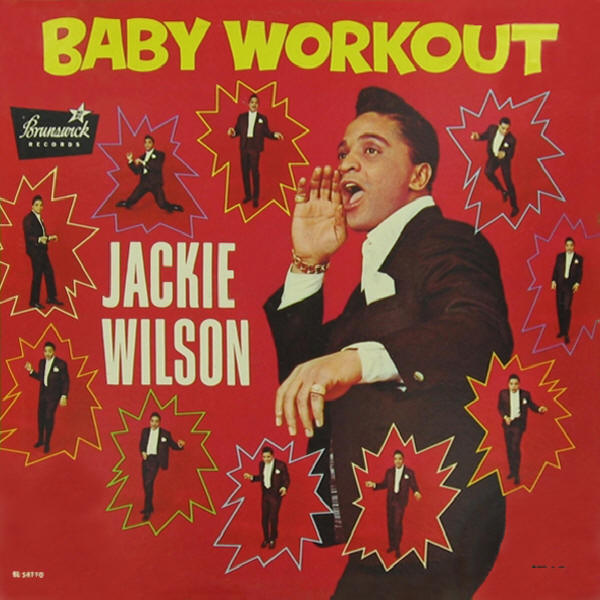 Jackie Wilson -- Baby Workout (album cover art, mono version)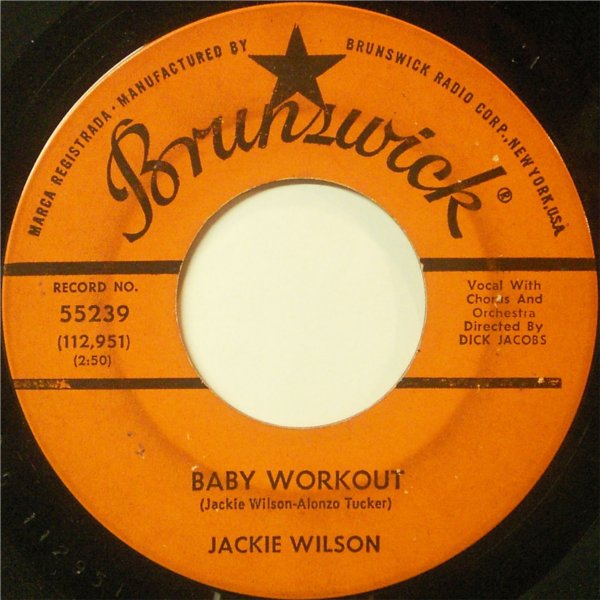 Jackie Wilson -- "Baby Workout / I'm Going Crazy (Gotta Get You Off My Mind)" (1963 USA 7-inch single, A-side label)
Bruce Springsteen's Versions
Bruce Springsteen has never performed BABY WORKOUT live in full, but he once (as far as it's known) used a snippet of the song as part of A LOVE SO FINE in 1975. See the live 22 Jul 1975 version of A LOVE SO FINE for more details.
Credits
Thanks Jake (ol'catfishinthelake at BTX and Greasy Lake) for the lyrics help.
Available Versions
List of available versions of BABY WORKOUT on this website:
BABY WORKOUT [Original Jackie Wilson version]
---
Page last updated: 19 Sep 2012