BACKSTREETS
Live 21 Jun 1985 version
---
Whoahohoh, whoahohohohohoh,
Whoahoah, whoahohohohohoah,
Hmmwhoahoah, Hmmmm whoaaaaaaahohoah
Whoahohoh, whoahohohohoh
I wish you come back, will you coming back?

One soft infested summer me and Terry became friends
Trying in vain to breathe the fire we was born in
Catching rides to the outskirts, tying faith between our teeth
Sleeping in that old abandoned beach house, getting wasted in the heat
Hiding on the backstreets, hiding on the backstreets
With a love so hard and filled with defeat
Running for our lives at night out on those backstreets

Slow dancing in the dark on the beach at Stockton's Wing
Where desperate lovers park we sat with the last of the Duke Street Kings
Huddled in our cars waiting for the bells that ring
In the deep heart of the night that set us loose from everything
To go running on the backstreets, running on the backstreets
We swore we'd live forever
On the backstreets we take it together

Endless juke joints and Valentino drag
Where dancers scraped the tears up off the street dressed down in rags
Running into the darkness, some hurt bad some really dying
At night sometimes it seemed you could hear that whole damn city crying
Blame it on the lies that killed us, on the truth that ran us down
You can blame it all on me Terry, it don't matter to me now
When the breakdown hit at midnight there was nothing left to say
'Cept I hated him, and I hated you when you went away
Whoah, whoah

Now laying here in the dark, you're like an angel on my chest
Just another tramp of hearts crying tears of faithlessness
Remember all the movies, Terry, we'd go see
Trying in vain to walk like the heroes we thought we had to be
Then after all this time to find we're just like all the rest
Stranded in the park and forced to confess
To hiding on the backstreets, hiding on the backstreets
We swore forever friends
On the backstreets until the end

Until the end
I remember that you promised
That if you got out first, you'd help me
And if I got out first, I'd help you
I remember that we, we promised
And we swore that there was nothing, never nothing that could ever pull us apart
We said it'd last forever and forever and forever

Hiding on the backstreets, hiding on the backstreets
Hiding on the backstreets, hiding on the backstreets
Hiding on the backstreets, hiding on the backstreets
Hiding on the backstreets, hiding on the backstreets
Hiding on the backstreets, hiding on the backstreets
Hiding on the backstreets, hiding on the backstreets
Hiding on the backstreets, hiding on the backstreets
Hiding on the backstreets, hiding on the backstreets
Hiding on the backstreets, hiding on the backstreets
It's alright
We'll go hiding on the backstreets tonight
On the backstreets, on the backstreets
On the backstreets, on the backstreets
On the backstreets, on the backstreets
Oh

Whohohoah, whoah ohhh ohh ohh whoahohohoh
---
Info
The above lyrics are for the live 21 Jun 1985 performance of BACKSTREETS at Stadio Giuseppe Meazza in Milan, Italy, during the Born In The U.S.A. Tour. This version of BACKSTREETS includes an extended intro and a short "Sad Eyes" interlude. This was the last time BACKSTREETS was played on this tour.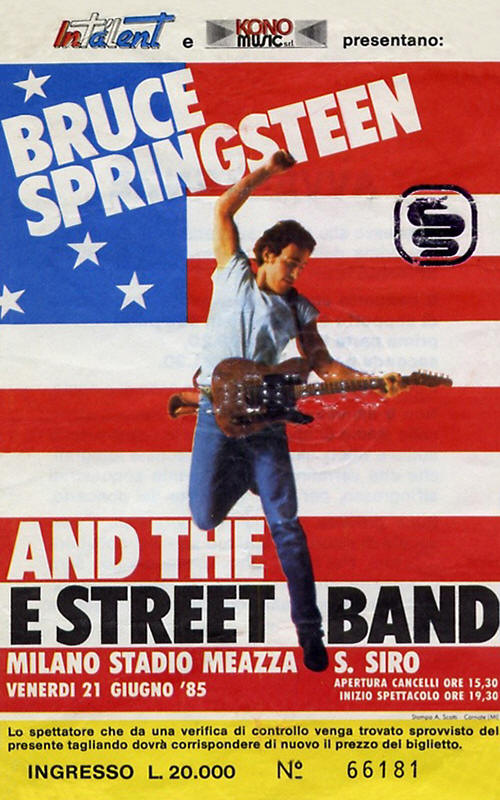 Ticket stub for the 21 Jun 1985 show at Stadio Giuseppe Meazza, Milan, Italy
Credits
Thanks Chris at born2run.de for the lyrics help.
Available Versions
List of available versions of BACKSTREETS on this website:
BACKSTREETS [Album version]
BACKSTREETS [Unofficial studio version 1]
BACKSTREETS [Unofficial studio version 2]
BACKSTREETS [Unofficial studio version 3]
BACKSTREETS [Live 18 Nov 1975 version]
BACKSTREETS [Live 22 Aug 1976 version]
BACKSTREETS [Live 29 Sep 1976 version]
BACKSTREETS [Live 30 Sep 1976 version]
BACKSTREETS [Live 09 Oct 1976 version]
BACKSTREETS [Live 25 Oct 1976 version]
BACKSTREETS [Live 28 Oct 1976 version]
BACKSTREETS [Live 29 Oct 1976 version]
BACKSTREETS [Live 30 Oct 1976 version]
BACKSTREETS [Live 02 Nov 1976 version]
BACKSTREETS [Live 03 Nov 1976 version]
BACKSTREETS [Live 04 Nov 1976 version]
BACKSTREETS [Live 13 Feb 1977 version]
BACKSTREETS [Live 22 Feb 1977 version]
BACKSTREETS [Live 06 Mar 1977 version]
BACKSTREETS [Live 13 Mar 1977 version]
BACKSTREETS [Live 19 Mar 1977 version]
BACKSTREETS [Live 22 Mar 1977 version]
BACKSTREETS [Live 23 Mar 1977 version]
BACKSTREETS [Live 24 Mar 1977 version]
BACKSTREETS [Live 25 Mar 1977 version]
BACKSTREETS [Live 31 Dec 1977 version]
BACKSTREETS [Live 23 May 1978 version]
BACKSTREETS [Live 31 May 1978 version]
BACKSTREETS [Live 09 Jun 1978 version]
BACKSTREETS [Live 16 Jun 1978 version]
BACKSTREETS [Live 07 Jul 1978 version]
BACKSTREETS [Live 04 Aug 1978 version]
BACKSTREETS [Live 09 Aug 1978 version]
BACKSTREETS [Live 01 Sep 1978 version]
BACKSTREETS [Live 19 Sep 1978 version]
BACKSTREETS [Live 30 Sep 1978 version]
BACKSTREETS [Live 15 Dec 1978 version]
BACKSTREETS [Live 19 Dec 1978 version]
BACKSTREETS [Live 20 Dec 1978 version]
BACKSTREETS [Live 28 Dec 1978 version]
BACKSTREETS [Live 31 Dec 1978 version]
BACKSTREETS [Live 01 Jan 1979 version]
BACKSTREETS [Live 28 Aug 1981 version]
BACKSTREETS [Live 20 Aug 1984 version]
BACKSTREETS [Live 25 Aug 1984 version]
BACKSTREETS [Live 13 Jun 1985 version]
BACKSTREETS [Live 21 Jun 1985 version]
BACKSTREETS [Live 17 Mar 1988 version]
BACKSTREETS [Live 20 Mar 1988 version]
BACKSTREETS [Live 23 Apr 1988 version]
BACKSTREETS [Live 03 May 1988 version]
BACKSTREETS [Live 21 Feb 1995 version]
BACKSTREETS [Live 31 Jan 1998 version]
BACKSTREETS [Live 15 Mar 1999 version]
BACKSTREETS [Live 01 Jul 2000 version]
BACKSTREETS [Live 16 Sep 2003 version]
BACKSTREETS [Live 22 Nov 2005 version]
BACKSTREETS [Live 17 Oct 2007 version]
BACKSTREETS [Live 22 Apr 2008 version]
BACKSTREETS [Live 21 Jul 2009 version]
---
Page last updated: 16 Apr 2015