BALLAD OF A SELF-LOADING PISTOL
Early draft #2
---
Father I have come to tell you 'bout
somethin' I done
As the night reared its light head
into a baby sun
We rode down into the town
from were [sic] black throats come
I checked into a hotel with a lady
and feel for some a bottle of wine
I remembered it well was where you
used to throttle your go engine on time
that line

You'd take me down take me down
(when things were good) when I was young
down into the summertime
But I was there for a different reason
this time (it wasn't memories
I was after this time)
---
Info
The above lyrics are for an early draft of BALLAD OF A SELF-LOADING PISTOL, as found on a handwritten lyrics sheet auctioned in 2015. This draft is titled "The Story of the Self Loading Pistol" and has very different lyrics to what was later recorded. See the studio version for more details. See also early draft #1.
Lyrics Sheet
A Bruce Springsteen handwritten lyrics sheet for BALLAD OF A SELF-LOADING PISTOL was auctioned in October 2015 on Paddle8.com. The lyrics are written on a 6"x9.5" ruled notepaper using a black ball pen. According to the auction description, "Its 24 lines are written in blue ballpoint pen on one sheet of white notepaper, with [...] minor amendments and additions in black ballpoint pen". This seems to indicate that there are more lines written on the other side of this notepaper.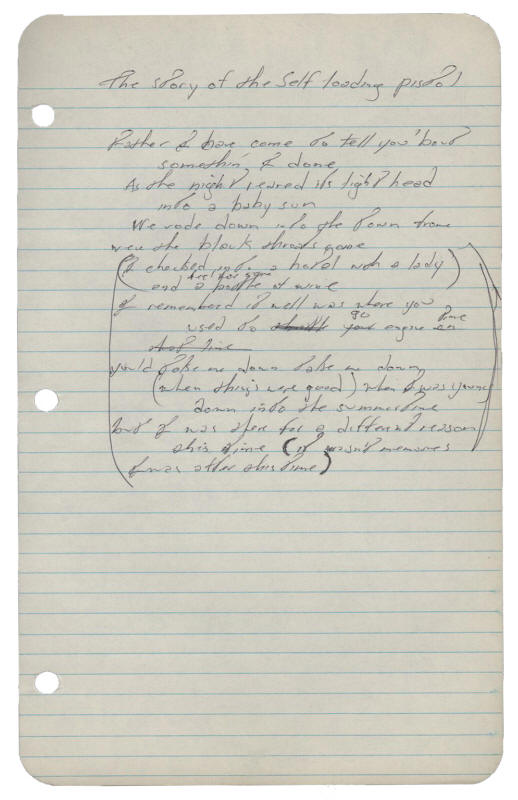 Bruce Springsteen handwritten lyrics for BALLAD OF A SELF-LOADING PISTOL
Request
If you have any corrections, additions, or comments, please contact me via the below form or by email: . You will be credited. Thanks in advance.
Available Versions
List of available versions of BALLAD OF A SELF-LOADING PISTOL on this website:
BALLAD OF A SELF-LOADING PISTOL [Studio version]
BALLAD OF A SELF-LOADING PISTOL [Early draft #1]
BALLAD OF A SELF-LOADING PISTOL [Early draft #2]
---
Page last updated: 24 Oct 2015