BECAUSE THE NIGHT
Live 30 May 1978 version
---
Two, three, four

Take me now baby here as I am
Hold me close to try and understand
Desire and hunger is the fire I breathe
With your love baby when you're here

Come on now try and understand
The way I feel when I'm in your hands
Take me now when the sun descends
They can't touch now
They can't touch now
They can't touch now

Because the night belongs to lovers
Because the night belongs to lovers
Because the night belongs to lovers
Because the night belongs to lovers

What I've got is what I earned
What I'm not baby I have learned
Love is a ring, the telephone
Baby wait till when I'm alone

Well come on now try and understand
The way I feel when I'm in your command
Take me now when the sun descends
They can't hurt us now
They can't hurt us now
They can't hurt us now

Because the night belongs to lovers
Because the night belongs to lovers
Because the night belongs to lovers
Because the night belongs to lovers

Your love is here and now
The vicious circle turns and burns without
Though I cannot live forgive me now
The time has come to bring the evening out
Can't touch us now
Can't hurt us now

Because the night belongs to lovers
Because the night belongs to lovers
Because the night belongs to lovers
Because the night belongs to love

[Guitar solo]
---
Info
The above lyrics are for the live 30 May 1978 performance of BECAUSE THE NIGHT at Music Hall in Boston, MA, during the Darkness On The Edge Of Town Tour. This was the tour debut of the song.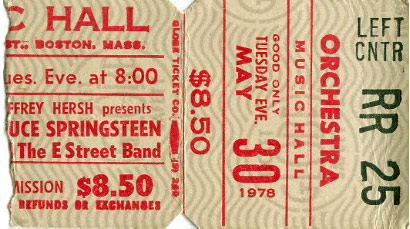 Ticket stub for the 30 May 1978 show at Music Hall, Boston, MA
Request
The above lyrics may not be 100% correct. If you have any corrections, please contact me at or by using the below form. You will be credited. Thanks in advance.
Available Versions
List of available versions of BECAUSE THE NIGHT on this website:
BECAUSE THE NIGHT [Official studio version]
BECAUSE THE NIGHT [Unofficial studio version 1]
BECAUSE THE NIGHT [Unofficial studio version 2]
BECAUSE THE NIGHT [Live 30 May 1978 version]
BECAUSE THE NIGHT [Live 01 Jul 1978 version]
BECAUSE THE NIGHT [Live 05 Jul 1978 version]
BECAUSE THE NIGHT [Live 07 Jul 1978 version]
BECAUSE THE NIGHT [Live 08 Jul 1978 version]
BECAUSE THE NIGHT [Live 09 Jul 1978 version]
BECAUSE THE NIGHT [Live 12 Jul 1978 version]
BECAUSE THE NIGHT [Live 14 Jul 1978 version]
BECAUSE THE NIGHT [Live 15 Jul 1978 version]
BECAUSE THE NIGHT [Live 16 Jul 1978 version]
BECAUSE THE NIGHT [Live 18 Jul 1978 version]
BECAUSE THE NIGHT [Live 09 Aug 1978 version]
BECAUSE THE NIGHT [Live 19 Sep 1978 version]
BECAUSE THE NIGHT [Live 20 Sep 1978 version]
BECAUSE THE NIGHT [Live 30 Sep 1978 version]
BECAUSE THE NIGHT [Live 08 Dec 1978 version]
BECAUSE THE NIGHT [Live 15 Dec 1978 version]
BECAUSE THE NIGHT [Live 03 Oct 1980 version]
BECAUSE THE NIGHT [Live 28 Dec 1980 version]
BECAUSE THE NIGHT [Live 29 Dec 1980 version]
BECAUSE THE NIGHT [Live 31 Dec 1980 version]
BECAUSE THE NIGHT [Live 05 Jun 1981 version]
BECAUSE THE NIGHT [Live 17 Jul 1984 version]
BECAUSE THE NIGHT [Live 12 Jun 1985 version]
BECAUSE THE NIGHT [Live 27 Sep 1985 version]
BECAUSE THE NIGHT [Live 11 Jun 1988 version]
BECAUSE THE NIGHT [Live 03 Jul 1988 version]
BECAUSE THE NIGHT [Live 19 Mar 2000 version]
BECAUSE THE NIGHT [Live 23 Nov 2002 version]
BECAUSE THE NIGHT [Live 02 Oct 2004 version]
BECAUSE THE NIGHT [Live 31 Jul 2012 version]
BECAUSE THE NIGHT [Live 12 Apr 2014 version]
BECAUSE THE NIGHT [Live 17 Jan 2016 version]
BECAUSE THE NIGHT [Patti Smith Group's cover version]
---
Page last updated: 07 Feb 2017