BE MY BABY
Original The Ronettes version
---
The night we met I knew I needed you so
And if I had the chance I'd never let you go
So won't you say you love me, I'll make you so proud of me
We'll make 'em turn their heads every place we go

So won't you please (be my, be my baby)
Be my little baby (my one and only baby)
Say you'll be my darling (be my, be my baby)
Be my baby now, whoa oh oh oh (my one and only baby)

I'll make you happy, baby, just wait and see
For every kiss you give me I'll give you three
Oh since the day I saw you, I have been waiting for you
You know I will adore you 'til eternity

So won't you please (be my, be my baby)
Be my little baby (my one and only baby)
Say you'll be my darling (be my, be my baby)
Be my baby now, whoa oh oh oh (my one and only baby)

So come on and please (be my, be my baby)
Be my little baby (my one and only baby)
Say you'll be my darling (be my, be my baby)
Be my baby now, whoa oh oh oh (my one and only baby)

(Be my, be my baby) be my little baby
(My one and only baby) oh-oh...
(Be my, be my baby) oh-oh...
(My one and only baby) oh oh oh oh oh
(Be my, be my baby) oh-oh...
(My one and only baby) oh-oh...
(Be my, be my baby) be my baby now
(My one and only baby) oh yeah yeah
[Fades out]
---
Info
BE MY BABY is a song written by Jeff Barry, Ellie Greenwich and Phil Spector, and originally released by The Ronettes as a single in 1963. The above lyrics are for the original The Ronettes version of BE MY BABY as released in 1963.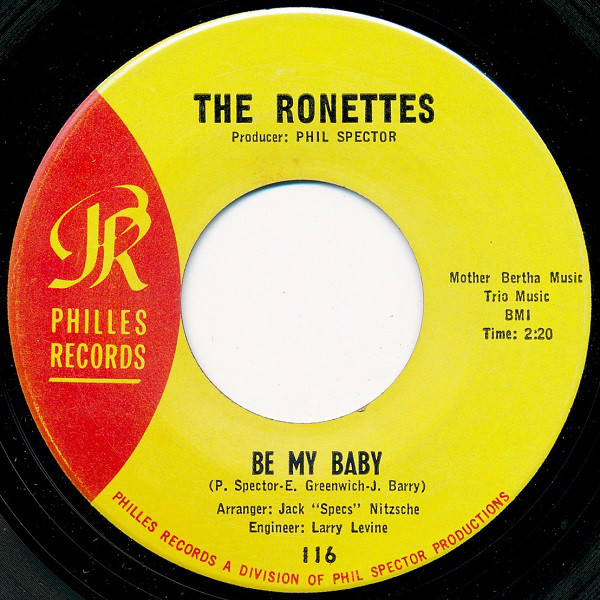 The Ronettes -- "Be My Baby / Tedesco And Pitman"

7" single - Philles Records (116) - USA, 1963

Bruce Springsteen's Version
Bruce Springsteen performed BE MY BABY live a few times in 1976 and 1977, with Ronnie Spector, and once again in 1989. See the live 04 Nov 1976 version for more details.
Available Versions
List of available versions of BE MY BABY on this website:
BE MY BABY [Live 04 Nov 1976 version]
BE MY BABY [Original The Ronettes version]
---
Page last updated: 17 Dec 2016