BE-BOP-A-LULA
Original Gene Vincent And His Blue Caps version
---
Well, Be-Bop-A-Lula, she's my baby
Be-Bop-A-Lula, I don't mean maybe
Be-Bop-A-Lula, she's my baby
Be-Bop-A-Lula, I don't mean maybe
Be-Bop-A-Lula, she's my baby doll, my baby doll, my baby doll

Well, she's the gal in the red blue jeans
Ah, she's the queen of all the teens
Ah, she's the one that I know
Ah, she's the woman that loves me so, say

Be-Bop-A-Lula, she's my baby
Be-Bop-A-Lula, I don't mean maybe
Be-Bop-A-Lula, she's my baby doll, my baby doll, my baby doll
Let's rock!

Well, now, she's the one that's got that beat
Ah, she's the one with the flying feet
Ah, she's the one that walks around the store
She's the one that yells, "More, more, more, more!"

Be-Bop-A-Lula, she's my baby
Be-Bop-A-Lula, I don't mean maybe
Be-Bop-A-Lula, she's my baby doll, my baby doll, my baby doll
Let's rock again, now!

Well, Be-Bop-A-Lula, she's my baby
Be-Bop-A-Lula, I don't mean maybe
Be-Bop-A-Lula, she's my baby
Be-Bop-A-Lula, I don't mean maybe
Be-Bop-A-Lula, she's my baby doll, my baby doll, my baby doll
---
Info
BE-BOP-A-LULA is a song written by Sheriff Tex Davis and Gene Vincent and originally released by Gene Vincent And His Blue Caps as a single in June 1956, with WOMAN LOVE on the B-side (Capitol Records, catalogue # F3450). It reached #7 on the Billboard Hot 100 chart and #8 on the Rhythm & Blues Records chart. In 2004 Rolling Stone magazine placed BE-BOP-A-LULA at #102 on its list of "The 500 Greatest Songs Of All Time".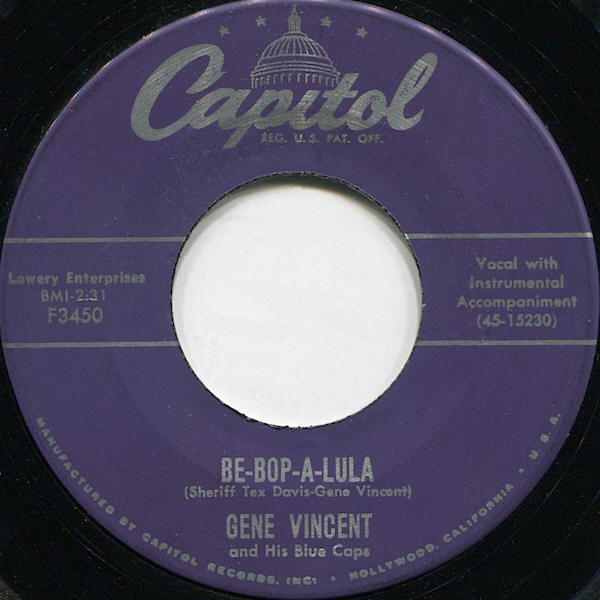 Gene Vincent And His Blue Caps -- "Be-Bop-A-Lula / Woman Love" (1956 USA 7-inch single, A-side label)
The above lyrics are for the original Gene Vincent And His Blue Caps version of BE-BOP-A-LULA as released in 1956.
Springsteen's Versions
Bruce Springsteen performed a snippet of BE-BOP-A-LULA once in 1977 and the full song once in 1982. See the live 23 Jul 1982 version for more details.
Credits
Thanks Jake (ol'catfishinthelake at BTX and Greasy Lake) for the lyrics help.
Available Versions
List of available versions of BE-BOP-A-LULA on this website:
BE-BOP-A-LULA [Live 23 Jul 1982 version]
BE-BOP-A-LULA [Original Gene Vincent And His Blue Caps version]
---
Page last updated: 19 Sep 2012