BETTY JEAN (Chuck Berry)
Original Chuck Berry version
---
I love the way you talk (oh yeah Betty Jean)
Speaking little, saying a lot (oh yeah Betty Jean)
I love the way you walk (oh yeah Betty Jean)
Looks like you're dancing but you're not (oh yeah Betty Jean)
I love the way you love (oh yeah Betty Jean)
You give it everything you've got (oh yeah Betty Jean)

Ooh ah oh baby (sing the song Chuckie Boy)
I'm in love with you, whoa! Whoa! (oh yeah Betty Jean)
Whoa oh oh baby (keep it singing Chuckie Boy)
I'm in love with you (oh yeah Betty Jean)
Woah oh baby (keep it singing Chuckie Boy)
Could you love me too? (Oh yeah Betty Jean)

Every time I knock, knock, knock (oh yeah Betty Jean)
I hear you say, "Come in" (oh yeah Betty Jean)
My heart goes a boomp-boomp (oh yeah Betty Jean)
Just to hold you again (oh yeah Betty Jean)
I hear bells ding-a-ling (oh yeah Betty Jean)
'Cause you're the living end (oh yeah Betty Jean)

Ooh ah ooh baby (sing the song Chuckie Boy)
I'm in love with you, whoa! Ha! (Oh yeah Betty Jean)
Ah oh baby (keep it singing Chuckie Boy)
I'm in love with you (oh yeah Betty Jean)
Oh baby (keep it singing Chuckie Boy)
Could you love me too? (Oh yeah Betty Jean)

(Sing the song Chuckie Boy)
(Sing the song Chuckie Boy)

I bet you wouldn't think a dance (oh yeah Betty Jean)
Could start a real romance (oh yeah Betty Jean)
I bet you wouldn't think a kiss (oh yeah Betty Jean)
Could turn me on like this (oh yeah Betty Jean)
Well let me tell you like it was (oh yeah Betty Jean)
Yes it did, yes it does, whoa! (Oh yeah Betty Jean)

Oh Baby (sing the song Chuckie Boy)
I'm in love with you, whoa! (Oh yeah Betty Jean)
Ohhh baby (keep it singing Chuckie Boy)
I'm in love with you (oh yeah Betty Jean)
Oh oh oh baby (keep it singing Chuckie Boy)
Could you love me too? (Oh yeah Betty Jean)

Whoa! Whoa! Baby I'm in love
Whoa! Baby I'm in love in with you
Whoaaa! I'm in love with you
Whoa! Come on baby [fades]
---
Info
BETTY JEAN is a song written by Chuck Berry who released it on his 1960 album Rockin' At The Hops. The above lyrics are for the original Chuck Berry version of BETTY JEAN as released in 1960.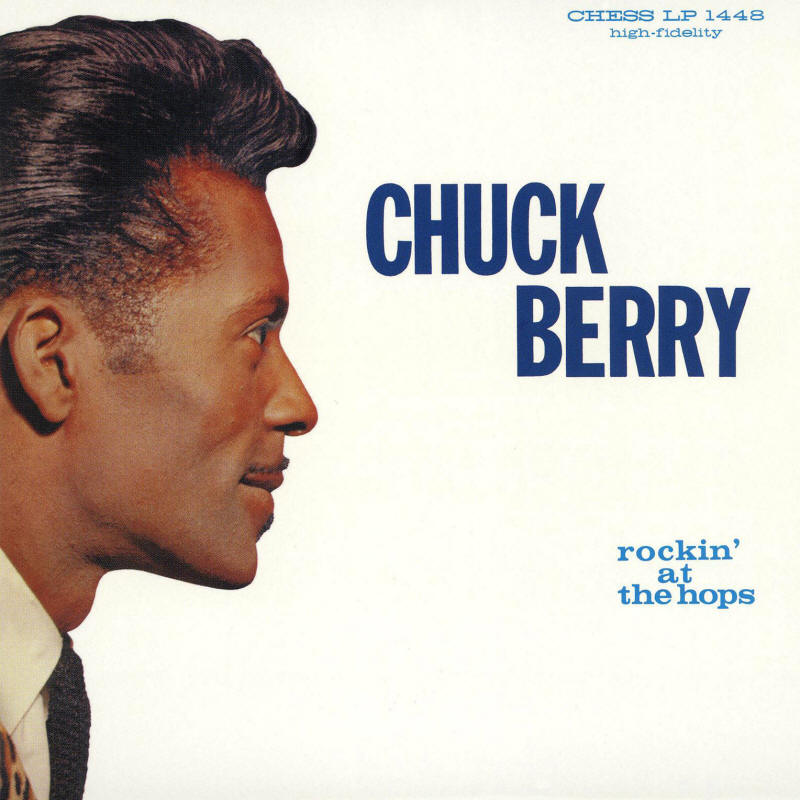 Check berry -- Rockin' At The Hops

LP - Chess (LP 1448) - USA, 1960

Not to be confused with the Bruce Springsteen unreleased song BETTY JEAN.
Bruce Springsteen's Version
Bruce Springsteen covered Chuck Berry's BETTY JEAN a couple of times in his career. See the 23 Mar 1988 sound-check version for more details.
Available Versions
List of available versions of BETTY JEAN (Chuck Berry) on this website:
BETTY JEAN (Chuck Berry) [23 Mar 1988 sound-check version]
BETTY JEAN (Chuck Berry) [Original Chuck Berry version]
---
Page last updated: 03 Jun 2015