BLACK BOOTS
Matt O'Ree Band's album version
---
| | |
| --- | --- |
| Matt O'Ree: | I'm not a superstitious man, no |
| | But these shoes they got a curse on them, yo |
| | Sometimes I think they're just chasing me |
| | Don't believe in conspiracies |
| | But it seems like they got it out for us |
| | Coincidence is a little too much to believe |
| | |
| Matt O'Ree: | Black boots, cold gin |
| | Feel the trouble 'bout to begin |
| | Bad soul coming up |
| | Dark times and I can stop these black boots |
| | These black boots |
| | |
| Bruce Springsteen: | A day job's not a-who I am, no |
| | So far from rock and roll plans, yo |
| | This dirty fun makes it feel alright |
| | Watch Dr. Jeckyll run away and hide |
| | Everyone says it's killing me |
| | I hear ya but it's not that easy |
| | |
| Bruce Springsteen: | Black boots, cold gin |
| | Feel the trouble now I'm 'bout to begin |
| | Bad soul coming up |
| | Dark times and I just can stop these black boots |
| | |
| Matt O'Ree: | Trying to remember what happened last night, yeah |
| Bruce Springsteen: | I can barely see from these bleeding eyes |
| Matt O'Ree: | See the bad news looking through the door |
| Bruce Springsteen: | These boots are laced and her dress on the floor |
| | |
| O'Ree and Springsteen: | Black boots, cold gin |
| | Feel the trouble, trouble 'bout begin |
| | Bad soul coming up |
| | Dark times and I can stop these |
| | Black boots, cold gin |
| | Feel the trouble I'm 'bout begin |
| | Bad soul coming up |
| | Dark times |
| Matt O'Ree: | And I can't stop these black boots |
| | Oh no no |
| Bruce Springsteen: | No no no no no |
| Matt O'Ree: | Can't stop these |
| Bruce Springsteen: | I can't stop these |
| Matt O'Ree: | These black boots |
| Bruce Springsteen: | Black boots |
| Matt O'Ree: | Oh no no |
| Matt O'Ree: | Can't stop these |
| O'Ree and Springsteen: | These black boots |
| Bruce Springsteen: | Stop these black boots |
---
Info
BLACK BOOTS is a song written by Matt O'Ree and Jon Leidersdorff and released on Matt O'Ree Band's 2016 album Brotherhood. The above lyrics are for Matt O'Ree Band's album version of BLACK BOOTS as released in 2016.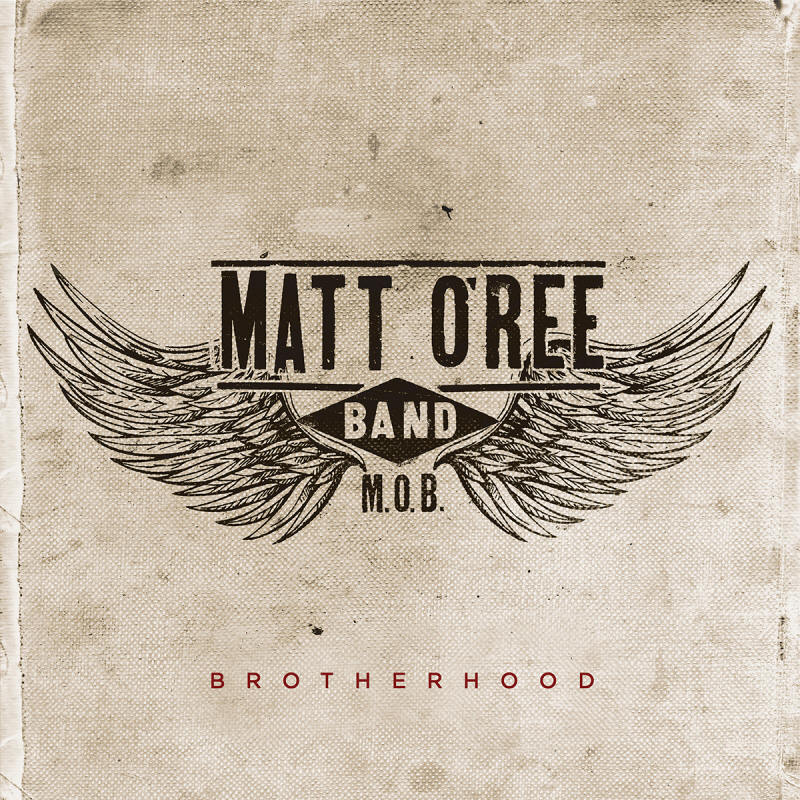 Matt O'Ree Band -- Brotherhood

CD - Therewolf Records (no catalog number) - USA, 2016

Bruce Springsteen contributed co-lead vocals and guitar solo to the album's leading single BLACK BOOTS. With Toby Scott at the engineering controls, he recorded his parts around late 2013 at Stone Hill Studio, his home studio in Colts Neck, NJ. Matt O'Ree wasn't present at the same recording session. The complete lineup on the track includes Matt O'Ree on guitar and vocals, Bruce Springsteen on guitar and vocals, Scott Bennert on bass guitar, John Hummel on drums, Matt Wade on B3 organ, and Eryn Shewell on vocals. Work on the album started as early as 2009. It was released on 23 Nov 2016.
In a December 2013 interview on Sirius XM's E Street Radio channel, Springsteen said: "I started my career as a heavy-metal guitarist... I had a prog rock band, basically. We were a heavy blues, prog rock group, Steel Mill... Steve and I both were pretty familiar with that kind of guitar [playing]. We literally made a living at it for quite a while, and I actually do miss it... I just sang on [a yet-to-be-released recording with] Matt O'Ree. He's a local blues player on the Shore. It's riff music, riff rock. It was fun. It's kinda dirty, sexy music... fun to play. I miss that."
In a press release, O'Ree spoke about how it all came together: "I taught [Springsteen's] son guitar for many years. I grew very close to him, he was like my little brother, he really became an amazing friend. One day he asked if I had anything new of mine he could listen to. At the time I was working on 'Black Boots' with Jon [Bon Jovi], one of the first finished versions. After playing it for him, he played it for his dad, without me even knowing. The next week at the lesson, I saw Bruce and he commented that he liked what I was up to. That was a defining moment for me, and with every ounce of courage I had, I asked Bruce if he would be interested in playing on it. With a pause he thought for a second, and then said, 'Sure. Let me see what I can add to it.' All I remember were overwhelming feelings of joy running through me. One incredible moment in an otherwise average day for a kid from Holmdel."
Available Versions
List of available versions of BLACK BOOTS on this website:
BLACK BOOTS [Matt O'Ree Band's album version]
---
Page last updated: 15 Dec 2016