BLUE ANGEL
Original Roy Orbison version
---
(Sha la la, dooby wah, dum dum dum, yeh yeh um)
(Sha la la, dooby wah, dum dum dum, yeh yeh um)

Oh blue angel, don't you cry
Just because he said goodbye
Oh, ah ah ah
No don't cry

Oh blue angel, have no fear
I brush away these lonely teardrops
Hey hey, whoa whoa

Well our love's precious flame
It just burn in vain
But you're not to blame
You thought love was a game
And it's oh such a shame, but don't you cry, don't sigh
I'll tell you why
I'll never say goodbye, blue angel

(Sha la la, dooby wah, dum dum dum, yeh yeh um)
(Wah wah wah wah, dum dum dum dum dum dum)

We'll have love so fine
Magic moments divine
If you'll just say you're mine
I'll love you till the end of time
Don't you worry your pretty head
I'll never let you down
I'll always be around, blue angel

(Sha la la, dooby wah, dum dum dum, yeh yeh um)
Blue angel
(Sha la la)
---
Info
BLUE ANGEL is a song written by Roy Orbison and Joe Melson and originally released by Roy Orbison as a single in 1960. The above lyrics are for the original Roy Orbison version of BLUE ANGEL as released in 1960.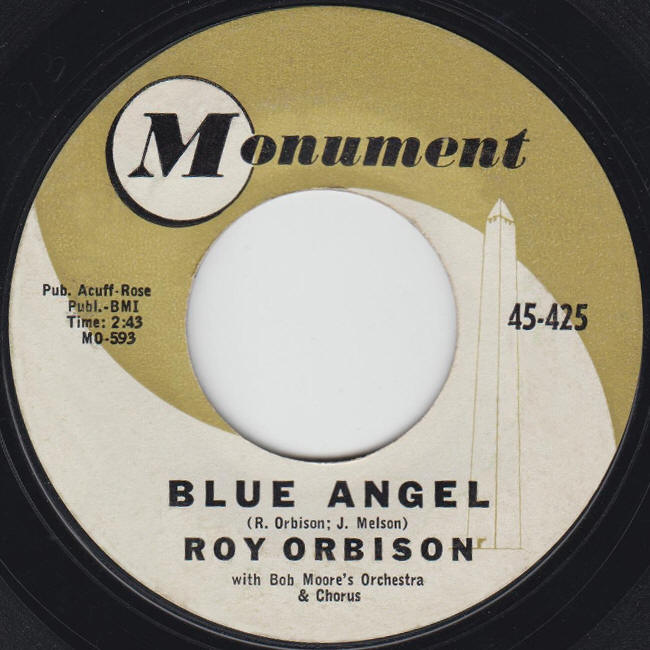 Roy Orbison -- "Blue Angel / Today's Teardrops"

7" single - Monument (45-425) - USA, 1960

Springsteen's Versions
Bruce Springsteen performed BLUE ANGEL live once, with Roy Orbison. See the live 30 Sep 1987 version for more details.
Available Versions
List of available versions of BLUE ANGEL on this website:
BLUE ANGEL [Live 30 Sep 1987 version]
BLUE ANGEL [Original Roy Orbison version]
---
Page last updated: 31 Aug 2015