BLUES RIFF (HIGH FIDELITY)
---
[Instrumental]
---
Info
BLUES RIFF (HIGH FIDELITY) is a short instrumental written by Bruce Springsteen for the Stephen Frears 2000 film High Fidelity.
Copyright
Bruce Springsteen copyrighted BLUES RIFF (HIGH FIDELITY) as a 100% composition of his at the U.S. Copyright Office in 1999. "Words and music" that is mentioned in the copyright file doesn't necessarily confirm that the song had words. The small snippet seen/heard in the movie may only be part of the song. The "2000-03-31" date in the file relates to the release date of the movie where the song (or some part of it) first appeared.
Copyright file details from the U.S. Copyright Office:
Type of Work: Music
Registration Number / Date: PA0001603128 / 2008-02-06
Application Title: "Blues Guitar Riff (High Fidelity)"
Title: "Blues Guitar Riff (High Fidelity)"
Notes: Words and music.
Copyright Claimant: Bruce Springsteen, 1949- . Address: c/o Chapman Bird Grey & Tessler, Inc.,
1990 S. Bundy Drive, Suite 200, Los Angeles, CA 90025
Date of Creation: 1999
Date of Publication: 2000-03-31
Nation of First Publication: United States
Authorship on Application: Bruce Springsteen, 1949- ; Citizenship: United States.
Springsteen's Cameo
In Nick Hornby's 1995 novel High Fidelity, on which the 2000 film of the same name is loosely based, the narrator wishes he could handle his past girlfriends as well as Bruce Springsteen does in the song BOBBY JEAN. "We had this idea to have [the main character] Rob have this conversation with Bruce in his head," John Cusack told The New York Times. "Of course we never really thought we'd get Bruce, we just thought putting him in there would make a good read for the studio and get them all excited. But I had met him socially, so I thought even though he's going to say no, I may as well call him and throw the Hail Mary pass and get it over with. And he kind of just laughed at the idea and said, 'Send me a script.' So when we finished shooting, we wrapped around 2:00 AM, flew to New York, and taped him in his studio for an hour the next morning." It was reported that Cusack's first choice for this role, Bob Dylan, had declined.
Springsteen played himself during a two-minute dream sequence in High Fidelity. He played a blues riff on guitar while talking to the film's dreaming lead character (Cusack), who ends the conversation with Bruce by saying "Good luck, goodbye", a spoof of the final line in Springsteen's BOBBY JEAN.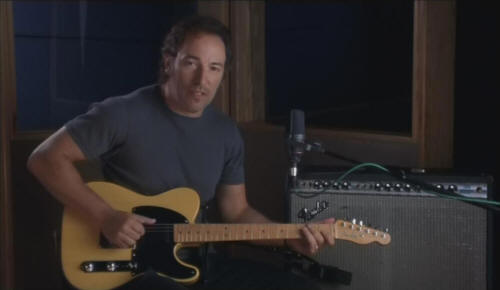 Bruce Springsteen's cameo in the movie High Fidelity
Springsteen's camoe in the 2000 movie High Fidelity was his first ever appearance in a feature film, i.e., excluding documentaries and music films/videos. His scene was the final one shot for the film. The shooting took place on 02 Jul 1999 at Disney Soundstage Studios in New York City, NY. Many takes were done during the shooting. "Stephen [Frears] just wanted to spend more time with Springsteen," John Cusack told in a March 2000 interview. "I had to tell him, Steve, that's enough.' We maxed out our Bruce time."
The cameo in High Fidelity earned Springsteen a 2001 MTV Movie Award nomination for "Best Cameo in a Movie". He lost to James Van Der Beek's cameo in Scary Movie.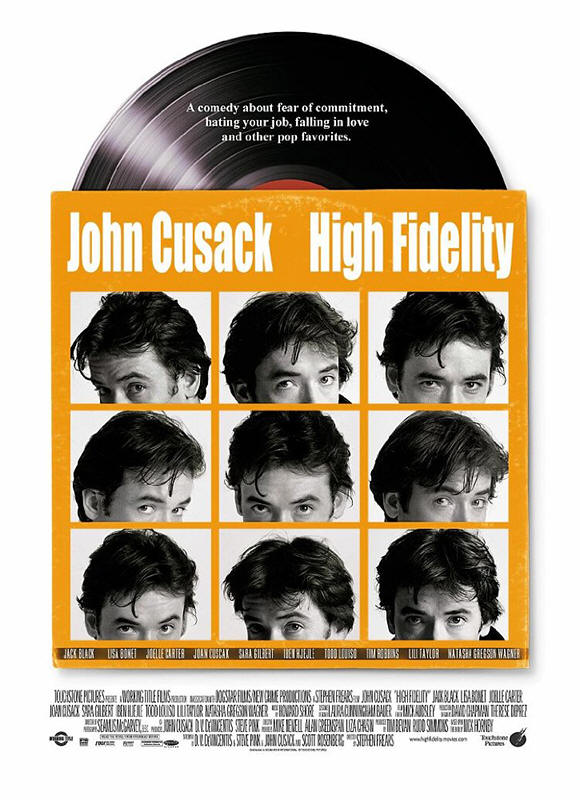 BLUES RIFF (HIGH FIDELITY) was used in the 2000 film High Fidelity, directed by Stephen Frears and starring John Cusack. The song was not included in the film's soundtrack album.

Request
If you have any additional information, please contact me via the below form or by email: . You will be credited. Thanks in advance.
Available Versions
List of available versions of BLUES RIFF (HIGH FIDELITY) on this website:
BLUES RIFF (HIGH FIDELITY)
---
Page last updated: 25 Oct 2016