BO DIDDLEY
---
Bo Diddley bought his babe a diamond ring,
If that diamond ring don't shine,
He gonna take it to a private eye,
If that private eye can't see
He'd better not take the ring from me.

Bo Diddley caught a nanny goat,
To make his pretty baby a Sunday coat,
Bo Diddley caught a bear cat,
To make his pretty baby a Sunday hat.

Mojo come to my house, ya black cat bone,
Take my baby away from home,
Ugly ole mojo, where ya bin,
Up your house, and gone again.

Bo Diddley, Bo Diddley have you heard?
My pretty baby said she wasn't for it.
---
Written by Ellas McDaniel, and originally by Bo Diddley from his 1955 single BO DIDDLEY / I'M A MAN. He later included it on his 1964 LP Bo Diddley's 16 All-Time Greatest Hits. In 2004 Rolling Stone magazine placed BO DIDDLEY at #62 on its list of "The 500 Greatest Songs Of All Time".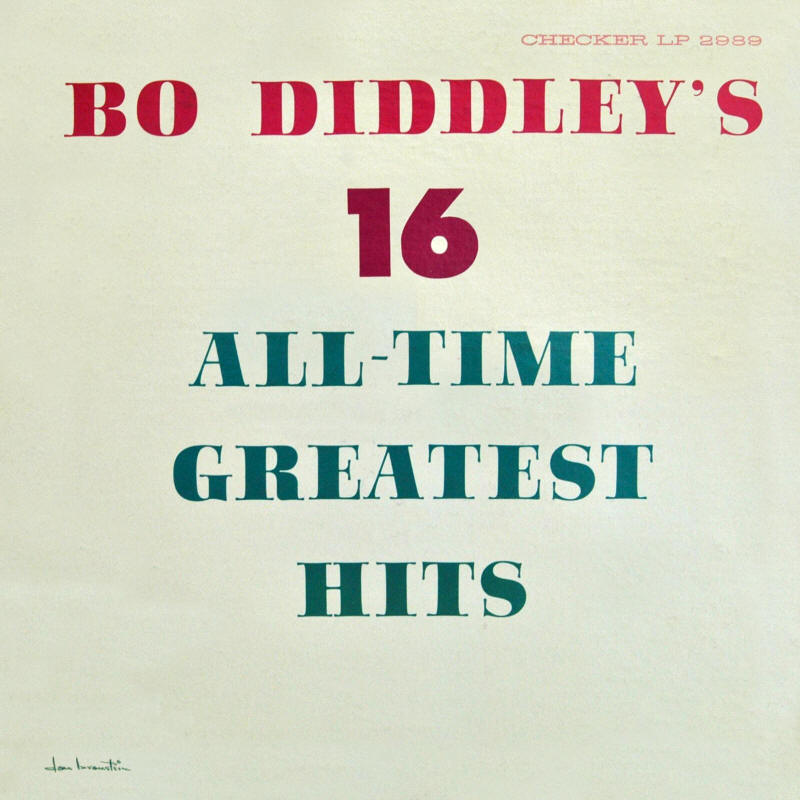 Bo Diddley -- Bo Diddley's 16 All-Time Greatest Hits (album cover art)
Sound-checked during the Tunnel Of Love tour on 04 Apr 1988 at Capital Center, Landover, MD, but not played during the show. See WHO DO YOU LOVE for more info about that sound-check.
According to Brucebase, the song was used in 1976. However, it might be HEY BO DIDDLEY since it was probably used as intro to SHE'S THE ONE, same as on 02 Sep 1995, or a custom hybrid of both BO DIDDLEY and HEY BO DIDDLEY.
The above lyrics are for the original Bo Diddley version.
Request:
I need lyrics for Bruce Springsteen's version of BO DIDDLEY. If you have audio for it, would you please send me an mp3 of it so I transcribe the lyrics, or at least transcribe the lyrics for me. You can contact me via the below form or by email: . You will be credited. Thanks in advance.
Available Versions
List of available versions of BO DIDDLEY on this website:
BO DIDDLEY
---