BORN TO RUN
Early draft
---
Wild
The junkys

[sic]

(hit angel)

at the palace shotgunned
Angels
some

(chicks sister)

soldiers who were up from Ft. Dix

I'll bet

Them wild boys did it just for the noise
not even for the kicks

mainline trip

they live in fury chasing the bad

flight

Kind of

(fools)

glory down a killers highway into

(mainlined into)

the sun
this town'll rip the

(out your)

bones from your back

but you can leave

it's a suicide trap (rap)

(it's a trap to catch the young)

you're dead unless

with me if you

You

(we got to)

get out while you're young so (come on!

got the guts to come

with) take my hand cause tramps
like us baby we were born to run



stroll on!

I looked out cross my hood + saw

The rebels

the highway buckle neath the wheels
of a

(my)

gold Chevy 6
1
I was heading for the place were

[sic]

good
girls die in the arms of wild angels
in one last kiss
2
I was heading for the place where wild
angels die in an everlasting or neverending
kiss
on wings of fury

Velocity plus

(Tonight) I've seen my legends

Baby out there heroes (also rebels) are crushed beneath

the viscous

[sic]

wheels of a gold (his own) Chevy 6
+ good g (surfer girl) (soft prettys

[sic]

) rich girls die in the arms of

wild angels in everlasting kiss (fix)

Baby they crushed (all) my heroes uptown last

night beneath the wheels of a Chevy 6

My lover (pretty)
---
Info
The above lyrics are for an early draft of BORN TO RUN, as found on a handwritten lyrics sheet auctioned in 2013. This draft is titled "Wild Angels" (written in the left margin) and the majority of the lyrics were reworked before the album version was recorded. The line "I looked out cross my hood + saw the highway buckle neath the wheels of a (my) gold Chevy 6" is taken from an early draft of GLORY ROAD.
"Ft. Dix" (Fort Dix) is a former United States Army post located south-southeast of Trenton, New Jersey.
Lyrics Sheet
A Bruce Springsteen handwritten lyrics sheet for BORN TO RUN was auctioned in December 2013 on Sotheby's and the hammer was dropped at $197,000. According to the auction house, the draft was written in Long Branch, NJ, in 1974. The lyrics are written using a blue ballpoint pen on a 8.5x11" ruled notepaper. Superscript, marginal notations, and a alternate lyrics for the second verse were added at a different time as evidenced by the use of a ballpoint with lighter blue. The lyrics sheet comes from a private collector but was originally part of Mike Appel's (Springsteen's former manager) personal collection.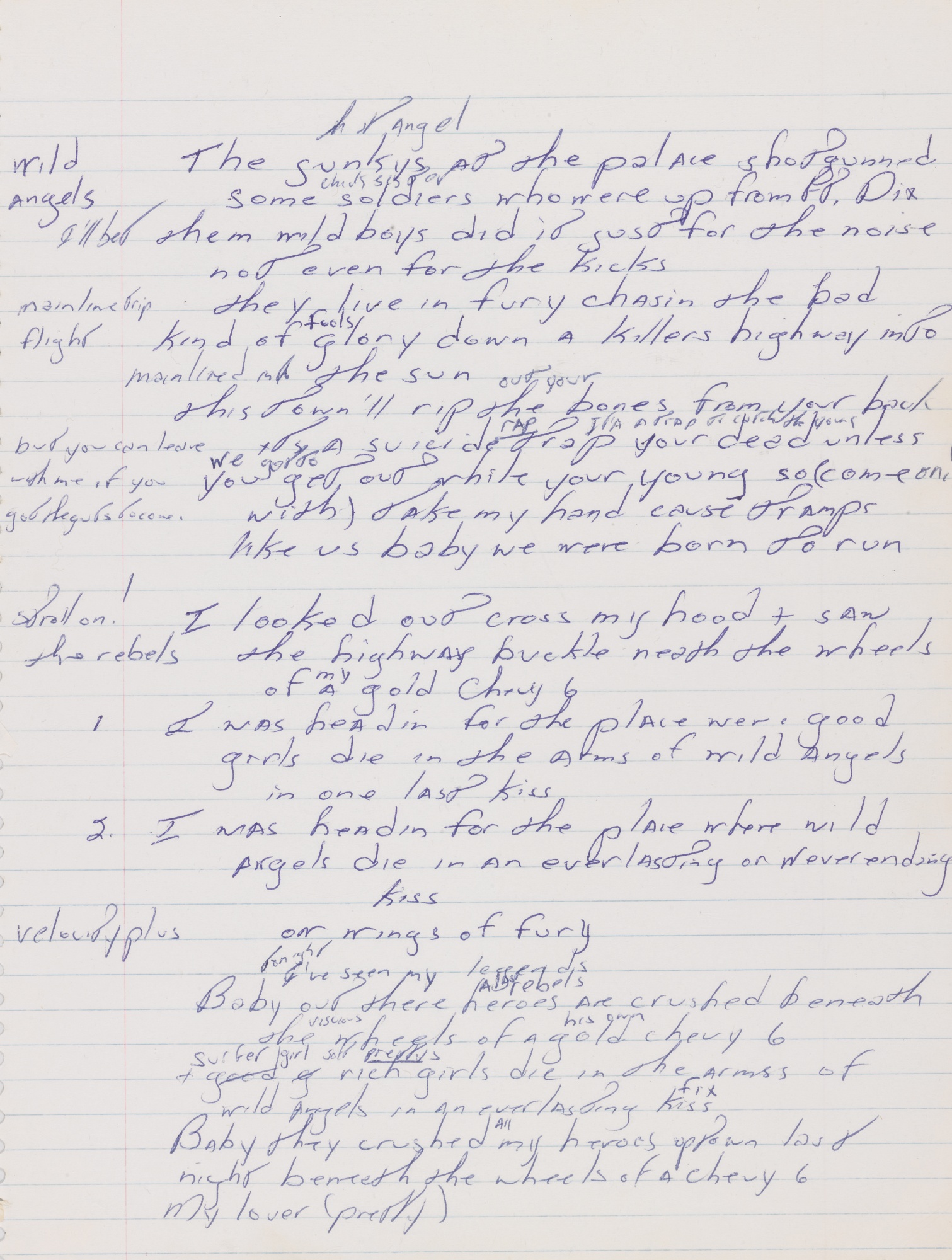 Bruce Springsteen handwritten lyrics for BORN TO RUN
The lyrics sheet was on display at Sotheby's in New York City for a couple weeks before the auction. A Springsteen fan visited the auction house and to his surprize the docent walked over, unlocked the display and let him hold it (see below photo).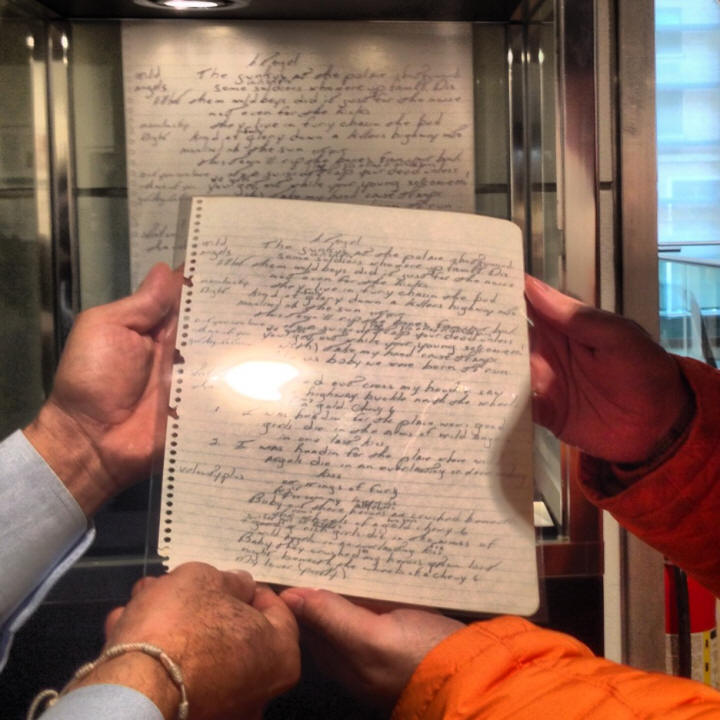 Bruce Springsteen handwritten lyrics for BORN TO RUN
Credits / References
Thanks Pete Russell (Peteadmin at Brucebase) and Mirjam Kunz (Samira at BTX and Greasy Lake). Thanks Dan Rose in NYC for sharing the above photo.
Manuscript scan taken from Sotheby's.
Request
If you have any corrections, additions, or comments, please contact me via the below form or by email: . You will be credited. Thanks in advance.
Available Versions
List of available versions of BORN TO RUN on this website:
BORN TO RUN [Album version]
BORN TO RUN [Early draft]
BORN TO RUN [Live 13 Jul 1974 version]
BORN TO RUN [Live 27 Apr 1988 version]
BORN TO RUN [Live 06 Aug 2015 version]
---
Page last updated: 13 May 2014