CALIFORNIA SUN
Original The Rivieras version
---
[Introductory 30-second instrumental interlude]

Well I'm goin' out west where I belong
Where the days are short and the nights are long
Where they walk and I'll walk
They twist and I'll twist
They shimmy and I'll shimmy
They fly and I'll fly
Well they're out there a-havin' fun
In that warm California sun

Well I'm goin' out west out on the coast
Where the California girls are really the most
Where they walk and I'll walk
They twist and I'll twist
They shimmy and I'll shimmy
They fly and I'll fly
Well they're out there a-havin' fun
In that warm California sun

[24-second instrumental interlude]

Well the girls are frisky in old 'Frisco
A pretty little chick wherever you go
A-a-and they'll walk and I'll walk
They'll twist and I'll twist
They'll shimmy and I'll shimmy
They'll fly and I'll fly
Well they're out there a-havin' fun
In that warm California sun
Yeah they're out there a-havin' fun
In that warm California sun
---
Info
CALIFORNIA SUN is a song credited to Henry Glover and Morris Levy. It was originally recorded by Joe Jones and released on EMI in the winter of 1961. Jones' version peaked at #89 on the charts.
The most successful version of CALIFORNIA SUN was by The Rivieras. They recorded and released it as a single in 1964, with H B GOOSE STEP on the B-side (Riviera, catalogue # R-1401). Their version reached #5 on the Billboard Hot 100 chart.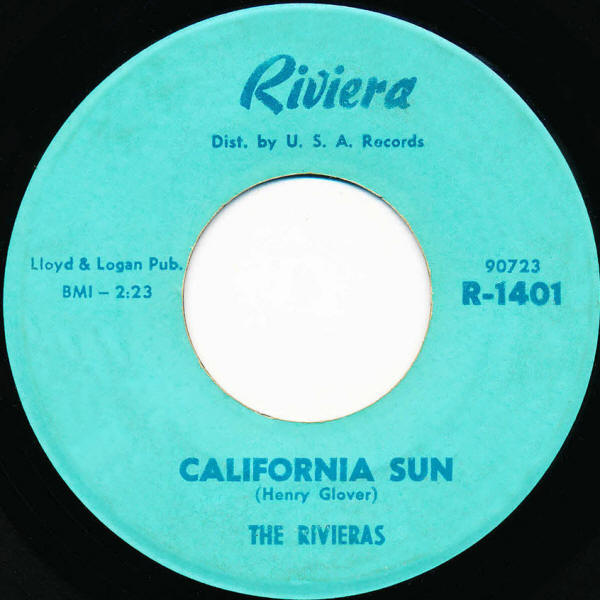 The Rivieras -- "California Sun / H B Goose Step" (1964 USA 7-inch single, A-side label)
The above lyrics are transcribed from the original The Rivieras version of CALIFORNIA SUN as released in 1964.
Bruce Springsteen's Version
Bruce Springsteen occasionally performed a snippet of CALIFORNIA SUN as part of the DETROIT MEDLEY during the Born In The U.S.A. Tour and as part of LIGHT OF DAY during The Reunion and the Magic Tour. He also performed the song in full once off-tour in 2007 and once during the Wrecking Ball Tour. See the live 09 Nov 2007 version for more details.
Available Versions
List of available versions of CALIFORNIA SUN on this website:
CALIFORNIA SUN [Live 09 Nov 2007 version]
CALIFORNIA SUN [Original The Rivieras version]
---
Page last updated: 08 Sep 2012