CANDY MAN
Original Roy Orbison version
---
Come on baby, let me take you by the hand
Come on sugar, let me take you by the hand
Go for me, let me be
All your own candy, your candy, candy man

Come on baby, I love your honey loving ways (candy man, candy man, candy man)
Baby sweet thing, I love your honey loving, your honey loving ways (candy man, candy man, candy man, candy man)
Come to me, let me be (ahhh)
All your own candy, your candy, candy man

Come on woman, gonna treat you right (ah-ah-ah, ah-ah-ah)
Give you candy kisses every single night (ah-ah-ah)
(Candy man, candy man, candy man, candy man)

Go for me, let me be (ahhh)
All your own candy, your candy, candy man
Yeah candy, candy, candy
I got a sweet sweet tooth for you
Yeah candy, candy, candy
I got a sweet sweet tooth for you
[fades out]
---
Info
CANDY MAN is a song written by Fred Neil and Beverly Ross and originally released by Roy Orbison as a single B-side in 1961. The above lyrics are for the original Roy Orbison version of CANDY MAN as released in 1961.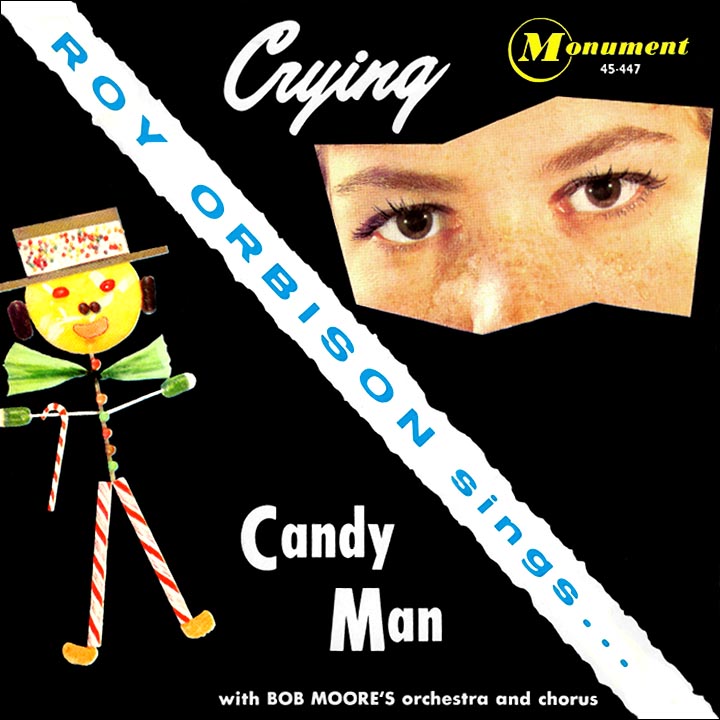 Roy Orbison -- "Crying / Candy Man"

7" single - Monument (45-447) - USA, 1961

Bruce Springsteen's Versions
Bruce Springsteen performed CANDY MAN live once, with Roy Orbison. See the live 30 Sep 1987 version for more details.
Available Versions
List of available versions of CANDY MAN on this website:
CANDY MAN [Live 30 Sep 1987 version]
CANDY MAN [Original Roy Orbison version]
---
Page last updated: 01 Sep 2015