CHAIN OF FOOLS
Original Aretha Franklin version
---
Chain, chain, chain (chain, chain, chain)
Chain, chain, chain (chain, chain, chain)
Chain, chain, chain (chain, chain, chain)
Chain of fools

For five long years
I thought you were my man
But I found out
I'm just a link in your chain

Oh, you got me where you want me
I ain't nothing but your fool
You treated me mean
Oh oh, you treated me cruel

Chain, chain, chain (chain, chain, chain)
Chain of fools

Every chain
Has got a weak link
I might be weak child
But I'll give you strength, oh babe

You told me to leave you alone
My father said, "come on home"
My doctor said, "take it easy"
Whole bunch of lovin' is much too strong
I'm added to your

Chain, chain, chain (chain, chain, chain)
Chain, chain, chain (chain, chain, chain)
Chain, chain, chain (chain, chain, chain)
Your chain of fools

Oh, one of these mornings
The chain is gonna break
But up until then, yeah
I'm gonna take all I can take, oh yeah

Chain, chain, chain (chain, chain, chain)
Chain, chain, chain (chain, chain, chain)
Chain, chain, chain (chain, chain, chain)
Chain of fools
Oh!
Chain, chain, chain (chain, chain, chain)
Oh oh!
Chain, chain, chain
Your chain of fools
Oh oh oh, yeah!
Chain, chain, chain
[fades]
---
Aretha Franklin's Version
Written by Don Covay, CHAIN OF FOOLS was first released by Aretha Franklin in November 1967 as a single (Atlantic 70248) with PROVE IT as B-side. The single peaked for four weeks at #1 on the R&B chart, and peaked at #2 on the Billboard Hot 100 chart in January 1968. CHAIN OF FOOLS was included on Franklin's album Lady Soul which she released in January 1968 on Atlantic Records, and it also appeared on many of her subsequent albums.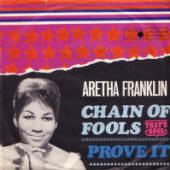 Aretha Franklin -- "Chain Of Fools / Prove It" (single picture sleeve)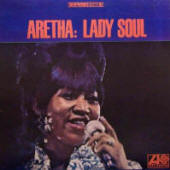 Aretha Franklin -- Lady Soul (album cover art)
CHAIN OF FOOLS gave Aretha Franklin a 1969 Grammy Award for Best Female R&B Vocal Performance. In 2001, the song was honored with a Grammy Hall Of Fame Award, a special Grammy award established in 1973 to honor recordings that are at least twenty-five years old and that have "qualitative or historical significance". In 2004 Rolling Stone magazine placed CHAIN OF FOOLS at #249 on its list of "The 500 Greatest Songs Of All Time".
The above lyrics are for the original Aretha Franklin version.
Bruce Springsteen's Version
On 27 May 2001, Southside Johnny & The Asbury Jukes were celebrating the 25th anniversary of their legendary 1976 radio broadcast at the Stone Pony, Asbury Park, NJ. Bruce Springsteen Springsteen joined them onstage for roughly three-quarters of an hour, taking leads and trading off vocals with Southside, Bobby Bandiera, and Graham Parker. CHAIN OF FOOLS was one of the songs played during Springsteen's appearance. By the time this page was last updated, this is the only known Springsteen performance of CHAIN OF FOOLS.
Credits
Thanks Alex at Boss Tracks for the help.
Request
It was reported that the 27 May 2001 show at the Stone Pony was taped, but the taper allegedly doesn't want to share his recording. If you are the taper, or somehow have access to this recording, please contact me via the below form or by email: . Thanks in advance.
Available Versions
List of available versions of CHAIN OF FOOLS on this website:
CHAIN OF FOOLS [Original Aretha Franklin version]
---
Page last updated: 29 Apr 2008