CHAIN SMOKIN'
Live 20 Oct 1995 version
---
I'm chain smoking, I'm toking, heart's broken
Chain smoking
I'm chain smoking, words spoken, vows broken
Chain smoking

Since you went away, chain smoking
Since you went away, chain smoking

Since you went away, I can stay out however late I want
I can watch all my favorite programs on TV
And I don't have to put up with your silly little laugh
Oh I wish to god you were here to bother me

Instead I'm chain smoking
Chain smoking

Since you went away, chain smoking
Since you went away, chain smoking

Since you went away, I can stay out however late I want
I can watch all my favorite programs on TV
And I don't have to put up with your silly little laugh
Oh I wish to god you were here to bother me

Instead chain smoking, I'm toking, my heart's broken
Chain smoking
Since you went away, chain smoking
Since you went away, chain smoking
Since you went away, chain smoking
Since you went away, chain smoking
Since you went away, chain smoking
Since you went away, chain smoking
---
Info
The above lyrics are for the live 20 Oct 1995 performance of CHAIN SMOKIN' at Nick's Fat City in Pittsburgh, PA, during Joe Grushecky & The Houserockers' October Assault Tour. Bruce Springsteen plays guitar and sings backup vocals on this song.
October Assault Tour
In October 1995, Joe Grushecky & The Houserockers kicked off the release of their American Babylon album with a six-stop tour dubbed the "October Assault." Introduced as "honorary Houserocker of the week" on the first night, Bruce Springsteen joined the band for the majority of the set on all six dates, playing guitar and sharing vocals with Grushecky. At each show, Springsteen came out for American Babylon's WHAT DID YOU DO IN THE WAR and remained on stage for the remainder of the set. The fourth date of the mini-tour (20 Oct 1995 in Pittsburgh, PA) was broadcast on radio. Eight songs from the fourth date and two songs from the fifth date (21 Oct 1995 in Pittsburgh, PA) were officially released.
Official Releases
This live 20 Oct 1995 version of CHAIN SMOKIN' appears on one official release.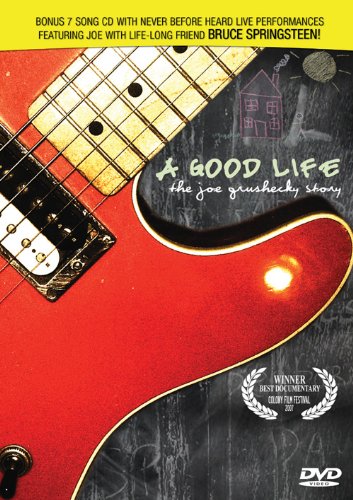 Joe Grushecky -- A Good Life: The Joe Grushecky Story

DVD + CD - Virgil Films (670653) - USA, 2009

This is a documentary DVD about Joe Grushecky and his career. It includes October Assault 1995, Nick's Fat City, Pittsburgh, PA, a bonus CD containing eight live recordings from the 20 and 21 Oct 1995 October Assault Tour show.

References
Info about the October Assault Tour is taken from Backstreets magazine issue #50/51.
Available Versions
List of available versions of CHAIN SMOKIN' on this website:
CHAIN SMOKIN' [Joe Grushecky & The Houserockers' album version]
CHAIN SMOKIN' [Live 20 Oct 1995 version]
---
Page last updated: 14 Aug 2015