CHILDREN'S SONG
Patti Scialfa's album version
---
| | |
| --- | --- |
| Patti Scialfa: | Diamond saddle, ruby eye |
| | Someone's got a rocking horse that they ride |
| | Ride the tangled river down to the sea |
| | Ride that river and then come on home to me |
| | |
| Patti Scialfa: | 'Cause, oh my little ones, you gotta learn to walk before you run |
| | First step's hard, the rest will come |
| | You've got time, time, time |
| | Time, time, time |
| | |
| Patti Scialfa: | There's gold in the river, silver in the hills |
| | Some cups will empty, some cups will fill |
| | Sometimes you'll be standing tall and free |
| | Sometimes you'll be praying down on your knees |
| | |
| Patti Scialfa: | But, oh my little ones, you gotta learn to walk before you run |
| | First step's hard, the rest will come |
| | You've got time, time, time |
| | Time, time, time |
| | |
| Bruce Springsteen: | Birds are singing, the clock strikes noon |
| | You sit and dream 'neath the skin of the moon |
| | You wish upon some distant star |
| Scialfa and Springsteen: | 'Til you find out who you are |
| | |
| Patti Scialfa: | One of these mornings, a day will come |
| | All your riding will be done |
| Scialfa and Springsteen: | All the horses that once rode to your command |
| | They'll speak a language you no longer understand |
| | |
| Patti Scialfa: | But, oh my little ones, you gotta learn to walk before you run |
| | First step's hard, the rest will come |
| | You've got time, time, time |
| | Time, time, time |
| | You've got time, time, time |
| | Time, time, time |
| Scialfa and Springsteen: | You've got time, time, time |
| | Time, time, time |
| | You've got time, time, time |
| | Time, time, time |
| Patti Scialfa: | Time, time, time |
| Scialfa and Springsteen: | Time, time, time |
| | You've got time, time, time |
| | Time, time, time |
---
Info
CHILDREN'S SONG is a song written by Patti Scialfa and released on the 2011 various artists benefit album Every Mother Counts. The above lyrics are for Patti Scialfa's album version of CHILDREN'S SONG as released in 2011.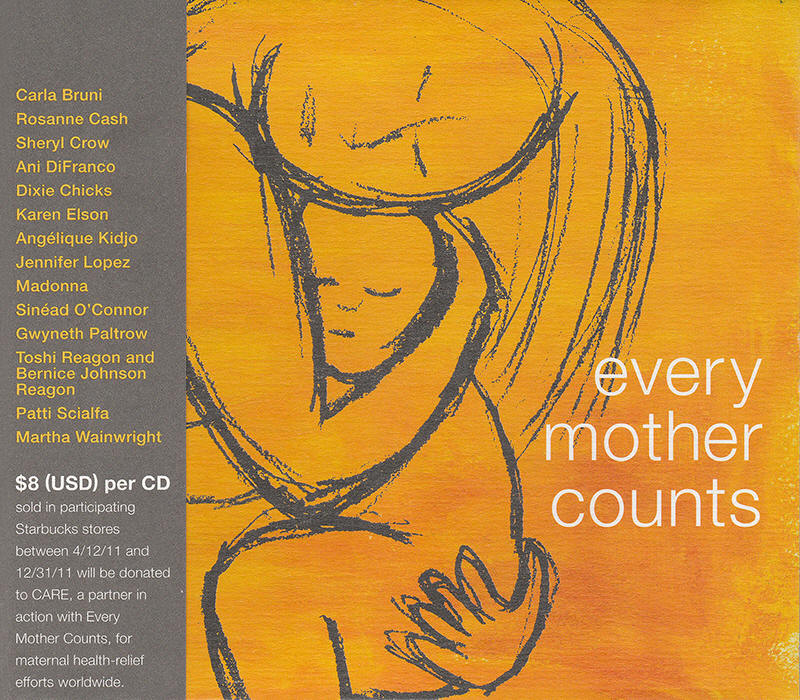 Various artists – Every Mother Counts

CD - Starbucks (STC-31809-02 NSPENT11PKG-00459) - USA, 2011

Bruce Springsteen contributed to the studio recording of CHILDREN'S SONG, sharing lead and backing vocals and playing several instruments.
The Song
CHILDREN'S SONG is Patti Scialfa's first new release since her 2007 album Play It As It Lays. The song made its world debut on Thursday 31 Mar 2011, streaming online on RollingStone.com.
Patti Scialfa was asked to contribute a song to the Every Mother Counts benefit album, and it was her husband's idea to record CHILDREN'S SONG. "He reminded me of this song I wrote when our kids were really little," she told Rolling Stone. "I was a little ambivalent about it – I felt that, vocally, it wasn't in my wheelhouse – so I always just put it off." Before heading to the recording studio, she wrote a new version of the song that she thought better suited her voice, but in the studio, she kept pushing for the new version and Springsteen kept pushing for the one that was eventually released. She kept telling him that she can't sing that version that well, and, as she told Rolling Stone, "he said, 'Run the tape, I'll sing it.' He sang the whole song and it really suited him just perfectly."
The recording took place Thrill Hill Recording (Springsteen's home studio) in Colts Neck, NJ. Ron Aniello handled production on this track – he had produced Scialfa's last album, Play It As It Lays, three year earlier and was at the time producing Springsteen's upcoming album, Wrecking Ball. Springsteen is not credited on Every Mother Counts because the album was supposed to be of just mothers, as Scialfa explained. "It would probably draw undue attention to the song if his name was on it." Ron Aniello told WCHR-FM's Tom Cunningham that Springsteen also plays several instruments on the track, including bass.
The Album
Every Mother Counts is a compilation album benefiting CARE and Every Mother Counts. It was brought together by model and activist Christy Turlington Burns who later praised the Scialfa's contribution. The album also includes tracks by Madonna, Dixie Chicks, Rosanne Cash, Sheryl Crow, Jennifer Lopez, and others. It was released on the Starcon label (Starbucks/Concord) in the United States and was sold exclusively through Starbucks from 14 Apr 2011 through Mother's Day (08 May 2011).
The Documentary
Every Mother Counts is inspired by No Woman, No Cry, a documentary produced and directed by first-time filmmaker Christy Turlington Burns. She screened her film in 2010 at health conferences and film festivals in the U.S., the U.K., Canada, India, Guatemala, Poland, and Zanzibar. The film will make its TV debut on the Oprah Winfrey Network on Saturday 07 May 2011, the evening before Mother's Day in the United States. It follows the stories of four at-risk pregnant women in four parts of the world (Tanzania, Bangladesh, Guatemala, and the United States) as they face obstacles to receiving healthcare.
Credits
Thanks Eileen (at Greasy Lake) and Claire for the help.
Request
For any corrections, comments, or additions, please contact me via the below form or by email: . You will be credited. Thanks in advance.
Available Versions
List of available versions of CHILDREN'S SONG on this website:
CHILDREN'S SONG [Patti Scialfa's album version]
---
Page last updated: 12 May 2016