CHIMES OF FREEDOM
Live 19 Jul 1988 version
---
[Spoken intro:] Es ist schon in Ost-Berlin zu sein... Ich mochte euch sagen ich bin nicht hier fur oder gegen ??? eine Regierung, ich bin gekommen um rock 'n' roll zu spielen fur Ost-Berlinern... ??? Hofnung dass eines Tages alle Barrieren obgeriesen werden...

Well far between sundown's finish and midnight's broken toll
We ducked inside the doorway, thunder crashing
As majestic bells of bolts struck shadows in the sound
Seeming to be the chimes of freedom crashing
Yeah flashing for the warriors whose strength is not to fight
Yeah flashing for the refugees on these unarmed road of flight
And for each and every underdog soldier in the night
We gazed upon the chimes of freedom flashing

Well in the city's melted furnace, unexpectedly we watched
With faces hidden here while the walls were tightening
Well as the echo of the wedding bells before the blowing rain
Dissolved into the wild bales of lightning
Yeah tolling for the rebel, yeah tolling for the rake
Yeah tolling for the luckless, the abandoned and forsaked
Yeah tolling for the outcast, burning constantly at stake
We gazed upon the chimes of freedom flashing

Alright now!

Well even through a cloud-like curtain unexpectedly we watched
As the hypnotic splattered mist was slowly lifting
Well the electric light still struck like arrows
Fired but for the ones condemned to drift or else be kept from drifting
Tolling for the searching ones, in their speechless seeking trail
For the lonesome-hearted lovers with too personal a tale
And for each unharmful gentle soul misplaced inside a jail
We gazed upon the chimes of freedom flashing

Well starry-eyed and laughing, yeah I recall as we were caught
Trapped by no track of hours for they hanged suspended
Yeah as we listened one last time and we watched with one last look
Spellbound and swallowed as the tolling ended
Yeah tolling for the aching ones whose wounds cannot be nursed
For the countless confused, accused, misused, strung-out ones and worse
And for every hung-up person in the whole wide universe
We gazed upon the chimes of freedom flashing

Once more!
Whoa whoa whoa
Whoa whoa whoa whoa
Whoa whoa whoa
Whoa whoa whoa whoaaa
---
Info
The above lyrics are for the live 19 Jul 1988 performance of CHIMES OF FREEDOM at Radrennbahn Weissensee in East Berlin, East Germany, during the Tunnel Of Love Express Tour.
Springsteen's rendition of CHIMES OF FREEDOM has some slight lyrics variations to the original Bob Dylan version, notably the "Dissolved into the wild bales of lightning" and "Well even through a cloud-like curtain unexpectedly we watched" lines. It is also shorter -- out of the six original verses, Springsteen omitted the third and fourth. Patti Scialfa provides background vocals on some few lines.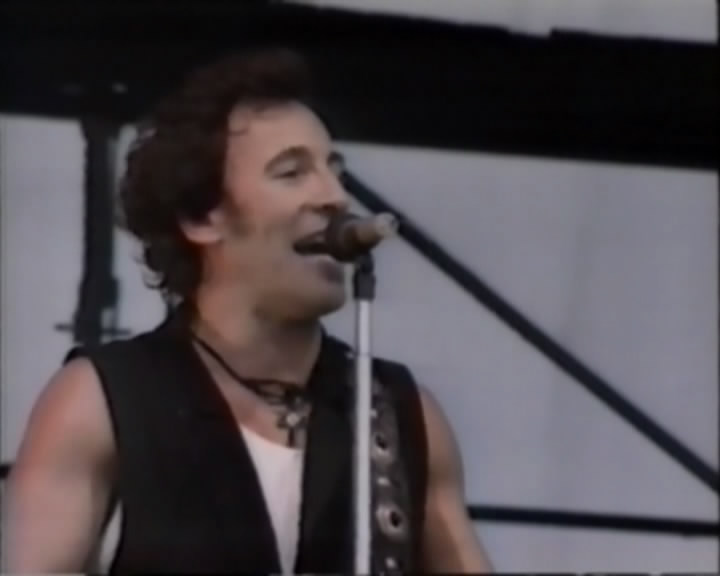 Bruce Springsteen performing CHIMES OF FREEDOM during the 19 Jul 1988 show at Radrennbahn Weissensee, East Berlin, East Germany
This show was partially broadcast on East German television and radio. Oddly, the concerts was announced by the promoters as a "Concert for Nicaragua" (see ticket stub below), which upset Springsteen and prompted him to give his infamous German-language speech prior to CHIMES OF FREEDOM about "not being here for or against any certain government, but to play rockand roll for [you] East Berliners... in the hope that one day, all barriers will be torn down." A few minutes before the concert started, Bruce had the words translated and written down in phonetic spelling by his personal German driver, George Kerwinski, and the speech originally included the word "walls" instead of "barriers". This was changed at the proverbial last minute because it was considered too delicate by Jon Landau upon finding out what Springsteen wanted to tell the audience, so Kerwinski had to literally climb onstage during the show and tell Bruce to say "barrier". Bruce does his intro in German while the band plays the tune in the background. The entire speech was censored in the original East German television and radio broadcasts, although it was shown on various TV news reports in West Germany.
Ticket stub for the 19 Jul 1988 show at Radrennbahn Weissensee, East Berlin, East Germany
References
Some of the above info is taken from Brucebase.
Available Versions
List of available versions of CHIMES OF FREEDOM on this website:
CHIMES OF FREEDOM [Live 01 Sep 1978 version]
CHIMES OF FREEDOM [Live 03 Jul 1988 version]
CHIMES OF FREEDOM [Live 19 Jul 1988 version]
CHIMES OF FREEDOM [Live 15 Oct 1988 version]
CHIMES OF FREEDOM [Original Bob Dylan version]
---
Page last updated: 22 Oct 2011