CLUB SOUL CITY
21 Jun 1992 sound-check version
---
Pack your bags and don't look back
A place I know, by the railroad
Brokenhearted, don't know what to do
They got a place down there just for you

Club Soul, Club Soul City

[recording cut]
---
Info
The above lyrics are for the 21 Jun 1992 sound-check version of CLUB SOUL CITY at Forum Di Assago in Milan, Italy, during the World Tour 1992-1993. The song was not played on the regular show. It was sound-checked again on 25 Jul 1992 in East Rutherford, NJ, but has never been played in concert.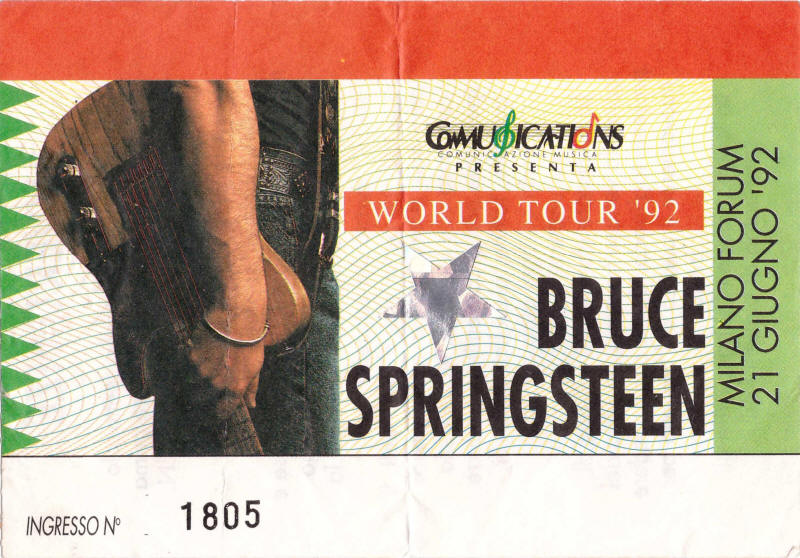 Ticket stub for the 21 Jun 1992 show at Forum Di Assago, Milan, Italy
(Thanks Stefano)
Credits
Thanks Jake (ol'catfishinthelake at BTX and Greasy Lake) for the lyrics help.
Available Versions
List of available versions of CLUB SOUL CITY on this website:
CLUB SOUL CITY [Home demo version]
CLUB SOUL CITY [21 Jun 1992 sound-check version]
CLUB SOUL CITY [Gary U.S. Bonds' cover version]
CLUB SOUL CITY [Killer Joe's cover version]
---
Page last updated: 03 Jul 2011