COUNTIN' ON A MIRACLE
Acoustic version
---
[Spoken:] Here we go, it's called "Countin' on a Miracle"

It's a fairytale so tragic, ain't no prince to break the spell
I don't believe in magic, but for you I will, yeah for you I will

Countin' on miracle, countin' on a miracle
Countin' on a miracle to come through
Countin' on miracle, countin' on a miracle
Countin' on a miracle to come through

Now there ain't no storybook story, and no never-ending song
Our happily ever after is forever come and gone, forever come and gone

Countin' on a miracle, countin' on a miracle
Countin' on miracle to come through
Countin' on a miracle, countin' on a miracle
Countin' on miracle to come through

Sleeping beauty awakes from her dream, with her lover's kiss on her lips
Your kiss's taken from me, now all I have is this, all I have is this

Your kiss, your kiss, your touch, your touch, your hope
Your faith, your strength, your love, your dream, your life

Countin' on a miracle, countin' on a miracle
Countin' on miracle to come through
Countin' on a miracle, countin' on a miracle
Countin' on miracle to come through

I'm runnin' through the forest with the wolf at my heels
My king is lost at midnight when the tower bells peal, when the tower bells peal
We've got no fairytale ending, in God's hands our fate's complete
Your heaven's here in my heart, our love's this dust beneath my feet, this dust beneath my feet
If I'm gonna live I'll lift my life, darlin' to you I'll lift my life

Countin' on a miracle, countin' on a miracle
Countin' on miracle to come through
Countin' on a miracle, countin' on a miracle
Countin' on miracle to come through

[Spoken:] Countin' on miracle
---
Danny Clinch, who also took the album cover photo for The Rising, filmed Springsteen on 28 Jun 2002 at Southern Tracks Studio, Atlanta, GA, sitting on a couch and playing a completely rearranged acoustic version of COUNTIN' ON A MIRACLE. Read the Danny Clinch interview below.
The video was played on the screens after many shows of The Rising tour. The audio for this acoustic performance was included on The Essential Bruce Springsteen bonus disc in 2003. Read Bruce's notes below for more info.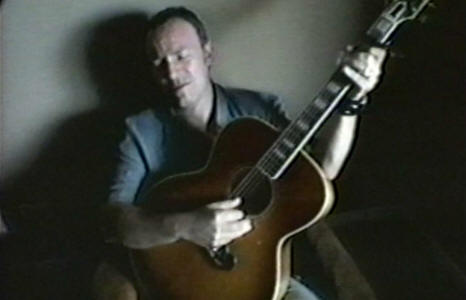 Bruce Springsteen performing COUNTIN' ON A MIRACLE at Southern Tracks Studio, Atlanta, GA
The above lyrics refer to the acoustic version from The Essential Bruce Springsteen bonus disc. Check also The Rising album's version (more details), the live 16 Oct 2002 version, and the live 19 Jun 2005 version.
Liner notes by Bruce Springsteen in The Essential Bruce Springsteen booklet:
I sat in the lounge of Southern Tracks Studio where we recorded "The Rising" and played this country blues version of "Countin' On A Miracle." Filmmaker/photographer Danny Clinch was there with his super 8 film camera and caught it on tape. We closed our shows on tour with his film. This is the audio portion.
Danny Clinch told Backstreets about the making of the video:
It was down in Atlanta at the [Southern Tracks] studio, and I was told if I didn't point the camera at Brendan O'Brien, it was cool. So there I was in the studio, walking on eggshells -- I was a little nervous about it, because I really wanted to come through and document the process. I was shooting stills, and on the third day I didn't have too many moving images; I made a concerted effort to shoot video on my Super 8 camera. I wanted to come away with something special, so I asked Bruce if he would mind playing the guitar so I could film it.

So he sat down with his guitar, pulled out the slide and started to play this country-blues version of "Counting' on a Miracle." I shot the whole thing, and he floored me and my assistant, Hannah. I didn't realize he was going to play a whole song. I was hoping to get some stuff to cut away, b-roll whatever. He totally floored us. But then I realized that I didn't have any audio going -- it was Super 8 with no audio.

This is one of those decisions in my life that I'm so glad that I made. I turned to Hannah and said that I need to ask him to do it again. Bruce Springsteen. And I have to ask him to do it again. I sweating big time.

So, I went downstairs, and I was walking in circles for a while, and I finally went over and asked him, "Is there any chance you can come back up and do it again?" I told him I needed to shoot it again with my other camera that had audio. He looked at me like, I'm kinda busy. I said to him, "Believe me, I wouldn't ask you to do this if I didn't think we could do something cool." He was like, "Ok, we'll do it in a couple of minutes." We shot it again, so we cut back and forth with the Super 8.

We cut it together in two hours and sent it out. Out of all the stuff we shot, Dave Marsh saw it and told Bruce it was really cool and he should show it after the show. So they started to play the little film at every stop on the Rising tour. Seeing it at Madison Square Garden was unbelievable. That set the stage for Devils & Dust.
Available Versions
List of available versions of COUNTIN' ON A MIRACLE on this website:
COUNTIN' ON A MIRACLE [Album version]
COUNTIN' ON A MIRACLE [Acoustic version]
COUNTIN' ON A MIRACLE [Live 16 Oct 2002 version]
COUNTIN' ON A MIRACLE [Live 19 Jun 2005 version]
---
Page last updated: 01 May 2006