DEDICATION
Gary U.S. Bonds' album version
---
Hey fellas, that was all right! Boy, that was nice! But I think, I think we should just get back, relax and do it one more time. You cats ain't got no dedication, man. Let me tell you a little story!

Well way back baby in the Bible time
A cat named Noah built an ocean liner
Everybody laughed when he told them why
But when the rain came, Noah, he was high and dry
'Cause he had dedication baby through and through
Dedication like I give to you
Dedication girl every way
Dedication girl every day

Well Admiral Byrd and some Eskimos
They took a little trip to the old North Pole
Well they said it was a miracle when they made it back
But he said that wasn't any miracle, Jack

Man, it took dedication baby through and through
Dedication like I give to you
Dedication girl in every way
Dedication girl every day
Yeah, yeah, yeah

Now you see what I mean, fellas? Now gig this!

Well now there was a movie star out in Hollywood
He met a little girl, they got along real good
He tried to split but the chick she told him, "Not so fast
Ain't gonna wrap me in your arms, then wrap me in some cash"

Now it was on TV, every word they said
If you didn't see it man, you must have been dead
She got on the witness stand, sighed without a care
She turned to the judge and this is what she said

I gave him dedication, judge, every day
Dedication judge in every way
I need some dedication, judge, that can be spent
A little dedication, judge, to pay the rent

Dedication baby through and through
Dedication like I give to you
Dedication girl every way
Dedication girl every day

D-E-D-I-C-A-T-I-O-N
D-E-D-I-C-A-T-I-O-N
D-E-D-I-C-A-T-I-O-N
D-E-D-I-C-A-T-I-O-N
D-E-D-I-C-A-T-I-O-N
D-E-D-I-C-A-T-I-O-N
D-E-D-I-C-A-T-I-O-N
D-E-D-I-C-A-T-I-O-N
D-E-D-I-C-A-T-I-O-N
D-E-D-I-C-A-T-I-O-N
---
Info
DEDICATION is a song written by Bruce Springsteen and donated to Gary U.S. Bonds who released it on his 1981 album Dedication. The song is one of four on the album that were produced and arranged by Steven Van Zandt and Bruce Springsteen.
The above lyrics are for Gary U.S. Bonds' album version of DEDICATION as released in 1981.
Studio Recording
Bruce Springsteen and the E Street Band originally recorded DEDICATION during The River recording sessions. According to Sony's database of Springsteen recording sessions, the song was cut on 04 and 06 Dec 1979 at The Power Station in New York City, NY.
Gary U.S. Bonds commented that Springsteen brought him DEDICATION as something from The River sessions that he felt suited Bonds' style. Bonds recorded the song during the Dedication album recording sessions in mid-1980 (see the "Dedication" section below for more details). It is not clear if he completely re-recorded the song in 1980 or just overdubbed his vocal onto the 1979 E Street Band backing.
Dedication
Gary U.S. Bonds released two studio albums and several hit singles in 1961 and 1962, three of which were top 10 hits on the Billboard Hot 100 chart. Success was short-lived and Bonds relegated to playing the oldies circuit. In the early eighties, his career resurrected with two collaborations with Bruce Springsteen, Steven Van Zandt, and the E Street Band: Dedication in 1981 and On The Line in 1982.
Dedication is Gary U.S. Bonds' third studio album, released in April 1981 on EMI America Records. The musicians backing Bonds on the album include many members of the E Street Band and the Asbury Jukes. The album includes three songs written by Bruce Springsteen (THIS LITTLE GIRL, YOUR LOVE, and DEDICATION), one written by Steve Van Zandt, and several covers of songs from The Beatles, Bob Dylan, Jackson Browne, and others. Four of the album's songs (the three that Springsteen wrote plus JOLE BLON) were produced and arranged by Steven Van Zandt and Bruce Springsteen. Springsteen provided shared lead vocals on JOLE BLON and backing vocals on THIS LITTLE GIRL. He is also credited for providing guitar but it's not clear on which tracks; it is likely that he played guitar on some or all of the four tracks that he co-produced.
Dedication was recorded sometime between June and August 1980 at The Power Station in New York City, NY, during Bruce Springsteen and the E Street Band sessions for Gary U.S. Bonds undertaken in the immediate aftermath of the final recording sessions for The River. According to a May 1981 article by Rolling Stone's Kurt Loder, the initial plan was to record an EP for Gary U.S. Bonds consisting of three songs that Springsteen had written for him. Loder wrote that "Bruce had a lot of wild ideas, and pretty soon the EP started looking more like an LP. Fifteen days later, they emerged with a whole album."
Dedication reached #27 on Billboard's Top LPs & Tapes chart and #34 on the Top R&B Albums chart and produced several singles, including THIS LITTLE GIRL which was a hit. Music writer Dave Marsh called Dedication "one of the most successful comeback albums in rock & roll history".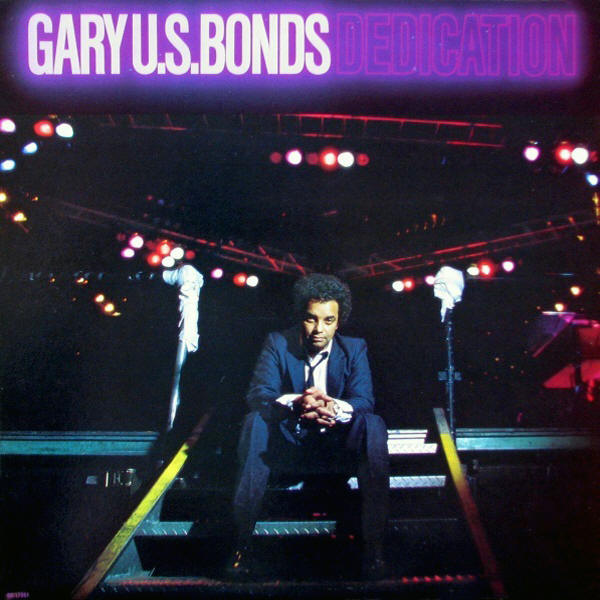 Gary U.S. Bonds -- Dedication

LP - EMI America (SO-17051) - USA, 1981

Dedication was re-released in 1991 on the Razor Edge label (catalog number RE-1986-2).
DADDY'S COME HOME
IT'S ONLY LOVE
THE PRETENDER
WAY BACK WHEN
FROM A BUICK 6
JUST LIKE A CHILD
Other Official Releases
In addition to its release on the Dedication album, Gary U.S. Bonds' album version of DEDICATION was also included one more official release.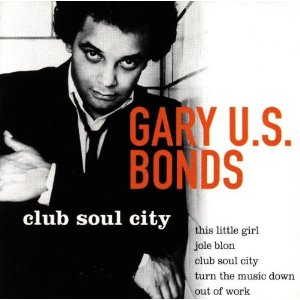 Gary U.S. Bonds -- Club Soul City

CD - Disky (DC 881852) - Holland, 1998

This is a Gary U.S. Bonds compilation album consisting of 20 tracks from the Dedication (9 of the album's 10 tracks) and On The Line (all of the album's 11 tracks).

Live History
DEDICATION was performed off-tour on 02 Jul 1989 at The Cafe Bar in Long Branch, NJ, during a guest appearance with Gary U.S. Bonds.
02 Jul 1989 at The Cafe Bar, Long Branch, NJ
Covers
As far as it's known, no other artist has recorded and released Bruce Springsteen's DEDICATION.
Credits / References
Thanks Jake (ol'catfishinthelake at BTX and Greasy Lake), KC Kuhn, HazyDavy (roulette909 at BTX), and Domingo (dobama at Greasy Lake) for the lyrics help.
Some of the above info about the studio recordings is taken from Brucebase.
Request
Any additions, comments, or corrections to this page are welcome. You can contact me via the below form or by email: . You will be credited. Thanks in advance.
Available Versions
List of available versions of DEDICATION on this website:
DEDICATION [Gary U.S. Bonds' album version]
---
Page last updated: 06 Feb 2016