DOES THIS BUS STOP AT 82ND STREET?
Live 19 Dec 2004 (early show) version
---
Hey bus driver, keep the change, bless your children, give them names
Don't trust men who walk with canes
Drink this and you'll grow wings on your feet
Broadway Mary, Joan Fontaine, advertiser on a downtown train
Christmas crier bustin' cane, he's in love again

Dock worker's dreams mix with panther schemes to someday own the rodeo
Tainted women in VistaVision perform for out-of-state kids at the late show

Wizard imps and sweat sock pimps, interstellar mongrel nymphs
Rex said that lady left him limp
Well, love's like that
Queen of Diamonds, Ace of Spades, newly discovered lovers of the Everglades
Take out a full page ad in the trades to announce their arrival

Mary Lou, she found out how to cope, she rides to heaven on a gyroscope
Daily News asked her for the dope
She said, "Man, the dope's that there's still hope"

Senorita, Spanish rose, wipes her eyes and blows her nose
Uptown in Harlem she throws a rose, to some lucky young matador
Say it!
---
Info
The above lyrics are for the live 19 Dec 2004 early show performance of DOES THIS BUS STOP AT 82ND STREET? at Harry's Roadhouse in Asbury Park, NJ, during the first of the two holiday jam shows that were held that day at Harry's Roadhouse. The song was the early show opener, and was played in a solo acoustic guitar arrangement.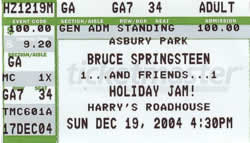 Ticket stub for the 19 Dec 2004 early show at Harry's Roadhouse, Asbury Park, NJ
(
Taken from Brucebase
)
Credits
Thanks Jake (ol'catfishinthelake at BTX and Greasy Lake) for the lyrics help.
Available Versions
List of available versions of DOES THIS BUS STOP AT 82ND STREET? on this website:
DOES THIS BUS STOP AT 82ND STREET? [Album version]
DOES THIS BUS STOP AT 82ND STREET? [03 May 1972 demo version]
DOES THIS BUS STOP AT 82ND STREET? [Live 09 Jan 1973 version]
DOES THIS BUS STOP AT 82ND STREET? [Live 31 Jan 1973 (early show) version]
DOES THIS BUS STOP AT 82ND STREET? [Live 02 Mar 1973 version]
DOES THIS BUS STOP AT 82ND STREET? [Live 24 Apr 1973 (early show) version]
DOES THIS BUS STOP AT 82ND STREET? [Live 31 May 1973 (WGOE-FM) version]
DOES THIS BUS STOP AT 82ND STREET? [Live 09 Mar 1974 (KLOL-FM) version]
DOES THIS BUS STOP AT 82ND STREET? [Live 09 Apr 1974 version]
DOES THIS BUS STOP AT 82ND STREET? [Live 09 May 1974 (early show) version]
DOES THIS BUS STOP AT 82ND STREET? [Live 29 Oct 1974 version]
DOES THIS BUS STOP AT 82ND STREET? [Live 31 Dec 1975 version]
DOES THIS BUS STOP AT 82ND STREET? [Live 23 Mar 1993 version]
DOES THIS BUS STOP AT 82ND STREET? [Live 24 Jun 1993 version]
DOES THIS BUS STOP AT 82ND STREET? [Live 08 Dec 1995 version]
DOES THIS BUS STOP AT 82ND STREET? [Live 26 Sep 1996 version]
DOES THIS BUS STOP AT 82ND STREET? [Live 24 Sep 1999 version]
DOES THIS BUS STOP AT 82ND STREET? [Live 18 Aug 2001 version]
DOES THIS BUS STOP AT 82ND STREET? [Live 30 Jul 2002 (morning) version]
DOES THIS BUS STOP AT 82ND STREET? [Live 19 Feb 2003 version]
DOES THIS BUS STOP AT 82ND STREET? [Live 07 Mar 2003 version]
DOES THIS BUS STOP AT 82ND STREET? [Live 24 May 2003 version]
DOES THIS BUS STOP AT 82ND STREET? [Live 19 Dec 2004 (early show) version]
DOES THIS BUS STOP AT 82ND STREET? [Live 18 Jul 2005 version]
DOES THIS BUS STOP AT 82ND STREET? [Live 16 Nov 2005 version]
DOES THIS BUS STOP AT 82ND STREET? [Live 12 Nov 2006 version]
DOES THIS BUS STOP AT 82ND STREET? [Live 23 Apr 2008 version]
DOES THIS BUS STOP AT 82ND STREET? [Live 04 Oct 2008 version]
DOES THIS BUS STOP AT 82ND STREET? [Live 22 Nov 2009 version]
DOES THIS BUS STOP AT 82ND STREET? [Live 26 Feb 2014 version]
---
Page last updated: 19 Dec 2012