DON'T LOOK BACK
Live 10 Mar 1977 version
---
One, two, three, four!

Cold rain running down the front of my shirt
Hands on the back, spinning in the dirt
Night train running in the blazing rain
I'm blowing pistons, working in the fast line
Whoa whoa whoa whoa, yeah yeah they're taking a stack
Put your foot to the floor and darling don't look back

Night racing the blazing rain
'63 Palace she's a hydroplane
Angel makes her face up on Baker Street
Straddling the shifter in my front seat
There's no sense to choose, we're set up to lose, the deck's stacked
Put your foot to the floor and darling don't look back

Lovers run into the night
In search of a lost paradise
And there's nothing left to stand there and fight, to fight
Whoa whoa whoa whoa whoa whoa whoa whoa

Well white heat burning, pocket full of cash
Angel writes her name in lipstick on my dash
Dry racing at the dynamo
Pushing that car as fast as she would go
There's no sense to choose, there's nothing to lose, the deck's stacked
Put your foot to the floor and darling don't
Put your foot to the floor and darling
Put your foot to the floor and darling don't look back
Don't look back
Well don't look back
Don't look back
Don't look back
Whoa whoa whoa whoa whoa whoa
Whoa whoa whoa whoa whoa yeah
Whoa whoa whoa
---
Info
The above lyrics are for the live 10 Mar 1977 performance of DON'T LOOK BACK at Sports Arena in Toledo, OH, during what is known as The Lawsuit Tour. This is the first known live performance of the song. This version of DON'T LOOK BACK features several lyrical differences from the studio versions.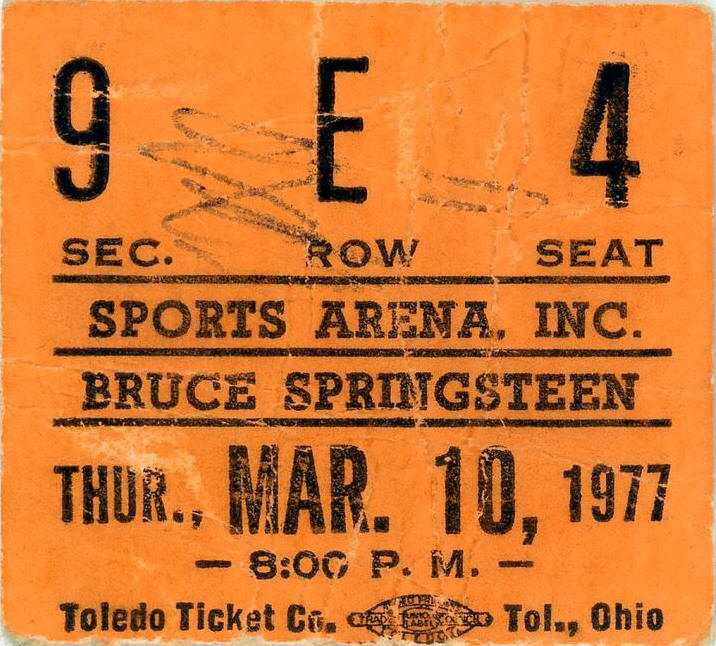 Ticket stub for the 10 Mar 1977 show at Sports Arena, Toledo, OH
(Thanks JEMS)
Despite the marvelous reception received by both Born To Run and the tour which followed, the relationship between Bruce Springsteen and his now former manager and producer Mike Appel was deteriorating. In July 1976 the storm broke; Mike Appel wrote to Springsteen saying that he would not allow Jon Landau (Springsteen's friend and co-producer of Born To Run) to produce the next album, citing a particular paragraph from their original agreement. Springsteen replied on 27 Jul 1976 by firing manager Mike Appel and suing him and his management company Laurel Canyon Ltd. in Federal Court in Manhattan, claiming fraud, breach of trust, and undue influence. Appel counter-sued on 29 Jul 1976 in New York State Supreme Court, asking the court to prohibit Springsteen and Jon Landau from working together in studio. Bruce Springsteen & The E Street Band were slated to enter the studio that year for the recording of a new album, except that on 15 Sep 1976 the judge in the lawsuits case ruled that Springsteen was enjoined from any further recording with Columbia Records until Appel's suit was resolved. This would drag for about a year. Meanwhile, Springsteen continued gigging, and in the process broke his self-imposed rule of not playing the larger arenas. This was basically because he was not able to put a record out, and it was the only way his fans would be able to hear him at all. The tour became known as "The Lawsuit Tour" (62 know dates, August 1976 to March 1977).
Available Versions
List of available versions of DON'T LOOK BACK on this website:
DON'T LOOK BACK [Official studio version]
DON'T LOOK BACK [Instrumental take #1]
DON'T LOOK BACK [Instrumental take #2]
DON'T LOOK BACK [Outtake version]
DON'T LOOK BACK [Live 10 Mar 1977 version]
DON'T LOOK BACK [Live 11 Mar 1977 version]
DON'T LOOK BACK [Live 13 Mar 1977 version]
DON'T LOOK BACK [Live 14 Mar 1977 version]
DON'T LOOK BACK [Live 19 Mar 1977 version]
DON'T LOOK BACK [Live 22 Mar 1977 version]
DON'T LOOK BACK [Live 23 Mar 1977 version]
DON'T LOOK BACK [Live 24 Mar 1977 version]
DON'T LOOK BACK [Live 25 Mar 1977 version]
DON'T LOOK BACK [Live 29 Jun 2000 version]
DON'T LOOK BACK [The Knack's Cover version]
---
Page last updated: 18 Jan 2016