FAMILY SONG
Studio version take #1
---
[Control room engineer (spoken):] Okay.

Well, you know how when you're young there's such a distance between you and your family
You can't ever see things from the same point of view
Papa wants a lawyer and mama she wants an author
And all you want is for them to want you

Well, we had a lot of bad times, saw some real bad signs on the East Coast
And I guess you could say it took California to bring us close
Saw a lot of hard living and some stone cold women on the East Coast
And my papa turned away when I needed him the most

Oh, and California she's an angel, oh, so heavenly dressed
Whoa, and the Pacific she's a woman, the Lord he must have loved her best
And I got a California rainbow to come give them thunder clouds a rest
Oh, and the mountain is my friend now, she put me to her test

Well, now you know every father has dreams and schemes for his own kid
Oh, and dreaming ain't been declared no capital crime
But I just hope when I grow up and have my own kids
I'll love 'em all I can and let 'em make their own minds

And you know how a mother can hold a son through understanding
Well, my papa he once held me close by crying
And my mama's love it don't ever leave me standing
And my papa's love can only leave me smiling

Whoa, and my mama she's an angel, you oughtta see her on Sunday when she's dressed
Whoa, and my papa he's a good man, you know he gives me and mama his best
Whoa, she's a California rainbow, come to give my thunder clouds a rest
And my family is my friend now, ah, California put us through her test
Hmmm
---
Info
FAMILY SONG is a song written by Bruce Springsteen who recorded it in studio in spring 1972. The song has not been officially released. The above lyrics are transcribed from a studio version of the song (first of two known takes) recorded in May or June 1972.
Composition and Recording
There is no indication to when FAMILY SONG was written. According to Springsteen's own lyrics sheet, the song's title is "California". However, the song was copyrighted in 1995 by JEC Music USA under the title "Family Song" (registration no. PAu001951823) and in 1999 by Bruce Springsteen also under the title "Family Song" (registration no. PAu002367576 and SRu000334322).
Two studio versions of FAMILY SONG are in circulation among collectors. The first one is a studio take likely recorded around May-Jun 1972 at Pocketful Of Tunes Studios in New York City, NY. It features Springsteen solo on vocals and acoustic guitar. This version is definitely from Pocketful Of Tunes Studios as the control room engineer is heard giving Springsteen a directive to begin. The May-Jun 1972 sessions at Pocketful Of Tunes Studios were produced by Mike Appel and Jim Cretecos, and Cretecos took the role of recording engineer. The second version is likely a second take recorded during the same session as the first version. See studio version take #2 for more details. The two versions are lyrically very similar, but the second is the superior performance among the two. The above lyrics transcribed from the first studio version (the first of the two takes) of FAMILY SONG.
Bootleg Releases
This studio version of FAMILY SONG can be found on The Unsurpassed Springsteen Vol. 1 (Yellow Dog Records) bootleg.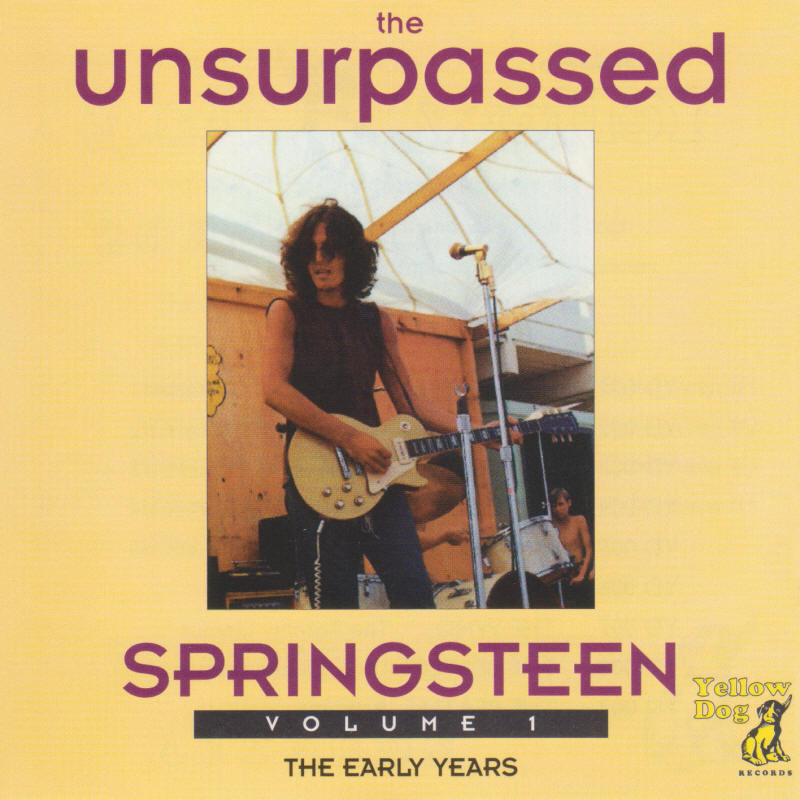 Bruce Springsteen -- The Unsurpassed Springsteen Volume 1 (Yellow Dog Records)
Live History
As far as it's known, Bruce Springsteen has never performed FAMILY SONG live.
Covers
As far as it's known, only one artist has recorded and released Bruce Springsteen's FAMILY SONG.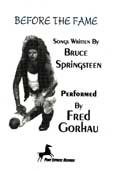 Fred Gorhau -- Before The Fame

MC - Pony Express Records (C-0949) - USA, 1995

This is a Bruce Springsteen tribute album containing covers of 15 early songs. As Fred Gorhau told this website, he was "hired for the weekend to record everything".
References
Some of the above info about the studio recording is taken from Brucebase. Info and scan for the Fred Gorhau cover album is taken from the Nebraska website.
Available Versions
List of available versions of FAMILY SONG on this website:
FAMILY SONG [Studio version take #1]
FAMILY SONG [Studio version take #2]
---
Page last updated: 06 Feb 2013