FIRE (Jimi Hendrix)
Live 16 Sep 1967 version
---
One two three four five six seven!

Alright
Oh yeah

You don't about me, I don't care about that
Gotta new fool, I like I like I like

I have only one burning desire
Let me stand next to your fire
(Let me stand)
(Let me stand)
(Let me stand)
(Let me stand)

Listen here, baby, stop acting so crazy
You say your mum ain't home, it ain't my concern
Just play with me and you won't get burned

I have only one itching desire
Let me stand next to your fire
(Let me stand)
(Let me stand)
(Let me stand)
(Let me stand)

Move over, Rover, and let me take over
Yeah, ???

Alright
???

You give me your money, but I don't want it babe
You save your money for a rainy day

I have only ??? burning desire
Let me stand next to your fire
(Let me stand)
(Let me stand)
(Let me stand)
(Let me stand)
---
Info
FIRE is a 1967 song by The Jimi Hendrix Experience. See the original The Jimi Hendrix Experience version for more details.
Not to be confused with the Bruce Springsteen song FIRE.
Live 16 Sep 1967 version
The above lyrics are for the live 16 Sep 1967 version of FIRE at The Left Foot in Freehold, NJ, with The Castiles.
This was the grand opening night at The Left Foot, an "over 13, under 18" club located in the recreation center of St. Peter's Episcopal Church at 37 Throckmorton Street. It was a double-bill show, with Purpul Dyneste opening and The Castiles headlining, and each band played two thirty-minute sets. The show was recorded by the club's manager (and St. Peter's priest) Fred Coleman on a good quality reel-to reel device. Audio for the complete Castiles performance (both sets) circulates among collectors, but the sound quality is inferior to the original master tape which is not in circulation.
Live History
FIRE is known to have been performed at least once in Springsteen's early years, on 16 Sep 1967 in Freehold, NJ, with The Castiles. Very little is known about shows from this early period, and therefore, the song may have been played on some more dates in 1967 and 1968.
16 Sep 1967 at The Left Foot, Freehold, NJ

(with The Castiles)
Bruce Springsteen, along with fellow Earth band members John Graham and Michael Burke, entered Ocean County College in Toms River, NJ, in September 1968. According to Brucebase, Earth is believed to have performed several times at Ocean County College during the September to December 1968 period. A Bruce Springsteen handwritten notebook sheet (see scan below), titled "Earth" and containing the titles of 26 covers, is believed to be a list of songs performed by Earth at Ocean County College. The document is likely to have been created by Springsteen in September or October 1968. The amount of tracks displayed, their sequencing, plus the header and numbering notation by Springsteen, all point to this as being an inventory of Earth's live repertoire of cover material. The Jimi Hendrix Experience's FIRE is among the songs listed.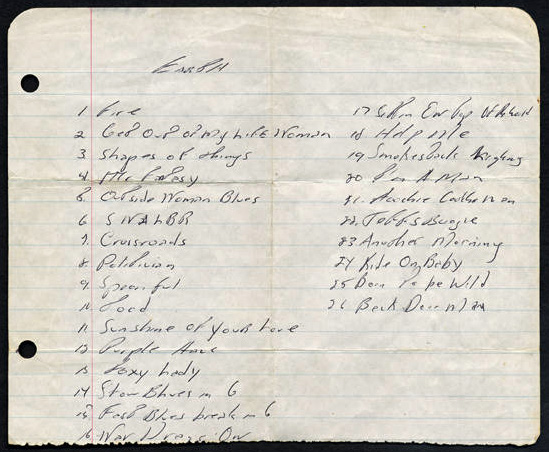 Bruce Springsteen handwritten song list from September or October 1968
Credits
Much of the above information about the song's live history is take from Brucebase.
Request
The above lyrics are not complete. If you can help, please contact me via the below form or by email: . You will be credited. Thanks in advance.
Available Versions
List of available versions of FIRE (Jimi Hendrix) on this website:
FIRE (Jimi Hendrix) [Live 16 Sep 1967 version]
FIRE (Jimi Hendrix) [Original The Jimi Hendrix Experience version]
---
Page last updated: 03 Jun 2015