FIST FULL OF DOLLARS
Take #1
---
Ch-buh, dum, dum, dum, da da da
Ch-buh, dum, dum, dum, da da da

Well they blew up the chicken man in Philly last night
Now that town sets in for a fight

[flips page]
Doo doo doo

Frighten'd of the dice they roll
Where the highway ends and the sand turns to gold
The turnpike ends and turns to gold

Hmmm
Me and my baby- well I drew my money from the Central Trust
And I hopped with my guitar on a greyhound bus
Headin' down south money and guitar in my hand
On a one way ticket to the promised land
Out where they- baby, through the wood, run
Down where the iron turn to rust

And your weekend pa... Your week pay baby...
And your weeks pay in a minute just turns to dust
Me again baby I wouldn't leave
Again 'till I believe
That some gonna stand, man some gonna fall
And some ain't gonna get to play the game at all

Well they give you the worst and they take the best
For a fist full of dollars and a little bit less
Hey!
Now!
Na na na...
Da da da...

Well a-broke and busted I went down to the clock - on a clock
And I took my guitar baby, put her in hock
Hmmm
Baby what's a poor boy gonna do?

A fist full of dollars and a little bit less
Da da da...
---
Music and lyrics by Bruce Springsteen, this Nebraska acoustic home demo would later evolve in ATLANTIC CITY.
Two takes of FIST FULL OF DOLLARS are in circulation, both recorded at Springsteen's home in Colt's Neck, NJ, sometime in late-March or early-April 1981, during a break in The River Tour.
The above lyrics are for take #1. Take #2 suffers from unintelligible lyrics, as it is the case of many demos from that period. Both takes are circulating on several bootlegs, including Fistfull Of Dollars (E. St. Records) and How Nebraska Was Born (The Godfatherecords).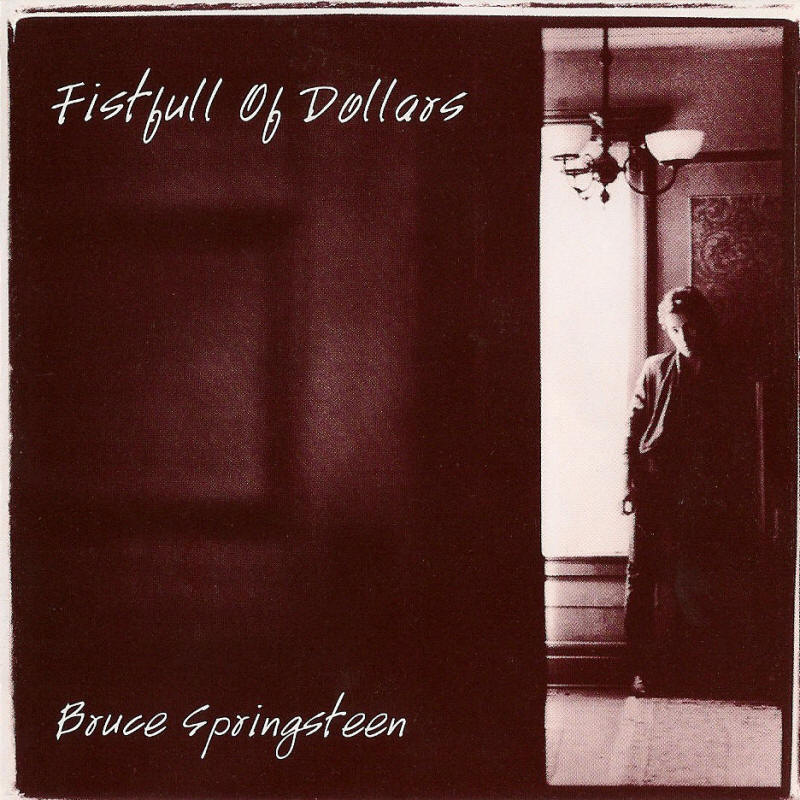 Bruce Springsteen -- Fistfull Of Dollars (E Street Records)
Bruce Springsteen -- How Nebraska Was Born (The Godfatherecords)
As far as it's known, this outtake was never played live.
Recording info taken from Brucebase. Thanks Timmy Peterson (Terry at Greasy Lake) and Jake (ol'catfishinthelake at BTX and Greasy Lake) for the lyrics help.
Liner notes from the How Nebraska Was Born bootleg booklet:
The rhythm that the guitar gives to the song, recalls a few unreleased tracks from 1978 (Going Back, Preacher's Daughter) influenced by Bo Diddley and Buddy Holly style.
Bruce tells a noir story, the lyrics are provisional. It is clear the song is a first idea that will turn into ATLANTIC CITY later, even if some lyrics line will be later used in JOHNNY BYE BYE.
It is not confirmed whether the title of this song was hand written by Bruce on the tape box or simply was taken from the lyrics.
Available Versions
List of available versions of FIST FULL OF DOLLARS on this website:
FIST FULL OF DOLLARS [Take #1]
FIST FULL OF DOLLARS [Take #2]
---
Page last updated: 22 Sep 2007