FREDDIE'S DEAD
Original Curtis Mayfield version
---
Hey, hey
Love, love
Yeah, yeah
Ah, ha

Freddie's dead
That's what I said
Let the man rap a plan, said he'd see him home
But his hope was a rope, and he should've known
It's hard to understand, there was love in this man
I'm sure all would agree that his misery was his woman and things
Now Freddie's dead
That's what I said

Everybody's misused him
Ripped him off and abused him
Another junkie plan
Pushin' dope for the man
A terrible blow, but that's how it go
A-Freddie's on the corner now
If you wanna be a junkie, wow
Remember Freddie's dead

We're all built up with progress
But sometimes I must confess
We can deal with rockets and dreams
But reality, what does it mean
Ain't nothin' said
'Cause Freddie's dead

Hey, hey
Love, love
Hey, hey
Yeah, yeah
Ha, ha
Love, love
Yeah, yeah
Ha, ha
Yeah, yeah
Freddie's dead

[Instrumental]

All I want is some peace of mind
With a little love I'm tryin' to find
This could be such a beautiful world
With a wonderful girl
Oh, I need a woman child
Don't wanna be like Freddie now
'Cause Freddie's dead

Hey, hey
Yeah, yeah
If you don't try
You're gonna die

Why can't we brothers protect one another
No one's serious and it makes me furious
Don't be misled
Just think of Fred

Everybody's misused him
Ripped him up and abused him
Another junkie plan
Pushin' dope for the man
A-Freddie's on the corner now
If you wanna be a junkie, why
Remember Freddie's dead

Ha, ha, ha, ha, ha
Freddie's dead
Hey, hey
Ha, ha
Love, love
Ha, ha
Hoo, hoo
Hey, hey
Love, love
Hey, hey
[fades out]
---
Info
FREDDIE'S DEAD is a song written by Curtis Mayfield and originally released on his 1972 album Super Fly (Curtom Records, catalogue # CRS 8014 ST), which was the soundtrack for the 1972 Warner Bros. motion picture Super Fly. The song was also released as a single in July 1972, with UNDERGROUND on the B-side (Curtom Records, catalogue # CR 1975). It reached #4 on the Billboard Hot 100 chart and #2 on the Best Selling Soul Singles chart.
Curtis Mayfield – Super Fly (album cover art)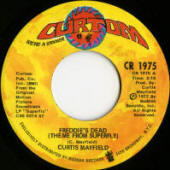 Curtis Mayfield -- "Freddie's Dead / Underground" (1972 USA 7-inch single, A-side label)
The above lyrics are for the original Curtis Mayfield album version of FREDDIE'S DEAD as released in 1972. The album version clocks at 5:23, while the single version is edited and clocks at 3:15.
Live History
Bruce Springsteen has never performed FREDDIE'S DEAD in full, but the song was performed with an all-star cast on 01 Mar 1994 at Radio City Music Hall in New York City, NY, during the 36th Grammy Awards ceremony, as part of a medley in honor of Curtis Mayfield. See CURTIS MAYFIELD MEDLEY for more details.
Available Versions
List of available versions of FREDDIE'S DEAD on this website:
FREDDIE'S DEAD [Original Curtis Mayfield version]
---
Page last updated: 17 Sep 2012