FRIDAY ON MY MIND
Original The Easybeats version
---
Monday morning feels so bad
Everybody seems to nag me
Coming Tuesday I feel better
Even my old man looks good
Wednesday just don't go
Thursday goes too slow
I've got Friday on my mind

I'm gonna have fun in the city
Be with my girl, she's so pretty
She looks fine tonight
She is out of sight to me
Tonight I'll spend my bread, tonight
I'll lose my head, tonight
I've got to get to night
Monday I'll have Friday on my mind

Do the five day grind once more
I know of nothing else that bugs me
More than working for the rich man
Hey, I'll change that scene one day
Today I might be mad
Tomorrow I'll be glad
'Cause I'll have Friday on my mind

I'm gonna have fun in the city
Be with my girl, she's so pretty
She looks fine tonight
She is out of sight to me
Tonight I'll spend my bread, tonight
I'll lose my head, tonight
I've got to get to night
Monday I'll have Friday on my mind

I'm gonna have fun in the city
I'll be with my girl, she's so pretty
I'm gonna have fun in the city
I'll be with my girl, she's so pretty
I'm gonna have fun in the city
I'll be with my girl, she's so pretty
I'm gonna have fun in the city
[fades out]
---
Info
FRIDAY ON MY MIND is a song written by Harry Vanda and George Young and originally released by their band The Easybeats as a single in 1966.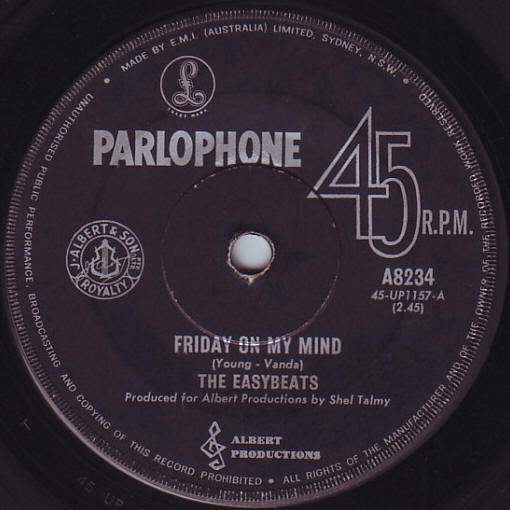 The Easybeats -- "Friday On My Mind / Made My Bed Gonna Lie In It"

7-inch single - Parlophone (A8234) - Australia, 1966

The above lyrics are for the original The Easybeats version of FRIDAY ON MY MIND as released in 1966.
Springsteen's Version
Bruce Springsteen covered FRIDAY ON MY MIND live twice in 2014. See the live 19 Feb 2014 version for more details.
Available Versions
List of available versions of FRIDAY ON MY MIND on this website:
FRIDAY ON MY MIND [Live 19 Feb 2014 version]
FRIDAY ON MY MIND [Original The Easybeats version]
---
Page last updated: 30 Sep 2015