GOOD ROCKIN' TONIGHT
Original Roy Brown version
---
Well I heard the news, there's good rockin' tonight
Oh I'm gonna hold my baby as tight as I can
Tonight she'll know I'm a mighty, mighty man
I heard the news, there's good rockin' tonight

Oh yes I heard the news, there's good rockin' tonight
Oh I'm gonna hold my baby as tight as I can
Tonight she'll know I'm a mighty, mighty man
I heard the news, there's good rockin' tonight

Oh meet me in a hurry behind the barn
Don't be afraid I'll do you no harm
I want you to bring my rocking shoes
'Cause tonight I'm gonna rock away all my blues
I heard the news, there's good rockin' tonight

Oh yes I heard the news, there's good rockin' tonight
Oh I'll hold my baby as tight as I can
Tonight she'll know I'm a mighty, mighty man
I heard the news, there's good rockin' tonight

Well Deacon Jones and Melville Brown
Two of the slickest cats in town
They'll be there, just a wait and see
Stomping and jumping at the jamboree
Ah hey man, there's a good rockin' tonight

Well sweet Lorraine, Sioux City Sue
Sweet Georgia Brown, Caldonia too
They'll all be there shouting like mad
Hoy sister, hoy sister, ain't you glad
We heard the news, there's good rockin' tonight

Oh yes, we'll rock tonight
Hey hey, we'll rock tonight
Hoy hoy, we'll rock tonight
Hey hey, we'll rock tonight
I heard the news, there's a good rockin' tonight
---
Info
GOOD ROCKIN' TONIGHT is a song written by Roy Brown who originally released it as a single in 1947.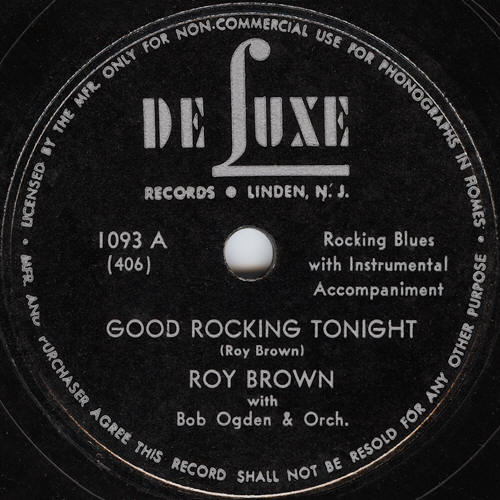 Roy Brown -- "Good Rocking Tonight / Lolly Pop Mama"

10-inch single - DeLuxe (1093) - USA, 1947

The above lyrics are for the original Roy Brown version of GOOD ROCKIN' TONIGHT as released in 1947.
Springsteen's Version
Bruce Springsteen has performed GOOD ROCKIN' TONIGHT a few times in his career, mostly during the Darkness On The Edge Of Town Tour. See the live 20 Sep 1978 version for more details.
Available Versions
List of available versions of GOOD ROCKIN' TONIGHT on this website:
GOOD ROCKIN' TONIGHT [Live 20 Sep 1978 version]
GOOD ROCKIN' TONIGHT [Live 30 Sep 1978 version]
GOOD ROCKIN' TONIGHT [Live 19 Dec 1978 version]
GOOD ROCKIN' TONIGHT [Live 31 Dec 1978 version]
GOOD ROCKIN' TONIGHT [Original Roy Brown version]
---
Page last updated: 05 Sep 2015