GOOD TIMES
Original Sam Cooke version
---
Woah la la ta da, woah la ta da, la la la all night long, yeah
La la la la ta da, la la la ta ta ta da, la la la all night long, yeah

Come on and let the good times roll
We're gonna stay here till we soothe our souls
If it take all night long
One more time
Come on and let the good times roll
We're gonna stay here till we soothe our souls
If it take all night long

Gotta tell you, evening sun is sinking low
The clock on the wall say it's time to go
I got my plans, I don't know about you
I'll tell you exactly what I'm gonna do

Get in the groove and let the good times roll
I'm gonna stay here till I soothe my soul
If it take all night long
Yeah, everybody let the good times roll
We're gonna stay here till we soothe our souls
If it take all night long

Yeah, it might be one o'clock and it might be three
Time don't mean that much to me
I've felt this good since I don't know when
And I might not feel this good again

So come on and let the good times roll
We're gonna stay here till we soothe our souls
If it take all night long
And all night (all night), and all night (all night)
And all night (all night), all night long (all night)
Somebody said it might take (all night) all night long (all night)
And all night (all night), and all night (all night)
So come on and let the good times roll
We're gonna stay here till we soothe our souls
If it take all night long
---
Info
GOOD TIMES is a song originally released by Sam Cooke in 1964. See the below section for more details.
As far it's known, Bruce Springsteen has never covered GOOD TIMES live in full, but he incorporated a few lines from the song into TWIST AND SHOUT once in 1993. See the live 01 Jun 1993 version of TWIST AND SHOUT for more details.
Original Sam Cooke version
GOOD TIMES is a song written by Sam Cooke who originally released it as a single 1964. The above lyrics are for the original Sam Cooke version of GOOD TIMES as released in 1964.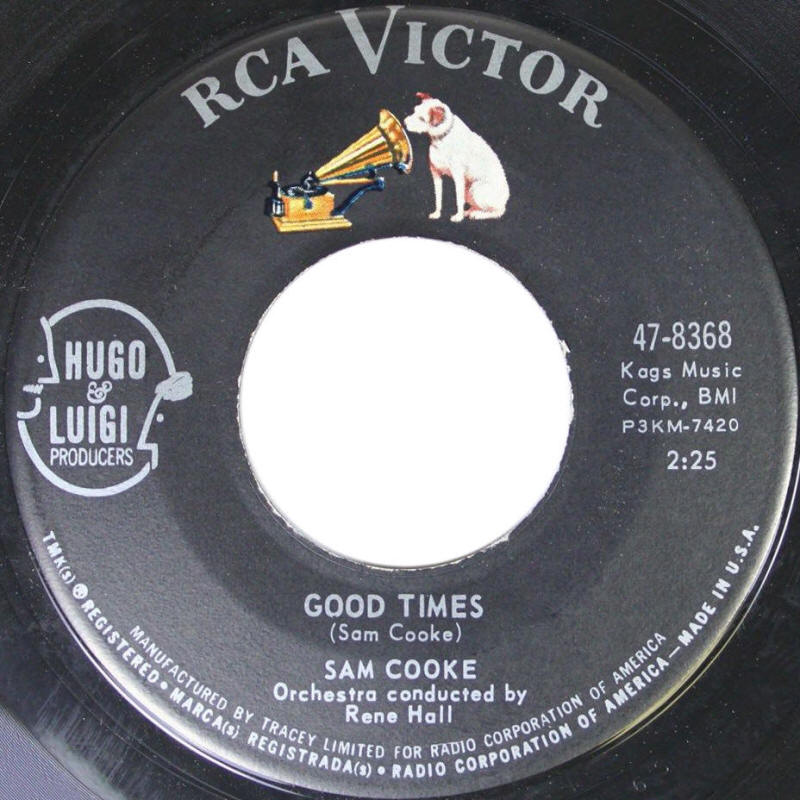 Sam Cooke -- "Good Times / Tennessee Waltz"

7" single - RCA Victor (47-8368) - USA, 1964

Live History
GOOD TIMES was sound-checked prior to the 25 May 1993 show in Rome, Italy, (as far as it's known) but it was not performed on any of World Tour 1992-1993's regular shows.
Available Versions
List of available versions of GOOD TIMES on this website:
GOOD TIMES [Original Sam Cooke version]
---
Page last updated: 07 Sep 2015