GREAT BALLS OF FIRE
Original Jerry Lee Lewis version
---
You shake my nerves and you rattle my brain
Too much love drives a man insane
You broke my will, but what a thrill
Goodness, gracious, great balls of fire

I laughed at love 'cause I thought it was funny
You came along and moved me honey
I've changed my mind, this girl is fine
Goodness, gracious, great balls of fire

Kiss me baby, oooh feels good
Hold me baby, well I want to love you like a lover should
You're fine, so kind
Got to tell this world that you're mine mine mine mine

I chewed my nails and then I twiddled my thumb
I'm real nervous but it sure is fun
Come on baby, you drive me crazy
Goodness, gracious, great balls of fire

Well kiss me baby, oooh feels good
Hold me baby, well I want to love you like a lover should
You're fine, so kind
Got to tell this world that you're mine mine mine mine

I chewed my nails and then I twiddled my thumb
I'm real nervous but it sure is fun
Come on baby, you drive me crazy
Goodness, gracious, great balls of fire
---
Info
GREAT BALLS OF FIRE is a song written by Otis Blackwell and Jack Hammer and originally released by Jerry Lee Lewis as a single in 1957.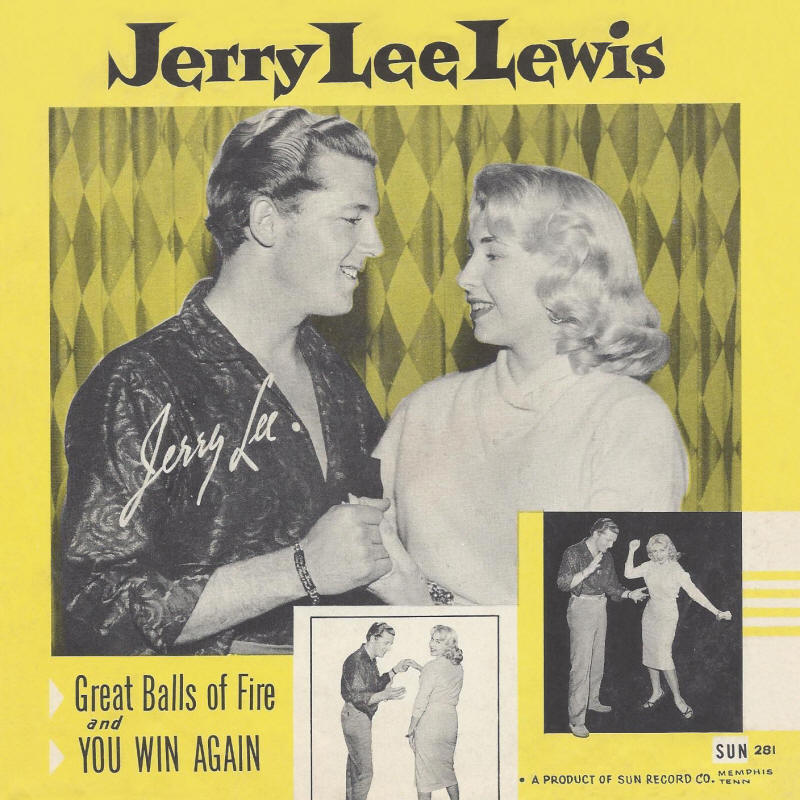 Jerry Lee Lewis -- "Great Balls Of Fire / You Win Again"

7-inch single - Sun Records (281) - USA, 1957

The above lyrics are for the original Jerry Lee Lewis version of GREAT BALLS OF FIRE as released in 1957.
Springsteen's Version
Bruce Springsteen performed GREAT BALLS OF FIRE live a few times in his career. See the live 02 Sep 1995 version for more details.
Available Versions
List of available versions of GREAT BALLS OF FIRE on this website:
GREAT BALLS OF FIRE [Live 02 Sep 1995 version]
GREAT BALLS OF FIRE [Original Jerry Lee Lewis version]
---
Page last updated: 18 Sep 2015