HAVING A PARTY
Original Sam Cooke version
---
We're havin' a party
Dancin' to the music
Played by the DJ
On the radio
The Coke's out in the icebox
Popcorn's on the table
Me and my baby
We're out here on the floor

So Mister, Mister DJ
Keep those records playin'
'Cause I'm a-havin' such a good time
Dancin' with my baby

Everybody's swingin'
Sally's doin' that twist, now
If you take requests, I've
Got a few for you
Play that song called "Soul Twist"
Play that one called "I Know"
Don't forget "The Mashed Potatoes"
No other songs will do

Let me tell you, Mister, Mister DJ
Keep those records playin'
'Cause I'm a-havin' such a good time
Dancin' with my baby

(Havin' a party)
Yeah
(Everybody's swingin')
Oh, yeah
(Dancin' to the music)
Yeah
On the radio
Oh, we're havin' a party
Man!
Everybody's swingin'
We're dancin' to the music
Yeah
On the radio
Tell 'em one more time, we're
Havin' a party
Yeah, and
Everybody's swingin'
Oh, we're
Dancin' to the music
Yeah
On the radio
---
Info
HAVING A PARTY is a song written by Sam Cooke who released it as a single in 1962.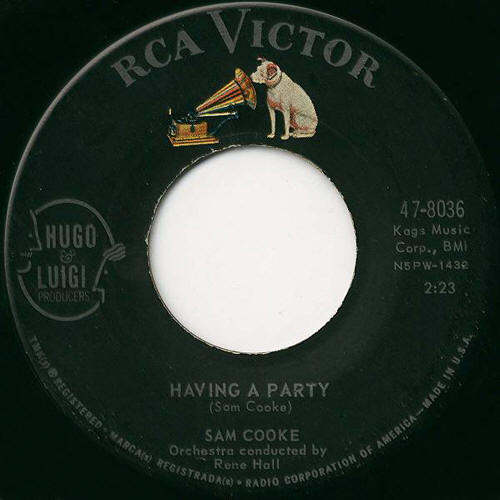 Sam Cooke -- "Bring It On Home To Me / Having A Party"

7-inch single - RCA Victor (47-8036) - USA, 1962

This is a double A-side single.

The above lyrics are for the original Sam Cooke version of HAVING A PARTY as released in 1962.
Bruce Springsteen's Version
Bruce Springsteen frequently performed HAVING A PARTY over the years, mostly during his off-tour club appearances. See Springsteen's live 20 May 1976 version for more details.
Credits
Thanks Jake (ol'catfishinthelake at BTX and Greasy Lake) for the lyrics help.
Available Versions
List of available versions of HAVING A PARTY on this website:
HAVING A PARTY [Live 30 May 1976 version]
HAVING A PARTY [Live 13 May 1977 (early show) version]
HAVING A PARTY [Live 13 May 1977 (late show) version]
HAVING A PARTY [Live 13 Sep 1977 version]
HAVING A PARTY [Live 31 Dec 1977 version]
HAVING A PARTY [Live 31 Aug 1978 version]
HAVING A PARTY [Live 15 Aug 1982 version]
HAVING A PARTY [Live 02 Aug 1987 version]
HAVING A PARTY [Live 09 Aug 1987 version]
HAVING A PARTY [Live 24 Jun 1993 version]
HAVING A PARTY [Live 16 Jul 1994 version]
HAVING A PARTY [Live 29 Apr 2003 version]
HAVING A PARTY [Original Sam Cooke version]
---
Page last updated: 25 Sep 2011