HOLLYWOOD KIDS
Studio version
---
They're Hollywood kids each and everyone
With a high class smile and a little baby's tongue
Lonely hard-head losers dressed in the tinsel of the times
Learn all the latest lines and the order in which they come

So perfumed sweet and so obscene
Like the fancy dancers of our dirty green
Oh they know hello and goodbye but not what goes in between
Yeah, and its such a scene on Saturday night

Fifth Avenue freaks straight off the racks
They swear you can buy and sell your soul on a good day outside
They're Hollywood kids each and everyone
And on Sunday back into their holes they run

And on Monday here I stand alone on this littered stage
Like an animal who forgot he was in a cage
Just a restless soul, just waiting for 'em to come
Them Hollywood kids each and everyone

[Spoken:] Yeah, that's it through that one
---
Info
HOLLYWOOD KIDS is a song written by Bruce Springsteen who recorded it in mid-1972. The song has not yet been officially released. The above lyrics are transcribed from the only known studio version of HOLLYWOOD KIDS.
Composition and Recording
There is no indication to when HOLLYWOOD KIDS was written. One studio version of the song is in circulation among collectors. It's a studio take likely recorded around May-Jun 1972 at Jim Cretecos' apartment in New York City, NY. It features Springsteen solo on vocals and acoustic guitar. The May-Jun 1972 sessions at Jim Cretecos' apartment were produced by Cretecos who also took the role of recording engineer. The above lyrics transcribed from that circulating studio version of HOLLYWOOD KIDS. Bruce Springsteen performed HOLLYWOOD KIDS during an audition for Mike Appel and Jim Cretecos on 14 Feb 1972 at Appel's office at Pocketful Of Tunes. Bob Spitz was also present and he recorded the performance on a reel-to-reel tape recorder. See the "1971-1972 Auditions" section below for more details.
1971-1972 Auditions
On 04 Nov 1971, Carl "Tinker" West, then-manager of The Bruce Springsteen Band, drove Bruce Springsteen to New York City to introduce him to Mike Appel, a songwriter who carried on his songwriting activities jointly with Jim Cretecos. Appel was then employed at Pocketful Of Tunes Inc., Wes Farrell's publishing company in New York City, NY, and the meeting took place at Pocketful Of Tunes. Springsteen performed two or three songs, some on piano and some on acoustic guitar. Only Appel and West were present at this first meeting. Appel has stated in interview that he was not particularly impressed by what he heard at this initial audition but did see raw creativity in the lyrics of BABY DOLL. That performance was not recorded and the titles of the other song(s) performed remain unclear. Appel indicated an interest in promoting them in some way and the meeting ended with an agreement to keep in touch but no commitments from either party.
Meanwhile Springsteen continued gigging with The Bruce Springsteen Band in New Jersey and Virginia and visited his family in California for a few weeks around the holidays. The next meeting between Springsteen and Appel took place on 14 Feb 1972. Springsteen performed a set of seven songs at Appel's office at Pocketful Of Tunes. The songs were performed live solo on acoustic guitar to an audience of three: Mike Appel, Jim Cretecos, and Bob Spitz. Spitz recorded the performance on a reel-to-reel tape recorder. IT'S HARD TO BE A SAINT IN THE CITY was performed a second time at the request of Appel who reportedly was dazzled the lyrics. After that performance Appel and Cretecos began putting the wheels in motion to sign Springsteen to a comprehensive range of contracts.
NO NEED
COWBOYS OF THE SEA
IF I WAS THE PRIEST
IT'S HARD TO BE A SAINT IN THE CITY [take #1, fast version]
IT'S HARD TO BE A SAINT IN THE CITY [take #2, slow version]
THE ANGEL
HOLLYWOOD KIDS
ARABIAN NIGHTS
FOR YOU
In March 1972, it was agreed that Appel and Cretecos would promote Springsteen's interests. For that purpose, Appel and Cretecos formed three partnerships owned equally by the two: Laurel Canyon Management to act as Springsteen's manager, Laurel Canyon Productions to cover his recording activities, and Sioux City Music Inc to cover his songwriting activities. In the meantime, Springsteen entered into an "Exclusive Management Contract" with Laurel Canyon Management and an "Exclusive Recording Contract" with Laurel Canyon Productions, but did not sign any songwriting agreement at this time, apparently wishing to think this matter over a bit longer. The two contracts were signed at Appel's office.
Appel wanted to sign Springsteen to Columbia Records. He could not arrange a meeting with label head Clive Davis but was able to arrange one with CBS A&R Manager and talent scout John Hammond. An informal private audition took place around 10:30 AM on 02 May 1972 in Hammond's office in the A&R Department at Columbia Records in New York City. John Hammond and Mike Appel were the only two present at the audition. All songs were performed on acoustic guitar and the performance, which lasted about 30 to 40 minutes, was not recorded but based on the collective recollections of the attendees at least the following four songs were played:
GROWIN' UP
IT'S HARD TO BE A SAINT IN THE CITY
MARY QUEEN OF ARKANSAS
IF I WAS THE PRIEST
In a 1980 interview, Hammond mentioned he wasn't all that enamored with MARY QUEEN OF ARKANSAS, but that he loved all the other songs that Springsteen performed that morning. "It was a big, big day for me," Springsteen told Mark Hagen in an interview for Mojo magazine published in January 1999. "I was twenty-two and came up on the bus with an acoustic guitar with no case which I'd borrowed from the drummer from The Castiles. I was embarrassed carrying it around the city. I walked into [John Hammond's] office and had the audition and I played a couple of songs and he said, 'You've got to be on Columbia Records. But I need to see you play. And I need to hear how you sound on tape.'"
Springsteen said that he and Mike Appel "walked all around the Village trying to find some place that would let somebody just get up on stage and play. We went to the Bitter End, it didn't work out. We went to another club. And finally we went to the old Gaslight on MacDougal Street and the guy says, 'Yeah, we have an open night where you can come down and play for half an hour'. There were about 10 people in the place and I played for about half an hour." The performance took place at the Gaslight Au Go Go club in New York City. No recording has emanated from this club appearance which lasted about 30 minutes and included just 4 or 5 songs. Both Springsteen and Appel have mentioned these two tracks as having been played:
GROWIN' UP
IT'S HARD TO BE A SAINT IN THE CITY
John Hammond was impressed. "The kid absolutely knocked me out," he told Newsweek in 1975. "I only hear somebody really good once every ten years, and not only was Bruce the best, he was a lot better than Dylan when I first heard him." As Springsteen recalled, Hammond said, "Gee, that was great. I want you to come to the Columbia Recording Studio and make a demo tape". He invited Springsteen back to CBS to make a studio demo audition tape the following day. Springsteen said, "A demo I made at Bill Graham's studio in San Francisco in '69 was the only other time I'd ever been in a real recording studio. Columbia was very old-fashioned: everybody in ties and shirts; the engineer was in a white shirt and a tie and was probably 50, 55 years old, it was just him and John and Mike Appel there, and he just hits the button and gives you your serial number, and off you go. I was excited. I felt I'd written some good songs and this was my shot. I had nothing to lose and it was like the beginning of something."
Springsteen's first "formal" studio audition for CBS took place on 03 May 1972 at CBS Studios in New York City. The session consisted of 12 songs. Click on any of the below links for more details.
Four of the tracks recorded during that demo session would be officially released in 1998 on the Tracks box set. John Hammond's introduction of the audition was kept intact at the start of MARY QUEEN OF ARKANSAS which opens the box set. Hammond was prepared to sign Bruce on the spot but administrative formalities within CBS meant that it would take several weeks for that to become reality. According to Clinton Heylin's 2012 book E Street Shuffle: The Glory Days of Bruce Springsteen & the E Street Band, Hammond send Clive Davis a dub of the audition and a memo saying: "Here is a copy of a couple of the reels of Bruce Springsteen, a very talented kid who recorded these twelve songs in a period of around two hours last Wednesday... I think we better act quickly because many people heard the boy at The Gaslight so that his fame is beginning to spread." Davis responded the next day, "I love Bruce Springsteen! He's an original in every respect. I'd like to meet him if you can arrange it."
Springsteen told Mark Hagen, "I knew a lot about John Hammond, the work he'd done, the people he'd discovered, his importance in music and it was very exciting to feel you were worth his time. No matter what happened afterwards, even it was just for this one night, you were worth his time. That meant a lot to me. He was very encouraging – simply being in that room with him at the board was one of my greatest recording experiences."
According to Heylin, Hammond thought that Springsteen might be better off on the Epic subsidiary, but Mike Appel intercepted: "[Hammond] decided that Bruce should be with the younger people at Epic and not with the stodgier, older people at Columbia – and he got this in his head. I always felt that Columbia was the classiest label on the planet. I just always saw [Bruce's] record going round on that red label, just like Dylan's did."
About a week following the audition, Springsteen entered into an "Exclusive Songwriting Contract" with Sioux City Music Inc and a new/revised "Exclusive Management Contract" with Laurel Canyon Management. The two contracts were signed at the office of New York attorney Jules Kurz, a sole practitioner specializing in music and entertainment law who was then handling Appel and Cretecos' business affairs. This new management agreement replaced the one from March and made changes in remuneration and compensation rates between the parties; it was a better deal for Springsteen than the previous one.
Following the signing of the agreements, Springsteen began a series of demo sessions for Sioux City Music Inc in May and June 1972. The session took place at two locations in New York City: Wes Farrell's Pocketful Of Sounds Studios where Appel was then still employed, and the apartment of Jim Cretecos. There were multiple sessions held at each location and the session dates at the two locations may have actually intertwined. Cretecos' apartment was utilized due to the limited availability of the studio at Pocketful Of Sounds. Cretecos was an electronics engineer and was able to emulate a reasonable recording environment in his apartment, so much so that it is difficult to distinguish some of the recordings Bruce made in Cretecos' apartment from those made in a professional studio.
On 09 Jun 1972 Laurel Canyon Productions (describing itself as Laurel Canyon Productions Inc) entered into a recording agreement with CBS Records. This meant that Springsteen was not signed directly to CBS, but his services were subcontracted to CBS by Laurel Canyon. Under the recording agreement, all individual recordings made by Springsteen under the CBS agreement remained the property of Laurel Canyon Productions until such point that they were assigned and transferred to CBS. This contract was signed by CBS at CBS Records offices and by Mike Appel at Laurel Canyon Productions offices. Bruce Springsteen signed it too, on the hood of a car in a dimly lit bar parking lot in New York City. Appel had him sign it as a matter of courtesy and as a matter of endorsement – from a legal standpoint it was not necessary that Springsteen signs this agreement as the "Exclusive Recording Agreement" between him and Laurel Canyon Productions did not grant him the right to block or refuse this contract between Laurel Canyon Productions and CBS. The contract was varied in August 1972 to also cover the master tapes of certain songs which had been recorded prior to the date of the agreement.
Mike Appel and Jimmy Cretecos later decided to change their business structure and model. They wanted to cease the partnership model and incorporate their businesses with the two having a 50/50 split in shares of the new incorporated business entities. These matters did not involve Springsteen – his signature or permission was not required. Laurel Canyon Productions (the sound recordings partnership) became Laurel Canyon Limited (incorporated) on 28 Jun 1972, Sioux City Music Inc (the songwriting partnership) became Sioux City Music Limited (incorporated) on 05 Oct 1972, and Laurel Canyon Management (the management partnership) became Laurel Canyon Management Limited (incorporated) on 05 Mar 1973. The three new companies were incorporated in New York and Appel and Cretecos were appointed the first directors. Appel and Cretecos wanted to change the name of Sioux City to Laurel Canyon in order to have name consistency among their family of companies, so on 24 Apr 1973 Sioux City Music Limited changed its name to Laurel Canyon Music Limited. In January 1974 Jimmy Cretecos sold his 50% shareholding in each of the Laurel Canyon companies to Mike Appel, thus Appel becoming the sole owner of the companies.
Unofficial Releases
The studio version of HOLLYWOOD KIDS was released on the briefly-legal albums Unearthed (Masquerade Music, second issue only) and Before The Fame (Pony Express Records, second and third issues only). See PRODIGAL SON for more details.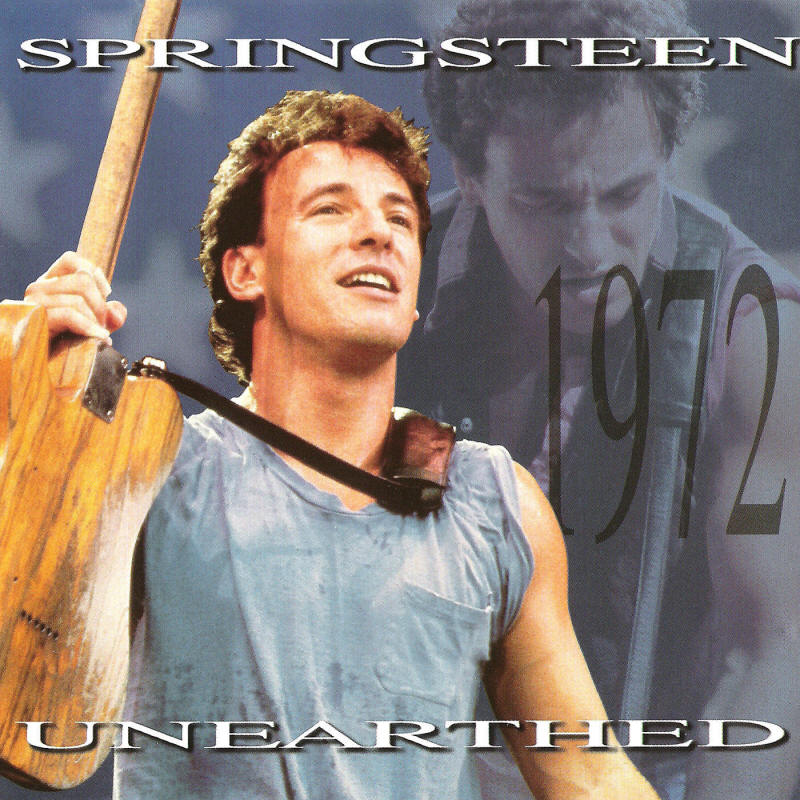 Bruce Springsteen -- Unearthed (Masquerade Music, second issue)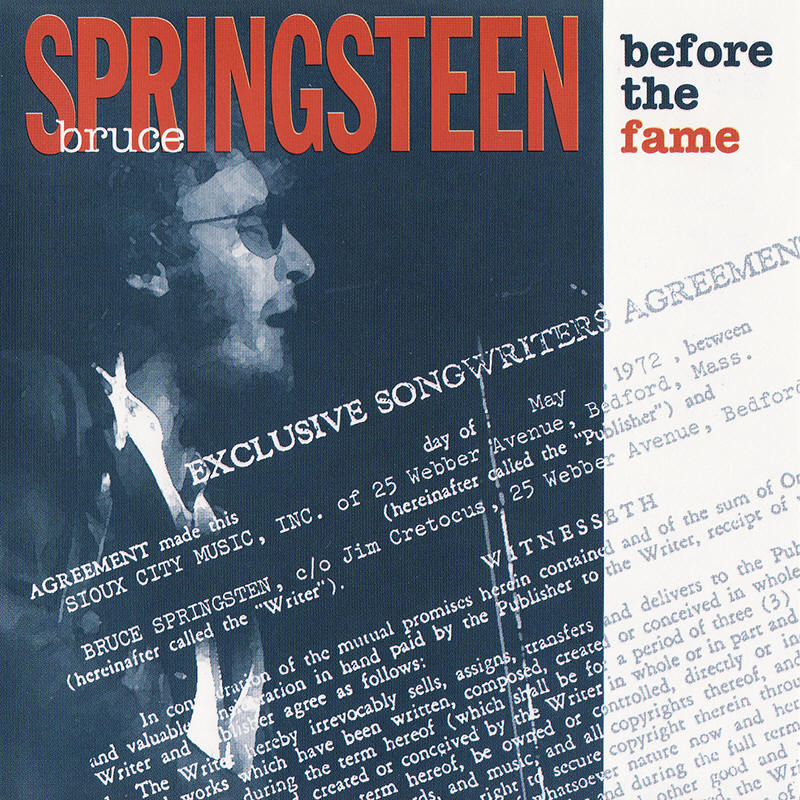 Bruce Springsteen -- Before The Fame (Pony Express Records, second issue)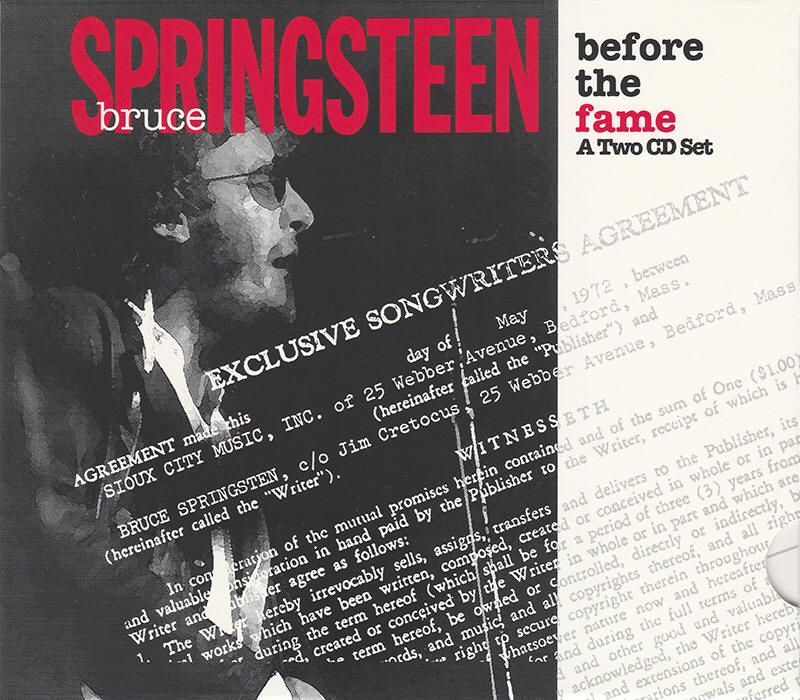 Bruce Springsteen -- Before The Fame (Pony Express Records, third issue)
Live History
As far as it's known, Bruce Springsteen has never performed HOLLYWOOD KIDS live.
Covers
As far as it's known, no artist has recorded and released Bruce Springsteen's HOLLYWOOD KIDS.
References
Some of the above info about the studio recording and the live performance is taken from Brucebase.
Available Versions
List of available versions of HOLLYWOOD KIDS on this website:
HOLLYWOOD KIDS [Studio version]
---
Page last updated: 07 Apr 2013