IF I WAS THE PRIEST
03 May 1972 demo version
---
Well, there's a light on yonder mountain
And it's calling me to shine
There's a girl by the water fountain
And she's asking to be mine
Whoa, and Jesus is standing in the doorway
With buckskin jacket and boots and spurs, really fine
He says, "Now we need you, son, oh, up in Dodge City
Because there's just too many outlaws trying to work the same line"

Well, now if Jesus was the sheriff and I was the priest
If my lady was an heiress and my Mama was a thief
Oh, and Papa rode shotgun for the Fargo line
There's still too many bad boys trying to work the same line

Well, old sweet Virgin Mary, she runs the Holy Grail saloon
Where for a nickel they'll give you whiskey and a personally blessed balloon
And the Holy Ghost, he's the host with the most, he runs the burlesque show
Where they let you in for free but boy do they hit you when you go
And Mary serves Mass on Sunday and she sells her body on Monday to the boot maker who pay the highest price
But he don't know he got stuck with a loser, Mary's a stone junkie, what's more she's a boozer
And she's only been made once or twice by some kind of magic

Well, things ain't been the same in heaven ever since big bad Bobby came to town
He's been known to down eleven and then ask for another round
And me I've been, oh, I got scabs on my knees, I've been kneeling way too long
It's about time I played a man and took a stand where I belong
And you gotta forget about the old friends and the old times
Because there's just too many new boys trying to work the same line

Well, now if Jesus was the sheriff, Mama, and I was the priest
If my lady was an heiress and my Mama was a thief
Oh, and Papa rode shotgun for the Fargo line
There's still too many bad boys trying to work the same line

Now there's a light on yonder mountain
And it's calling me to shine
Now there's a girl over by the water fountain
And she's asking to be mine
Whoa, and Jesus, he's standing in the doorway
With his six-guns drawn, ready to fan
He says, "Now we need you, boy, in Dodge City"
I told him I'm already overdue in Cheyenne
---
Info
The above lyrics are for the demo of IF I WAS THE PRIEST that was recorded during Springsteen's first studio audition session for CBS Records. The recording took place on 03 May 1972 at CBS Studios in New York City, NY. It features Springsteen solo on vocals and piano. See the studio version for more details about the song and the events surrounding this audition.
The 03 May 1972 Audition
Bruce Springsteen's first "formal" studio audition for CBS took place on 03 May 1972 at CBS Studios in New York City. Produced by John Hammond and engineered by Phil Giambalvo, the session consisted of 12 songs (two of them played twice, making a total of 14 tracks); session log information survives and it has been verified that the below-listed recordings encompass the complete session. This so-called "John Hammond Demo Session" was assigned the job number 79682; Hammond's voice is heard on the recording of the audition reading off the session number, "Bruce Springsteen, Columbia Pop audition, job number 79682, Mary Queen Of Arkansas, take 1".
The master Scotch magnetic tape reels from the audition were on display as part of the From Asbury Park To The Promised Land exhibition at the Rock And Roll Hall Of Fame And Museum in Cleveland, OH, along with boxes labeled with running orders:
Four tracks from the "John Hammond Demo Session" that were previously officially released in other versions were included on the Tracks box set in 1998. These are: MARY QUEEN OF ARKANSAS [take #2], IT'S HARD TO BE A SAINT IN THE CITY, GROWIN' UP, and DOES THIS BUS STOP AT 82ND STREET?.
In his 2012 book E Street Shuffle: The Glory Days of Bruce Springsteen & the E Street Band, Clinton Heylin wrote that over the years Hammond would come to insist that their demo was "better than any tape Bruce has made since, because Bruce is [now] so uptight about perhaps overshadowing somebody else in the band." In 1981, he would send Springsteen a copy of the tape as a reminder of what might have been. Springsteen's response was Nebraska.
Bootleg Releases
This 03 May 1972 demo version of IF I WAS THE PRIEST has been circulating on several bootleg releases, including The Early Years Volume Two (Bagel Boys Records) and The Unsurpassed Springsteen Volume 3 (Yellow Dog Records).
Bruce Springsteen -- The Early Years Volume Two (Bagel Boys Records)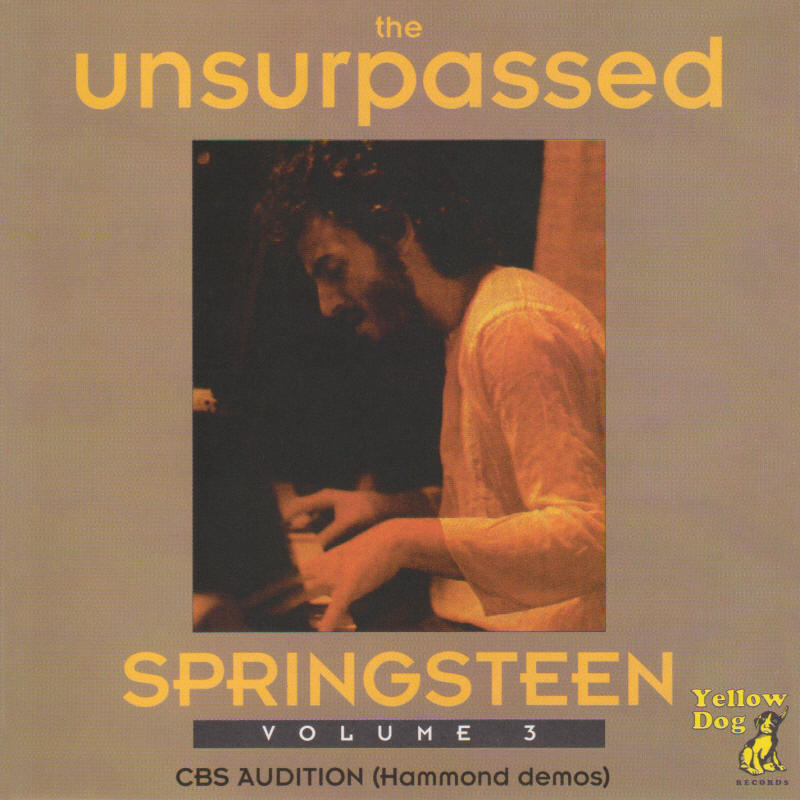 Bruce Springsteen -- The Unsurpassed Springsteen Volume 3 (Yellow Dog Records)
Available Versions
List of available versions of IF I WAS THE PRIEST on this website:
IF I WAS THE PRIEST [Studio version]
IF I WAS THE PRIEST [April 1972 demo version]
IF I WAS THE PRIEST [03 May 1972 demo version]
IF I WAS THE PRIEST [Allan Clarke's cover version]
---
Page last updated: 07 Apr 2013