IT'S HARD TO BE A SAINT IN THE CITY
Live 28 Jul 2008 version
---
[Spoken intro:] Now, we got a couple more for you, but I don't have a sign for this one. This is for Dave. We're gonna do it in C.

In C. Oh!

I know it's in A; tonight we're gonna do it in C. (chuckles) Oh! Let's see... I hope I can sing it in C, let's find out. Ready? If not, we'll go back down to A! (laughs) I'll kill you! Here we go, Max!

One, two, a-one, two, three, four!

I had skin like leather and the diamond-hard look of a cobra
I was born blue and weathered but I burst just like a supernova
I could walk like Brando right into the sun
Dance like a Casanova
With my blackjack and jacket and hair slicked sweet
Silver star studs on my duds like a Harley in heat
When I strut down the street, I could feel its heartbeat
The sisters fell back, said, "Don't that man look pretty"
Cripple on the corner cried out, "Nickels for your pity"
Them downtown boys sure talk gritty
It's so hard to be a saint in the city

I was the king of the alley, mama, I could talk some trash
Pimp's main prophet, I was crowned downtown at the beggar's bash
I was the pimp's main prophet, I kept everything cool
Backstreet gambler with the luck to lose
When the heat came down, it was left on the ground
Devil appeared like Jesus through the steam in the street
Showin' me a hand I knew even the cops couldn't beat
Felt his hot breath on my neck as I dove into the heat
It's hard to be a saint when you're just a boy

The sages of the subway sit just like the living dead
The tracks clack out the rhythm, their eyes fixed straight ahead
They ride the line of balance, hold on by just a thread
It's too hot in these tunnels, you can get hit up by the heat
You get up to get out at your next stop, they push you back down in your seat
Your heart starts beatin' faster as you struggle to your feet
You're out of that hole, back up on the street

Them south side sisters sure look pretty
Cripple on the corner cried out, "Nickels for your pity"
Downtown boys sure talk gritty
And it's hard to be the saint in the city
So hard, sir
So hard

[Spoken outro:] Whoa!
---
Info
The above lyrics are for the live 28 Jul 2008 performance of IT'S HARD TO BE A SAINT IN THE CITY at Giants Stadium in East Rutherford, NJ, during the Magic Tour. The song was played in its traditional full-band arrangement.

Ticket stub for the 28 Jul 2008 show at Giants Stadium, East Rutherford, NJ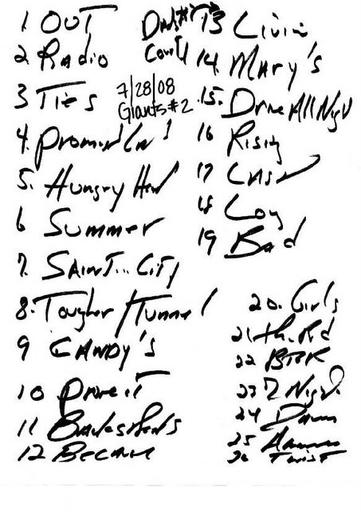 Handrwitten setlist for the 28 Jul 2008 show at Giants Stadium, East Rutherford, NJ
Credits
Thanks Jake (ol'catfishinthelake at BTX and Greasy Lake) for the lyrics help.
Available Versions
List of available versions of IT'S HARD TO BE A SAINT IN THE CITY on this website:
IT'S HARD TO BE A SAINT IN THE CITY [Album version]
IT'S HARD TO BE A SAINT IN THE CITY [Unedited studio version]
IT'S HARD TO BE A SAINT IN THE CITY [Unofficial studio version]
IT'S HARD TO BE A SAINT IN THE CITY [03 May 1972 demo version]
IT'S HARD TO BE A SAINT IN THE CITY [Live 31 Jul 1973 (late show) version]
IT'S HARD TO BE A SAINT IN THE CITY [Live 23 Nov 1974 version]
IT'S HARD TO BE A SAINT IN THE CITY [Live 05 Feb 1975 version]
IT'S HARD TO BE A SAINT IN THE CITY [Live 02 Oct 1975 version]
IT'S HARD TO BE A SAINT IN THE CITY [Live 18 Nov 1975 version]
IT'S HARD TO BE A SAINT IN THE CITY [Live 07 Apr 1976 version]
IT'S HARD TO BE A SAINT IN THE CITY [Live 25 Mar 1977 version]
IT'S HARD TO BE A SAINT IN THE CITY [Live 07 Jul 1978 version]
IT'S HARD TO BE A SAINT IN THE CITY [Live 08 Dec 1978 version]
IT'S HARD TO BE A SAINT IN THE CITY [Live 01 Jan 1979 version]
IT'S HARD TO BE A SAINT IN THE CITY [Live 14 Sep 1981 version]
IT'S HARD TO BE A SAINT IN THE CITY [Live 26 Nov 1996 version]
IT'S HARD TO BE A SAINT IN THE CITY [Live 20 Jun 2000 version]
IT'S HARD TO BE A SAINT IN THE CITY [Live 07 Mar 2003 version]
IT'S HARD TO BE A SAINT IN THE CITY [Live 03 Aug 2005 version]
IT'S HARD TO BE A SAINT IN THE CITY [Live 22 Nov 2005 version]
IT'S HARD TO BE A SAINT IN THE CITY [Live 28 Jul 2008 version]
IT'S HARD TO BE A SAINT IN THE CITY [Live 22 Nov 2009 version]
IT'S HARD TO BE A SAINT IN THE CITY [Live 26 Feb 2014 version]
IT'S HARD TO BE A SAINT IN THE CITY [Live 25 Feb 2016 version]
IT'S HARD TO BE A SAINT IN THE CITY [David Bowie's cover version]
---
Page last updated: 24 Jul 2011