JOHNNY 99
Live 21 Sep 2009 version
---
Well they closed down the auto plant in Mahwah late that month
Ralph went out looking for a job but he couldn't find none
He came home too drunk from mixing Tanqueray and wine
Got a gun, shot a night clerk, they call him Johnny 99

Down in the part of town where you hit a red light you don't stop
Johnny's waving his gun around threatening to blow his top
Off-duty cop snuck up on him from behind
Out in front Club Tip Top slapped the cuffs on Johnny 99

The city supplied a public defender, the judge was Mean John Brown
Came into the courtroom, stared young Johnny down
Evidence is clear, gonna let the sentence son fit the crime
Prison for 98 and a year we'll call it even, Johnny 99

Sister Soozie!
[Soozie Tyrell violin solo]
(Hoo-hoo)
(Hoo-hoo)
(Hoo-hoo)
(Hoo-hoo) Is there any intellectual in the house?
[Roy Bittan piano solo]
(Hoo-hoo)
(Hoo-hoo)
(Hoo-hoo)
(Hoo-hoo) Come on Charles!
[Charles Giordano piano solo]
(Hoo-hoo)
(Hoo-hoo)
(Hoo-hoo)
(Hoo-hoo)
(Hoo-hoo)
(Hoo-hoo)
(Hoo-hoo)
(Hoo-hoo)
[Nils Lofgren guitar solo]
(Hoo-hoo)
(Hoo-hoo)
(Hoo-hoo)
(Hoo-hoo)
(Hoo-hoo)
(Hoo-hoo)
(Hoo-hoo)
(Hoo-hoo)

A fistfight broke out in the courtroom, they had to drag Johnny's girl away
His mama stood up and shouted, "Judge, don't take my boy this way"
Son you got any statement you'd like to make
Before the bailiff comes to forever take you away

Judge, judge, I had debts no honest man could pay
The bank was holding my mortgage, they were coming to take my house away
Well I ain't saying that makes me an innocent man
But it was more and all this, judge, that put that gun in my hand

Your honor I do believe I'd be better off dead
Take a man's life for the thoughts that's in his head
Sit back in that chair, think it over, Judge, one more time
Shave off my hair, put me on that killing line

Little Steven!
(Hoo-hoo)
(Hoo-hoo)
(Hoo-hoo)
(Hoo-hoo)
(Hoo-hoo)
(Hoo-hoo)
(Hoo-hoo)
(Hoo-hoo) Go Stevie go!
(Hoo-hoo)
(Hoo-hoo) Build us a new house in Jersey
(Hoo-hoo) Build it out of ??? and wood
(Hoo-hoo) ??? little boy
(Hoo-hoo) Stevie B. Goode
(Hoo-hoo)
(Hoo-hoo)
One! Two! Three! Four!
(Hoo-hoo)
(Hoo-hoo) Come one Steve!
(Hoo-hoo)
(Hoo-hoo)
(Hoo-hoo)
(Hoo-hoo)
(Hoo-hoo)
[music stops]
[guitar snippet, crowd cheers]
[guitar snippet, crowd cheers]
[guitar snippet, crowd cheers]
[guitar snippet, crowd cheers]
Build us a new house in Jersey!
[guitar snippet, crowd cheers]
Build it out of earth and wood!
[guitar snippet, crowd cheers]
??? little boy
[guitar snippet, crowd cheers]
Eat chicken parmigiana
[music resumes]
(Hoo-hoo)
(Hoo-hoo)
(Hoo-hoo)
(Hoo-hoo)
(Hoo-hoo)
(Hoo-hoo)
(Hoo-hoo)
(Hoo-hoo)
(Hoo-hoo)
(Hoo-hoo)
(Hoo-hoo)
One! Two! Three! Four!
(Hoo-hoo)
(Hoo-hoo) Let me see your hands!
(Hoo-hoo)
(Hoo-hoo)
(Hoo-hoo)
(Hoo-hoo)
(Hoo-hoo)
---
Info
The above lyrics are for the live 21 Sep 2009 performance of JOHNNY 99 at Wells Fargo Arena in Des Moines, IA, during the Working On A Dream Tour. The song was played in a full-band rock arrangement. Toward the end of the song Springsteen raped a few paraphrased lines of Chuck Berry's JOHNNY B. GOODE over Steven Van Zandt's guitar solo.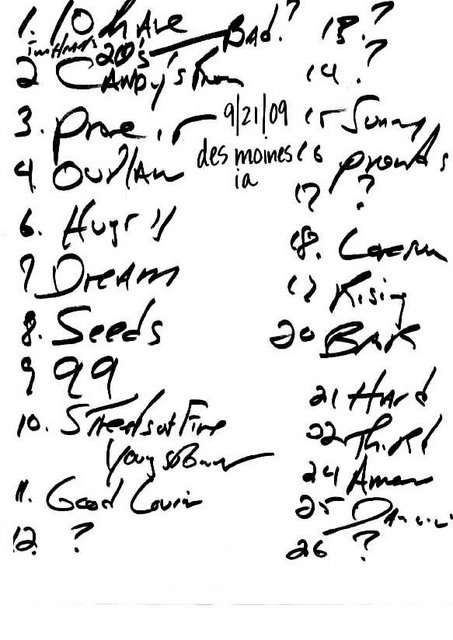 Handwritten setlist for the 21 Sep 2009 show at Wells Fargo Arena, Des Moines, IA
Request
The above lyrics may not be 100% correct and the "Johnny B. Goode" part at the end is not very clear. f you have any corrections or additional info, please contact me via the below form or by email: . You will be credited. Thanks in advance.
Available Versions
List of available versions of JOHNNY 99 on this website:
JOHNNY 99 [Album version]
JOHNNY 99 [Home demo version 1]
JOHNNY 99 [Home demo version 2]
JOHNNY 99 [Live 21 Sep 1984 version]
JOHNNY 99 [Live 19 Aug 1985 version]
JOHNNY 99 [Live 18 Nov 2006 version]
JOHNNY 99 [Live 28 Jun 2009 version]
JOHNNY 99 [Live 21 Sep 2009 version]
JOHNNY 99 [Johnny Cash's cover version]
---
Page last updated: 25 Oct 2015