JUSTIN FEARS
---
The architect angel from cell block 19
Complains the mob has ripped her gutter
She requests the New York Times
From which she steals several lines
She swears she's known this critic as a lover
Her agent's Justin Fears
She holds his thin arm and sips his beer
He keeps the fans from wringing water from her socks
Though his name is Justin Fears
She calls him Justin dear
She gets up and gets down with a queer
And hopes Justin doesn't hear
As she whispers you're cute
I like your boots – let's rock
---
Info
The above lyrics are for JUSTIN FEARS, an unpublished and probably unrecorded Bruce Springsteen song dating from before he signed his record deal with Columbia Records. These lyrics are taken from a Bruce Springsteen handwritten lyrics sheet, and were first published around 1984 on the fifth and last volume of the "Songs To Orphans" lyrics file (read below). Under the lyrics is written "(KNOWN ONLY FROM LYRIC SHEET)".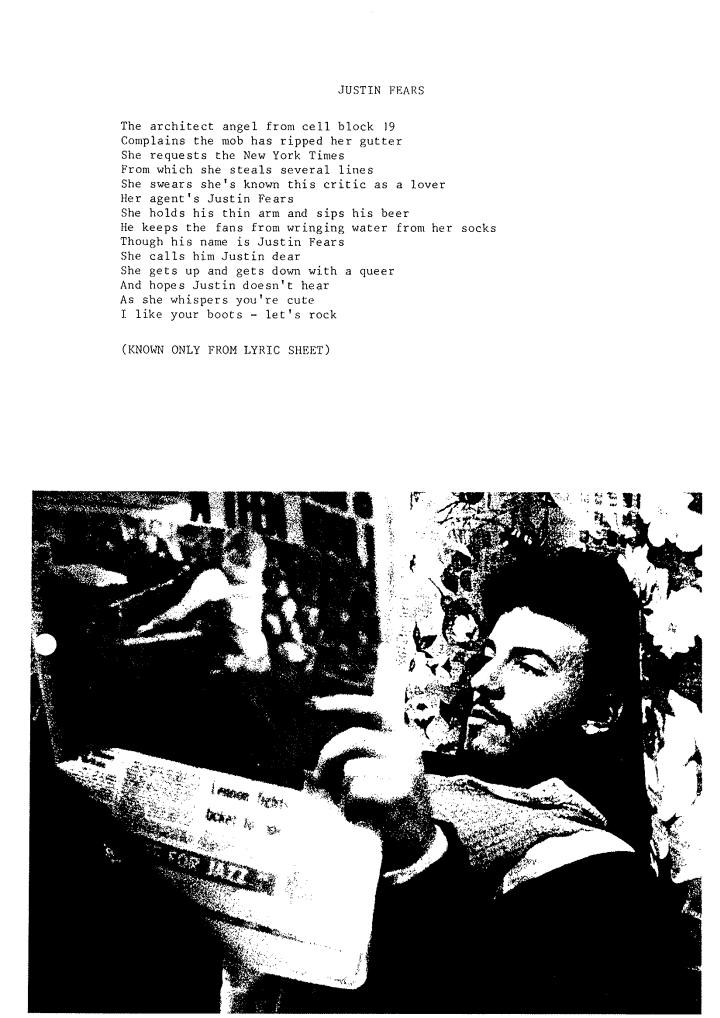 Scan of the JUSTIN FEAR page from the Songs To Orphans lyrics file
Songs To Orphans Lyrics File
"Songs To Orphans" is the first Bruce Springsteen lyrics file that was produced. It consisted of 178 pages published in five sections over the course of a couple of years in the early 80's. It was published as a fanzine type venture over several issues, the last of which in around 1984. Meticulous and detailed, it was the first of its kind and contained lyrics to every known unreleased Springsteen song at the time, and lyrics to the songs he 'gave away'. The whole project was overseen by Dan French, the editor of the UK fanzine Point Blank, and the actual transcribing work was done by three of Point Blank's regular contributors, Mary Speed, Alma Cooper, and Wendy King.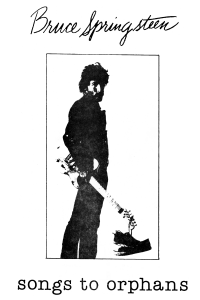 Songs To Orphans lyrics file cover
Request
If have any additional information about this song or the lyrics sheet itself, please contact me via the below form or by email: . You will be credited. Thanks in advance.
Available Versions
List of available versions of JUSTIN FEARS on this website:
JUSTIN FEARS
---
Page last updated: 01 Jun 2011