JUST LIKE FIRE WOULD
Original The Saints version
---
One night in a motel room
Eyes cast like steel
I drank the wine they had left on my table
I knew the morning was too far

I smoked my last pack of foreign cigarettes
I stay only to defy
The night was dark and the land is cold
It's frozen right to the bone

And just like fire would, I burn up
Just like fire would
Just like fire would, I burn up

Five hundred miles I have gone today
Tomorrow it's five hundred more
Outside my window the world passes by
It's stranger than a dream

And just like fire would, I burn up
Just like fire would
Just like fire would, I burn up

I go to work and I earn my pay load
And the sweat, it falls to the ground
I see you now but we may never meet again, child
The ice is hanging on the door

One night in a motel room
Eyes cast like steel
I drank the wine they had left on my table
I knew the morning was too far

And just like fire would, I burn up
Just like fire would
And just like fire would, I burn up

And just like fire would, I burn up
Just like fire would
And just like fire would, I burn up
---
Info
JUST LIKE FIRE WOULD is a song by Australian rock band The Saints. It was written by frontman Chris Bailey and first released on the band's 1986 album All Fools Day on the Mushroom label. The track is album's opener and leading single.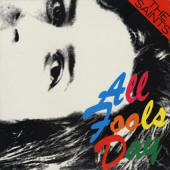 The Saints -- All Fools Day (album cover art)
The above lyrics are for the original The Saints version of JUST LIKE FIRE WOULD as released in 1986.
Springsteen's Version
Bruce Springsteen recorded JUST LIKE FIRE WOULD in 2013 and released it on his 2014 album High Hopes. See the album version for more details.
Available Versions
List of available versions of JUST LIKE FIRE WOULD on this website:
JUST LIKE FIRE WOULD [Album version]
JUST LIKE FIRE WOULD [Live 14 Mar 2013 version]
JUST LIKE FIRE WOULD [Live 14 Jan 2014 version]
JUST LIKE FIRE WOULD [Original The Saints version]
---
Page last updated: 24 Nov 2013