KEEP THE FAITH
Original Bon Jovi version
---
Mother, mother, tell your children
That their time has just begun
I have suffered for my anger
There are wars that can't be won

Father, father, please believe me
I am laying down my guns
I am broken like an arrow
Forgive me, forgive your wayward son

(Everybody needs somebody to love)
Mother, mother
(Everybody needs somebody to leave)
Please believe me
(Everybody's bitching 'cause they can't get enough)
And it's hard to hold on
When there's no one to lean on

(Faith,) you know you're gonna live through the rain
Lord, you got to keep the faith
(Faith,) don't you let your love turn to hate
Now we've got to keep the faith
Keep the faith, keep the faith
Lord, we've got to keep the faith

Tell me baby when I hurt you
Do you keep it all inside
Do you tell me all's forgiven
And just hide behind your pride, yeah-yeah

(Everybody needs somebody to love)
Mother, father
(Everybody needs somebody to leave)
Please don't leave me
(Everybody's bleeding 'cause the times are tough)
Well it's hard to be strong
When there's no one to dream on

(Faith,) you know you're gonna live through the rain
Lord, you've got to keep the faith
(Faith,) don't you know it's never too late
Right now we've got to keep the faith
(Faith,) don't you let your love turn to hate
Lord, you got to keep the faith
(Keep the faith, keep the faith)
Oh, we've got to keep the faith
(Keep the faith, keep the faith)
Lord, we've got to keep the faith
Ooh, yeah
Ooh, yeah
Yeah, yeah, yeah

[Guitar solo]

I've been walking in the footsteps of society's lies
I don't like what I see no more, sometimes I wish I was blind
Sometimes I wait forever to stand out in the rain
So no one sees me cryin', trying to wash away the pain

Mother, father
(Everybody needs somebody to love)
There's things I've done I can't erase
(Everybody needs somebody to love)
Every night we fall from grace
(Everybody's bitchin' 'cause they can't get enough)
It's hard with the world in your face
(Everybody needs, everybody, keep the faith)
Trying to hold on, trying to hold on

(Faith,) you know you're gonna live through the rain
Lord, you got to keep the faith
(Faith,) don't you let your love turn to hate
Right now we've got to keep the faith
(Faith, keep the faith, keep the faith)
Trying to hold on, trying to hold on, yeah
(Faith) whoah!
(Keep the faith, keep the faith)
Everybody keep the faith
(Faith, keep the faith)
(Keep the faith, keep the faith)
Ooh, yeah, yeah, yeah, yeah, yeah
(Everybody needs somebody to love)
(Everybody needs somebody to leave)
Ooh, yeah, yeah, yeah, yeah, yeah
(Everybody needs somebody to love)
Come, right now
(Everybody needs, everybody keep the faith)
Yeah, yeah, yeah
Oh

Faith

Faith
---
Info
KEEP THE FAITH is a song written by Jon Bon Jovi, Richie Sambora, and Desmond Child, and released on Bon Jovi's 1992 album Keep The Faith (Mercury, catalogue # 314 514 045-2).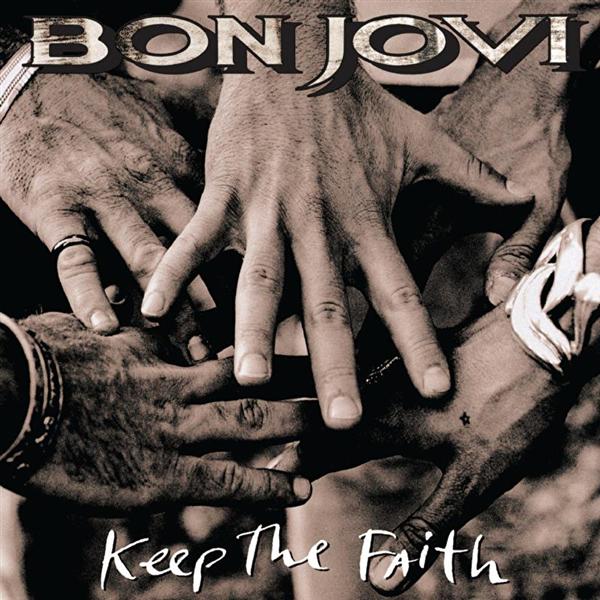 Bon Jovi -- Keep The Faith (album cover art)
The above lyrics are for the original Bon Jovi version of KEEP THE FAITH as released in 1992.
Springsteen's Version
Bruce Springsteen probably played guitar on Bon Jovi's KEEP THE FAITH live once, on 31 Jan 1998 in Red Bank, NJ. See the live 31 Jan 1998 version for more details.
Credits
Thanks Jake (ol'catfishinthelake at BTX and Greasy Lake) for the lyrics help.
Available Versions
List of available versions of KEEP THE FAITH on this website:
KEEP THE FAITH [Live 31 Jan 1998 version]
KEEP THE FAITH [Original Bon Jovi version]
---
Page last updated: 01 Sep 2012