KEY TO THE HIGHWAY
Original Charlie Segar version
---
I got the key to the highway, I'm raring to go
I got the key to the highway, I'm raring to go
'Cause I'm gonna leave here running, walking's most too slow

I'm going back to the border where I'm better known
I'm going back to the border where I'm better known
'Cause you ain't doing nothing but driving a good man away from home

Give me one more kiss, mama, one more kiss before I go
Give me one more kiss, babe, just before I go
I'm gonna leave here, ain't coming home no more

When the moon creeps over the mountain, I'll be on my merry way
When the moon creeps over the mountain, I'll be on my merry way
I'm going to walk the highway until the break of day

So long baby, I must say goodbye
So long, so long baby, I must say goodbye
I'm gonna roam the highway until the day I die
---
Info
KEY TO THE HIGHWAY is a blues standard credited to Charles "Chas" Segar and William "Big Bill" Broonzy. The earliest recorded version was by Charles Segar, recorded in Chicago on 23 Feb 1940, and released a single that same year. The above lyrics are for the original Charlie Segar version of KEY TO THE HIGHWAY as released in 1940.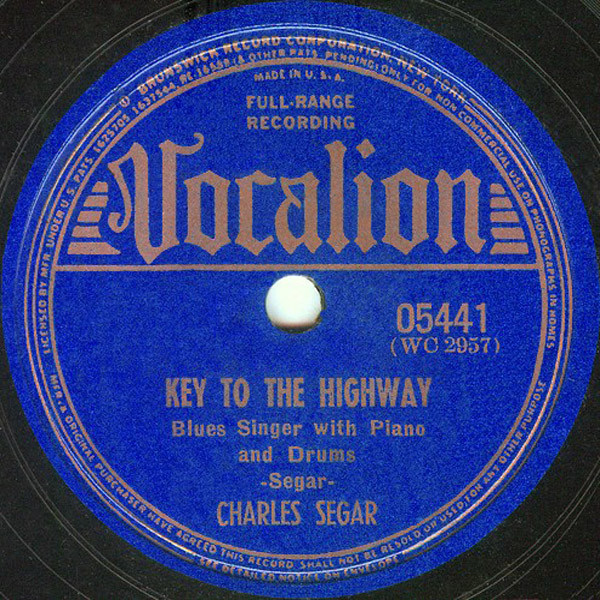 Charles Segar -- "Key To The Highway / Stop And Fix It Mama"

10" single - Vocalion (05441) - USA, 1940

Bruce Springsteen's Version
Bruce Springsteen covered Charlie Segar's KEY TO THE HIGHWAY a few times in his career, in 1971 and 2015. See the live 03 Dec 1971 version for more details.
Available Versions
List of available versions of KEY TO THE HIGHWAY on this website:
KEY TO THE HIGHWAY [Live 03 Dec 1971 version]
KEY TO THE HIGHWAY [Original Charlie Segar version]
---
Page last updated: 24 Oct 2017