LA BAMBA
Original Ritchie Valens version
---
Para bailar La Bamba, para bailar La Bamba
Se necessita una poca de gracia
Una poca de gracia
Para mi, para ti, ay arriba, ay arriba
Ay, arriba arriba
Por ti sere, por ti sere, por ti sere

Yo no soy mariner, yo no soy mariner
Soy capitan, soy capitan, soy capitan
Bamba, bamba
Bamba, bamba
Bamba, bamba, bam bam

Para bailar La Bamba, para bailar La Bamba
Se necessita una poca de gracia
Una poca de gracia
Para mi, para ti, ay arriba, ay arriba

Para bailar La Bamba, para bailar La Bamba
Se necessita una poca de gracia
Una poca de gracia
Para mi, para ti, ay arriba, ay arriba
Ay, arriba arriba
Por ti sere, por ti sere, por ti sere

Bamba, bamba
Bamba, bamba
Bamba, bamba
Bamba, [fades out]
---
Info
LA BAMBA is a Mexican folk song best known from an adaptation by Ritchie Valens who release it as a single 1958. The above lyrics are for the original Ritchie Valens version of LA BAMBA as released in 1958.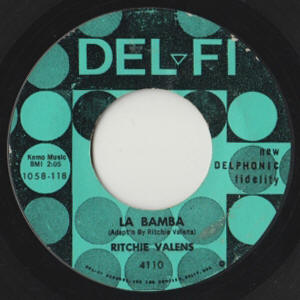 Ritchie Valens -- "Donna / La Bamba"

7" single - Del-Fi Records (4110) - USA, 1958

Bruce Springsteen's Version
Although he has never performed it live in full as a standalone song, Bruce Springsteen has often used a snippet of LA BAMBA as part of TWIST AND SHOUT.
Available Versions
List of available versions of LA BAMBA on this website:
LA BAMBA [Original Ritchie Valens version]
---
Page last updated: 08 Feb 2016