LOOK INTO YOUR HEART
Original Aretha Franklin version
---
Ah ha, ah ha, ooh hoo
Alright, baby
Ooh hoo hoo hoo, hoo baby, hmm
Do do do hoo
Do do do hoo
Do do do hoo hoo hoo
Do do do do

If you look into your heart
With a positive mind
Take some inventory of your woman and your glory
Leave the bad things behind

Everybody's got a story, yes, they do
About love and the good things
But for the spices of your life, you have got to pay the price
If you know what I mean, yeah

Telling everybody, I'm letting you know
How a girl becomes so proud
When I thought that there was nothing left
I do believe I found myself and I want to give it to you, baby
Oh, yeah, yeah, yeah, yeah baby

So if you look into your heart
With a positive mind
Go ahead, take some inventory of your woman and your glory
Leave the bad things behind
Hoo-hoo-hoo

I know my man, he really loves me
We don't have that every day
I know my man really needs me and whatever he want to do
I wanna do it with you, baby
Yeah yeah (yeah, yeah)
Ah ha ha
(Do do do hoo) do do do hoo
(Do do do hoo) oh, mercy, baby, mercy, baby
(Do do do hoo) do do do hoo hoo hoo
(Do do do hoo)

(Yeah, yeah, yeah) The dark of the night
Love's not an easy game and he's strong, he's straight
Now that I see what he's giving me
And whatever he wanna do, I wanna do it with you, baby, hey baby

Loving you more and more and more
And giving you all, all you need, yeah, yeah, yeah hey, mercy baby
Loving you more and more and more
And giving you all you need, ooh baby
(Loving you more) more, more
Mercy baby, mercy baby, mercy baby
---
Info
LOOK INTO YOUR HEART is a song written by Curtis Mayfield and originally released by Aretha Franklin on her 1976 album Sparkle, which was the soundtrack for the 1976 Warner Bros. motion picture Sparkle. The above lyrics are for the original Aretha Franklin version of LOOK INTO YOUR HEART as released in 1976.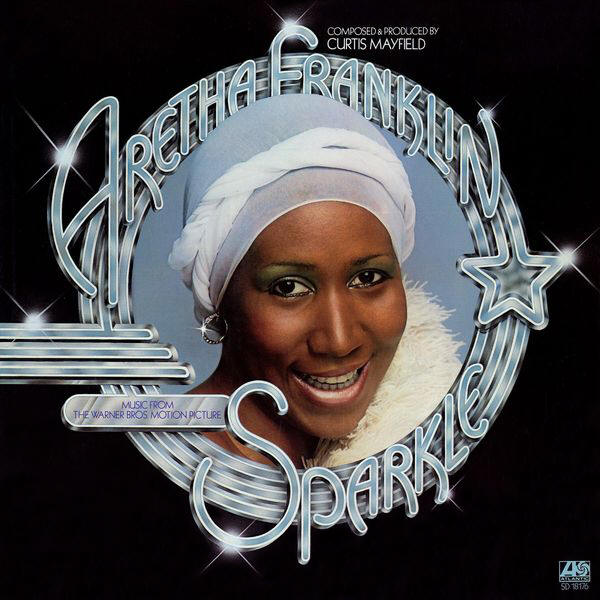 Aretha Franklin -- Sparkle

LP - Atlantic (SD 18176) - USA, 1976

Bruce Springsteen's Version
Bruce Springsteen has never performed LOOK INTO YOUR HEART in full, but the song was performed with an all-star cast on 01 Mar 1994 at Radio City Music Hall in New York City, NY, during the 36th Grammy Awards ceremony, as part of a medley in honor of Curtis Mayfield. See CURTIS MAYFIELD MEDLEY for more details.
Available Versions
List of available versions of LOOK INTO YOUR HEART on this website:
LOOK INTO YOUR HEART [Original Aretha Franklin version]
---
Page last updated: 18 Sep 2012