LOVE WON'T LET YOU DOWN
---
Lyrics not available
---
Info
LOVE WON'T LET YOU DOWN is an unreleased song written by Bruce Springsteen. No audio recording or handwritten lyrics have surfaced, but the title appears in a Springsteen handwritten song list seen in Thom Zimny's The Ties That Bind documentary.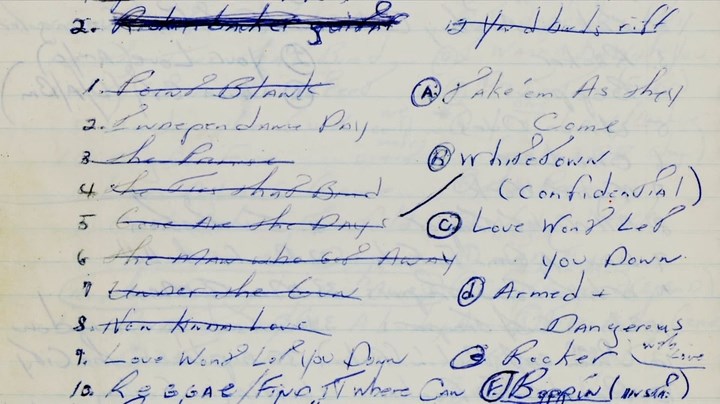 Bruce Springsteen handwritten song list from 1979-1980
A song rehearsed with the band at Springsteen's Telegraph Hill Road property in Holmdel, NJ, (nicknamed "Telegraph Hill Studios") probably in late March 1979, may be none other than LOVE WON'T LET YOU DOWN. An audio recording of that rehearsed song is in very limited circulation. According to Brucebase, it's a well-developed and practiced upbeat song. It's feasible that it was subsequently recorded in the studio, although no songs with potentially matching titles appear in Sony's database of Springsteen recording sessions.
According to Brucebase, the rehearsed song evolved from the early 1979 solo home demo LOVE WILL GET YOU DOWN. As is typical with the recordings that have surfaced from these Telegraph Hill sessions, Springsteen's vocals are buried under the instruments making much of the lyrics unintelligible, but the lyric "Love Will Get You Down" do not appear anywhere in this rehearsal. Based on what can be heard, "Love Will Be The Name" or "Love Will Be The Game" are possible titles. The above mentioned handwritten document includes the title "Love Won't Let You Down". Therefore it is also possible that the actual title for this song is "Love Won't Let You Down", despite the lack of that phrase in the lyrics.
Available Versions
List of available versions of LOVE WON'T LET YOU DOWN on this website:
LOVE WON'T LET YOU DOWN
---
Page last updated: 02 Mar 2016