MARIA
---
Lyrics not available
---
Info
MARIA is a Bruce Springsteen song from The Bruce Springsteen Band period (mid-1971 to mid-1972). The song is known from a 1971 table mat puzzle produced by the Student Prince club.
The Bruce Springsteen Band performed frequently at Student Prince in Asbury Park, NJ, between mid-November and mid-December 1971. A table mat puzzle was produced by the club for use during this month-long residency. The goal is to find the eleven hidden Bruce Springsteen Band song titles, and the first five patrons to find all of them would win free passes for the next show at the club. The eleven song titles are: COWBOYS OF THE SEA, DOWN TO MEXICO, FUNK SONG, I REMEMBER, I JUST CAN'T CHANGE, LIKE A STRANGER, MAGIC LOVING, MAKE YOUR MIND UP, MARIA, NO WAY, and WHEN YOU DANCE. These songs range from Steel Mill-era creations to recently written material. Two of them however, MARIA and NO WAY, are not known from any circulating audio.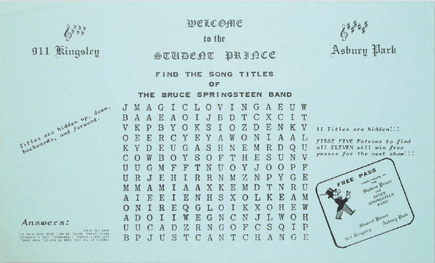 Student Prince song titles puzzle
References
Some of the above info is taken from Brucebase.
Request
If you have any further information about this song, please contact me via the below form or by email: . I am also looking for a higher resolution scan of the Student Prince song titles puzzle. You will be credited. Thanks in advance.
Available Versions
List of available versions of MARIA on this website:
MARIA
---
Page last updated: 14 Apr 2013