MARY QUEEN OF ARKANSAS
Dusty Wright's cover version
---
Mary queen of Arkansas, it's not too early for dreamin'
The sky is grown with a cloud seed sown and a bastard's love can be redeeming
Mary, my queen, your soft hulk is reviving
You're not too late to desecrate, the servants are just rising

Well, I'm just a lonely acrobat, the livewire is my trade
I've been a shine boy for your acid brat and a wharf rat for your state
Mary, my queen, your blows for freedom, they're missing
You're not man enough for me to hate or woman enough for just kissing

The big top is for dreamers, we can take the circus all the way to the border
And the gallows wait for martyrs whose papers are in order
But I was not born to live to die and you were not born for queenin'
Oh, it's not too late to infiltrate, the servants are just leavin'

Mary queen of Arkansas, your white skin is deceivin'
You wake and wait to lie in bait; you almost got me believin'
On your bed, Mary, I can see the shadow of a noose
I don't understand how you hold me tight and love me so damn loose

But I know a place where we can go
I can get a good job and start all over clean
I got contacts deep in Mexico where the servants have all been see
---
Info
The above lyrics are for Dusty Wright's cover version of MARY QUEEN OF ARKANSAS. He recorded it on 03, 04, and 08 Jun 1997 at Harold Desseau Studios in New York City, NY, and released it that same year on the Atlantic City EP (see EP info below).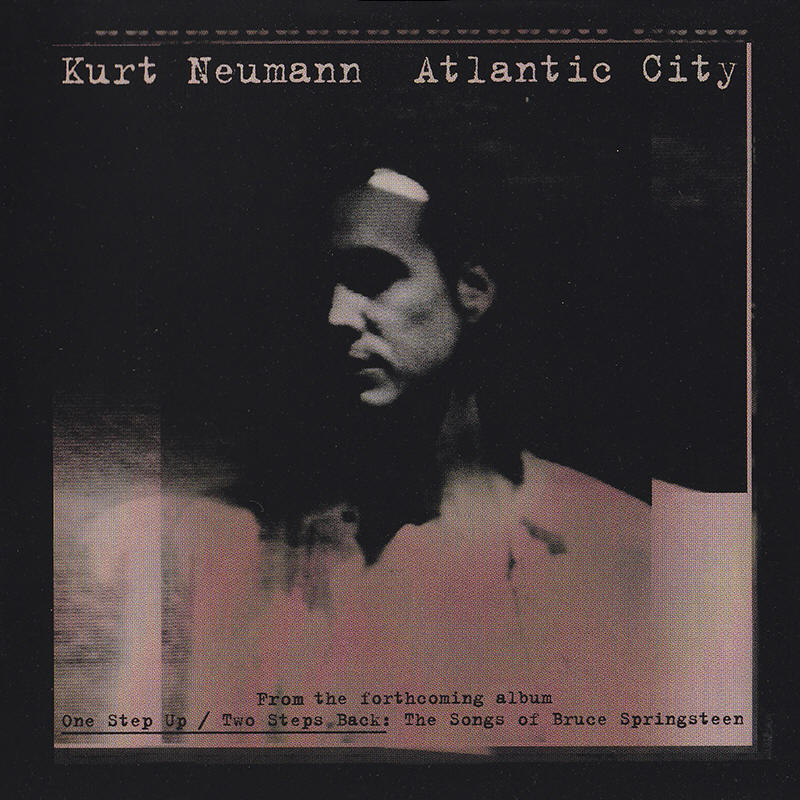 Various artists -- Atlantic City

CD EP - The Right Stuff (72438-58671-2-5) - USA, 1997

This is the first of two 5-track EPs released from the One Step Up / Two Steps Back: The Songs Of Bruce Springsteen various artists tribute album. MARY QUEEN OF ARKANSAS is one of the non-album bonus tracks included on this EP, and is performed by Dusty Wright.
Track Credits
Dusty Wright: vocals, acoustic and electric guitars
David Waters: slide guitar
Orville Davis: bass
Pete DeMeo: drums
Bill Finizio: percussion
Kenny Margolis: accordion
Produced, arranged, and mixed by Dusty Wright and David Waters
Engineered by Dave Lee
Recorded June 3, 4, and 8, 1997 at Harold Desseau Studios, NYC, NY
Management by Faith Quesenberry, Absolute Entertainment 615-356-8124
Liner Notes
Liner notes from the Atlantic City EP:
I saw the Boss at least a dozen times between the years 1972 thru 1986 - from one of his earliest (first?) North East Ohio gigs at Kent State when I was a young pup up to his mega-huge "Born In The U.S.A." tour while living in LA. Regardless of the size of venue the energy of his sweat-soaked music marathons was always enormous. Bruce spoke to the bards in all of us. He let us view our place in the universe on both a simple and profound level whether you were pumping gas or selling insurance.

The plaintive ballad "Mary, Queen Of Arkansas" off his very first record (Greetings From Asbury Park, NJ) was, to the best of my knowledge, never featured as a live number. Perhaps his arrangement was so stark - just voice, acoustic guitar and harmonica - or perhaps the duality of his metaphors may have been a bit too intense and oblique. For me, the tune is a solicitation from seeker of freedom as experienced through the soul of a dock worker. Mary is both the protagonist's mistress and a large seas faring vessel. Mary is his ticket to a new and better life.

I decided to speed it up to convey a more desperate energy and give it that live E-Street Band vibe.

Bruce, I am honored to be part of this record. I hope you like my rendition of your song.

-Dusty Wright
Credits
Thanks Jake (ol'catfishinthelake at BTX and Greasy Lake) and Henke (Joe.Roberts at Greasy Lake).
Available Versions
List of available versions of MARY QUEEN OF ARKANSAS on this website:
MARY QUEEN OF ARKANSAS [Album version]
MARY QUEEN OF ARKANSAS [03 May 1972 demo version take #1]
MARY QUEEN OF ARKANSAS [03 May 1972 demo version take #2]
MARY QUEEN OF ARKANSAS [Live 31 Jan 1973 (early show) version]
MARY QUEEN OF ARKANSAS [Live 02 Jun 1973 version]
MARY QUEEN OF ARKANSAS [Live 09 Mar 1974 (KLOL-FM) version]
MARY QUEEN OF ARKANSAS [Live 10 Mar 1974 (late show) version]
MARY QUEEN OF ARKANSAS [Live 27 Jun 2000 version]
MARY QUEEN OF ARKANSAS [Live 27 Sep 2002 version]
MARY QUEEN OF ARKANSAS [Live 22 Nov 2009 version]
MARY QUEEN OF ARKANSAS [Dusty Wright's cover version]
---
Page last updated: 08 Oct 2010