MY LITTLE RED BOOK
Original Love version
---
I just got out my little red book
The minute that you said goodbye
I thumbed right through my little red book
I wasn't gonna sit and cry
And I went from A to Z
I took out every pretty girl in town
They danced with me and as I held them

All I did was talk about you
Hear your name and I'd start to cry
There's just no getting over you, oh, no

I bet there ain't no girl in my little red book
Who could ever replace your charms
And each girl in my little red book
Knows you're the one I'm thinkin' of
Oh won't you please come back
Without your precious love I can't go on
Where can love be, I need you so much

All I did was talk and talk about you
Hear your name and I'd start to cry
There's just no getting over you, oh, no

Oh won't you please come back
Without your precious love I can't go on
It's haunting me, I nee you so much

All I did was talk and talk about you
Hear your name and I'd start to cry
There's just no getting over you
All I did was talk and talk about you
Hear your name and I'd start to cry
There's just no getting over you, oh, no
---
Info
MY LITTLE RED BOOK is a song written by Hal David and Burt Bacharach for the 1965 movie What's New, Pussycat?. The film version of the song was recorded by Manfred Mann. American rock band Love scored a minor hit with their cover of MY LITTLE RED BOOK. They released the song as a single in March 1966. The above lyrics are for the original Love version of MY LITTLE RED BOOK as released in 1966.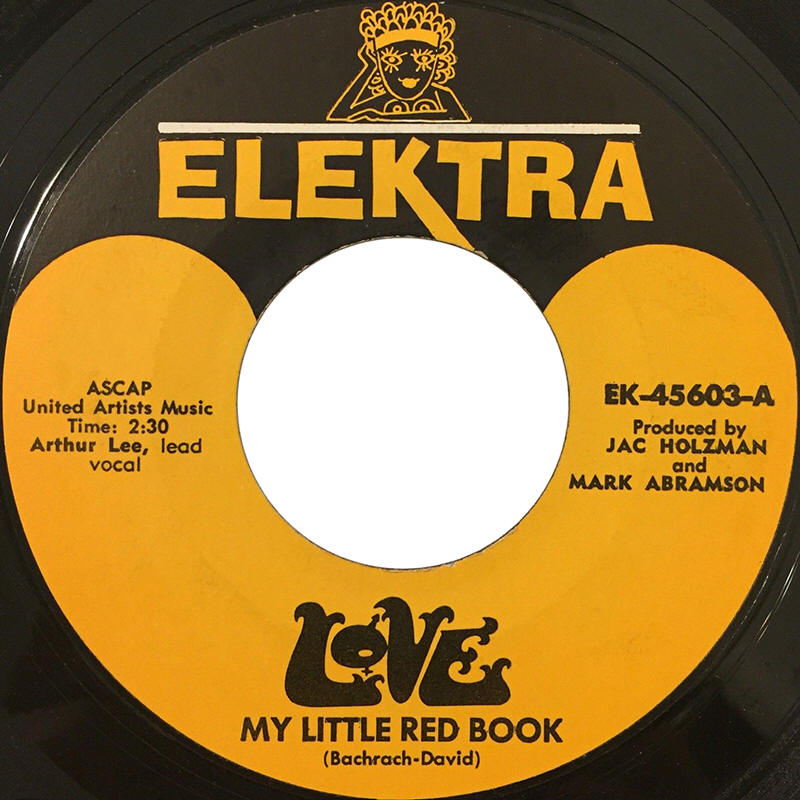 Love -- "My Little Red Book / A Message To Pretty"

7" single - Elektra (EK-45603) - USA 1966

Bruce Springsteen's Version
Bruce Springsteen has performed MY LITTLE RED BOOK with his early (1965-1968) band The Castiles. Unfortunately, there is no audio recording of a Springsteen performance of the song, nor do we know specific shows when he performed it. The only testimony came from Springsteen himself in 2011.
Steven Van Zandt has been hosting Little Steven's Underground Garage since 2002, a weekly syndicated radio show that celebrates garage rock and similar rock sub-genres from the fifties to the present day. To celebrate the show's 9th anniversary, Van Zandt co-hosted three episodes of the show with Bruce Springsteen. The episodes aired on the weekends of 01, 08, and 15 Apr 2011, and during each of them, the two talked mainly about their musical influences and played the records that they grew up on, were influenced by, or simply loved.
On the second of the three episodes, Springsteen played Love's version of MY LITTLE RED BOOK, "something [Bruce] used to play with his band The Castiles," as Van Zandt explained.
Request
If you have any corrections or additional info, please contact me at or via the below form. You will be credited. Thanks in advance.
Available Versions
List of available versions of MY LITTLE RED BOOK on this website:
MY LITTLE RED BOOK [Original Love version]
---
Page last updated: 09 Apr 2017